add bookmark
The Cozy Moose
Maine Cabin Rentals on Moosehead Lake Cabin Vacations & Tours
Destination Moosehead Lake - Cozy Moose Lakeside Cabin Rentals
Maine cabins on Moosehead Lake in a unique nature setting Delight in perpetual beauty outside your cabin. The Cozy Moose Lakeside Cabin Rentals - A Maine vacation rental property in Greenville Maine on Moosehead Lake.
The best place to stay on Moosehead Lake - Lodging on the lake cabin accommodations
Destination Moosehead Lake - Unique shoreline offering rare lake access.
Vacation Cabins with private decks
Lodging in nature, waterfront beach and mountain views.
See perpetual beauty outside your cabin.
Explore Moosehead Lake cabin vacations
Sandy beach and boat dock to relax, enjoy and swim.
Go ice fishing - Moosehead Lake Vacation Rentals
Snowmobiling Vacation Rentals
Moosehead Lake Lodging- Maine Lakefront Cabin. See the best of Maine. Stay at The Cozy Moose Cabins. Enjoy panoramic views of 3 mountains and lake sunsets at the cabins. Wildlife watchingoutside, listen to the loons, and go birding.
Lakeside Vacation Rentals - In Greenville, Maine woods mountains off a private road. A perfect vacation spot for a lakeside getaway. Close to restaurants and shopping. Book an unforgettable Moosehead Lake Vacation
Maine Vacation Cabin Packages - See the best of Moosehead Lake Region!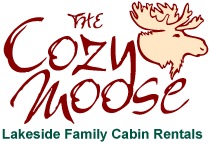 Address 451 Moosehead Lake Rd.
Greenville, Maine 04441
Phone (207) 695-0242
Website www.mooseheadcabins.com
Payments Accepted Credit Cards - PayPal - Checks in Advance
Hours **Office Mon. - Sat. 9am - 4pm** **Call 207-695-0242** [Contact The Cozy Moose](https://www.mooseheadcabins.com/contact/ "Contact The Cozy Moose") **Cozy Moose Lakeside Cabin Rentals on Moosehead Lake - Open Year Round**
Local Deals
Retrieving results.
Lodging on Moosehead Lake - Cabin and Canoe Vacation Rental Deal Lakeside lodging package deal includes 2 nights of Moosehead lakeside lodging - double occupancy - king bed and use of a canoe during your stay. Only 175ft from Moosehead Lake Choose Cozy Mo...

Romantic Cabin Getaway on Moosehead Lake Your romantic adventure begins from the moment you arrive at your lakeside cabin. The waterfront offers award winning landscape photography views of Moosehead Lake and surrounding mountains. The romantic sunsets at...