Spring in Maine is everything good about spring, amplified. As ski hills and snowmobile clubs wind down for the year, warm-weather businesses begin to open their doors and Mother Nature blooms along the coast and in Maine's many state parks and recreational areas. Discover some of our unique traditions, can't-miss places and a few off-the-beaten path adventures—all without the summertime crowds.
---
Unique Traditions
Along with lush mountainsides, free-flowing rivers and longer, warmer days, spring brings with it a host of quirky, iconic Maine traditions.
Maine Maple Sunday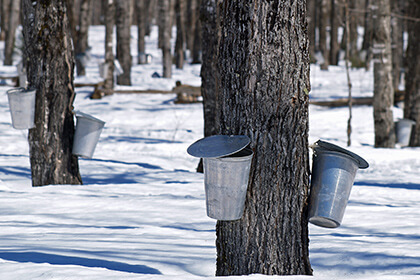 Held on the fourth Sunday in March, Maine Maple Sunday is a celebration of all things maple, and the end of winter (even if there still is some snow on the ground). Find a sugarhouse and get ready to sample sweet maple treats like freshly made maple syrup, maple drizzled ice cream and so much more. Considering Somerset County is the largest maple syrup producing county in the U.S., you'll have no trouble finding a place to start. When the smoke starts billowing from the sugarhouse chimneys—you know spring is here. Sweet tooth encouraged.
Ice Out. Fish On.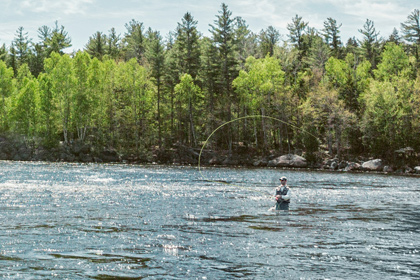 It's a kind of magic when an ice-covered lake transforms into a glistening mirror of water reflecting the sky above and the trees around it. Communities throughout the state celebrate this beautiful change in scenery by forming fund-raising pools and guessing when the ice will finally melt. (At Moosehead, ice-out has been recorded since 1848!) Mainers will place objects on the still-frozen lake surface, guess when the ice will thaw, and when the objects finally sink, the ice is officially out. And that means the fishing is on. It won't be long now before bass fishing tournaments kick off.
---
Outdoor Activities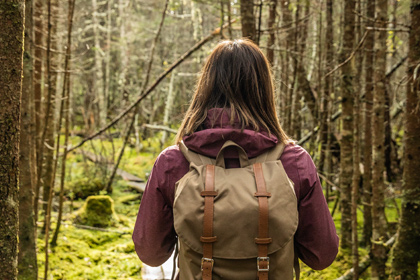 When winter's frosty grip gives up, the waking landscape calls you outdoors. You might be tired of the snow, but some of the best skiing is still ahead of you at resorts like Sugarloaf and Sunday River, which can stay open as late as May. If you're looking to ditch your skis but not the trails, spring hiking in Maine's 32 state parks is a pursuit in pure joy. Not least because you don't need four layers. You'll feel like you have the trail all to yourself (so if you're dreaming of Acadia without the crowds, now's the time).
And now that rivers are flowing freely, it's time to get out on the water. Spring fishing promises hungry brook trout and freshly accessible lakes. For paddlers, it's the beginning of white-water rafting season. Maine's Dead, Kennebec and Penobscot rivers are tried-and-true perennial favorites for roiling rapids and adrenaline-pumping drop-offs.
---
Arts & Culture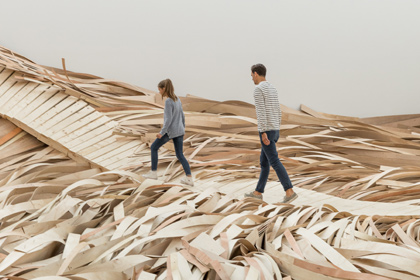 When the weather turns a bit blustery, there's no shortage of museums, theaters and galleries to peruse. If it's art you're after (hint: in Maine, you should be after it), the 80,000 works of art in the nine museums of the Maine Art Museum Trail will leave you star struck. Expect to find work from masters like Winslow Homer, Marsden Hartley and Robert Indiana. Though the majority of the museums on the trail are open year-round, a few have extended seasonal closures. Be sure to check the museums' seasonal hours here. In downtown Bar Harbor, the Abbe Museum showcases the culture of the Wabanaki Nations. The museum also hosts the Indigenous Film Festival in conjunction with the Abbe Museum Indian Market, making Bar Harbor an unrivalled destination for native art from Maine, across the country and Maritime Canada in May. Cinephiles should also be sure to check out the Maine Jewish Film Festival in late March, where features, documentaries, and short films showcase the global Jewish experience.
---
Can't-Miss Places to See
Our favorite places in Maine transform from season to season. Here's where we head when the snow starts to melt.
Blooming Gardens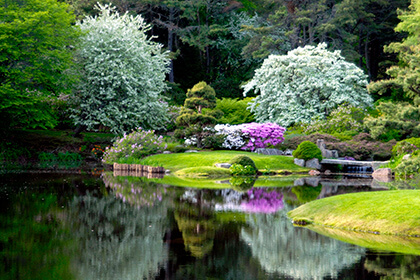 Thanks to the dazzling pinks and purples of the lupine flowers that sprout up everywhere in late spring, Maine itself can feel like a garden. And there's even more green-thumb inspiration to be found in Maine's botanical gardens. Featuring just under a mile of tidal saltwater frontage in Boothbay, the Coastal Maine Botanical Garden is the largest in New England where rare beauties like slender blue flag and lady's slipper flowers show off. In Northeast Harbor, the Japanese-garden inspired Asticou Azalea Garden gets you in the zen zone. Stroll through the shady gardens and soak in the luminous reflection of the azaleas lining the pond. It's serene, meditative, and exactly what the doctor ordered to cure cabin fever. Come Memorial Day weekend, fans of fragrant lilacs shouldn't miss the McLaughlin Garden Lilac Festival in South Paris.
Portland's Best. Without the Wait.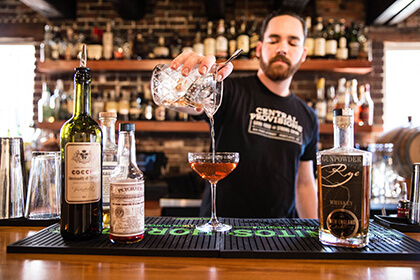 Foodies, rejoice. This hip town is a year-round favorite, but spring is an especially good time to beat the crowds at many of the restaurants that make Portland so drool-worthy. Check out Fore Street for a locally-sourced, seasonal taste of Maine, or head to Central Provisions for creative cocktails and eclectic bites that change daily. If you're in the mood for some pastries, stop by Belleville for what we'd happily call the best croissant this side of the Atlantic.
---
Off the Beaten Path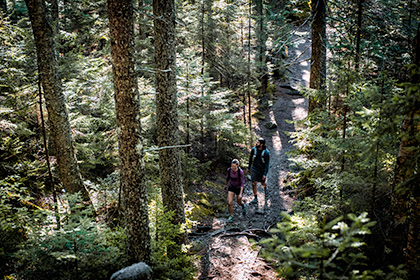 Even though the woods are waking up, spring is a quiet season in Maine, which means the serenity you're craving is even closer than you think. For a symphony of color and song, head to Maine's breathtaking boreal forests where cedar waxwings and other rare birds are just a glimpse away. Birdwatching continues to pick up with celebrations like the Rangeley Birding Festival where guides, discussions and more celebrate all things avian.
The snowmobiles might be cleaned up and stored away, but you can still find high-octane adventure away from the crowds on ATVs. With more than 6,000 miles of trails, boredom is about the only thing you won't encounter. ATV trails tend to open in late spring after mud season, but some years they can open as early as April. It's always best to check the official ATV trail conditions page to find out if your favorite trails are open. For a rugged, truly remote wilderness experience, check out the more than half a million acres of Maine Public Reserved Lands. If you're planning on camping, just be sure to come prepared. It's primitive tent camping only, which means no amenities and no plowed locations. But, it also means perfect peace and quiet.
---
Shopping, Eating & Drinking
Some days, you just have to shop, sip and sample.
Beautiful Bags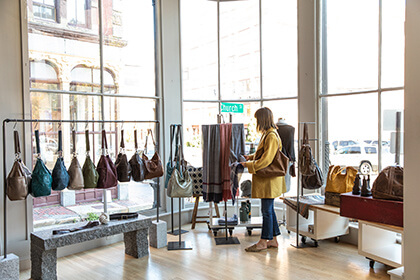 For one-of-a-kind bags, stroll to Portmanteau in Portland's Old Port. Every bag, jacket and cloak are handmade right in the shop. At Rough & Tumble in Brunswick and Portland, you can peruse a rugged, yet luxurious, collection of packs, bags, totes and more designed and crafted by Natasha Durham and her small, highly-skilled team. If you're looking for bright pops of color and funky patterns, Erin Flett's hand-drawn designs turn bags, pillows and wallpaper into show-stopping works of art. Find her vibrant textiles at the flagship store on Main Street in Gorham.
Tasty Bites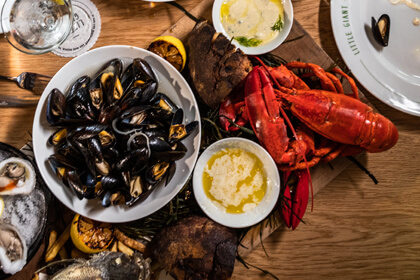 In Buxton, the Buxton Common is anything but basic, bringing rustic house-smoked eats to your belly. In a renovated farmhouse in Eustis, the Coplin Dinner House takes pride in the farm-fresh meals they bring to your table and even raises their very own pigs, goats, and chickens.
Craft Brews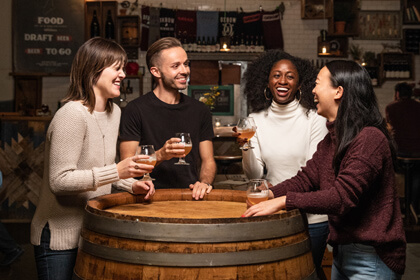 Maine is home to some of the best craft breweries in the country, and the Maine Brew Fest is the only event in New England that combines a day of spring skiing with sampling nearly 100 craft beers and ciders. When the snow is gone for good, the beer continues to flow at hop-spots like Portland's Allagash Brewing (bring on the Belgian-style ales) and Oxbow Beer Garden, which just so happens to be in a 200-year-old renovated barn. And did we mention the 100 craft breweries on the Maine Beer Trail?
---
How to Plan the Perfect Spring Trip to Maine
Now that you're convinced spring is one of the best times of the year to visit, here's what you need to know plan the perfect trip.
Spring Weather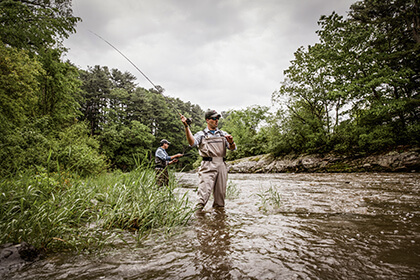 Come prepared to encounter a wide range of conditions. Cold, snow and rain are often on the radar, but so are blue skies, bright sunshine and warm breezes. March is the coldest month of the season, but April brings warmer temps, free-flowing streams and truly amazing freshwater fishing conditions. May sees temperatures in the 60s along with plenty of daily sunshine.
What to Pack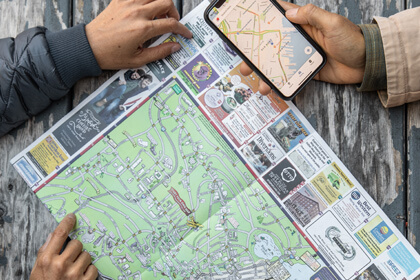 The earlier in the season you visit, the more layers you'll likely need. But, throughout the spring, a true Maine wardrobe is all about layers. Be sure to pack a rain jacket and sturdy boots, especially if you plan on hiking. If you're hoping to spot a moose or some rare winged friends, consider packing a pair of binoculars. To navigate the Pine Tree State like a local (and find those out-of-the-way places your GPS can't quite pinpoint), bring a copy of the Maine Atlas & Gazetteer. Every Mainer worth their salt keeps a dog-eared copy in their car.
What's Next?