Winter in Maine
When the summer visitors and leaf peepers head home, winter shares a side of Maine that shouldn't be missed. Those who hear the quiet call of snow-swept woods and fields know that winter is Maine's best kept secret. Mainers are known to be hardy folk, but really, we just know how to have fun in the snow.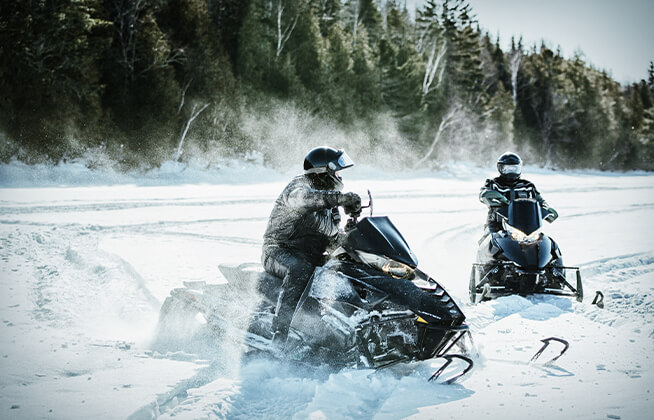 Outdoor Winter Recreation
Skiing, snowboarding, snowshoeing, snowmobiling and so many more ways to bundle up for unforgettable days in the snow.
Things To Do
Winter in Maine is magic off the slopes, too. Some snow days are meant for slowly perusing local shops and galleries, checking out festivals or grabbing a brew.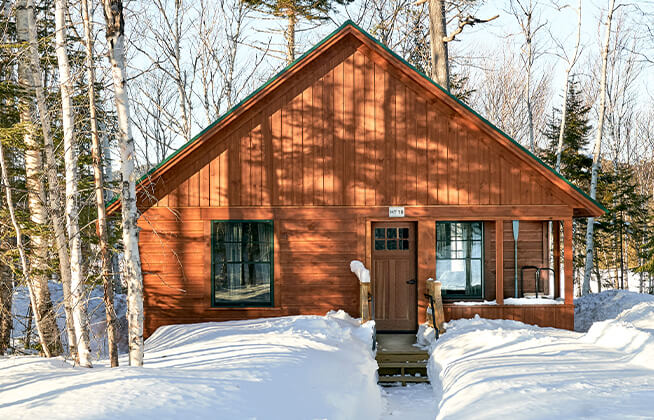 Where To Stay
What's a frosty winter day spent outside without a comfy cozy cabin, inn or resort to return to? Find just the right accommodation for your style.
---
Your Perfect Winter Vacation in Maine
Maybe you're hoping to hit the slopes. Or maybe you're simply hoping to rent a quiet cabin in the woods and to hunker down fireside. No matter what, a Maine winter vacation is all about doing what you love, and having plenty of fun along the way.
With an average annual snowfall of 50 to 70 inches along the coast and 60 to 110 inches inland, there's plenty of powder to work with as you explore our world-class ski resorts, hundreds of miles of groomed Nordic skiing and snowshoeing trails, and vast networks of snowmobile trails. So whether you're seeking a quiet weekend in the North woods or thrilling black-diamond and back-country days, come discover everything winter in Maine has to offer.
---
Outdoor Winter Recreation in Maine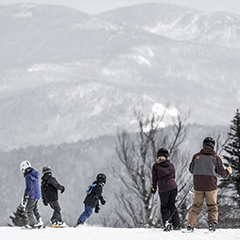 Skiing & Snowboarding
For downhill skiing and snowboarding, Maine has more than a dozen ski areas in the Western Mountains with plenty of powder and trails for all skill levels, including Sunday River, Sugarloaf (home to snowboarder and Olympic Gold Medalist Seth Wescott) and newly revamped and reopened Saddleback Mountain. Plus, there are plenty family-friendly and affordable mountains, like the Camden Snow Bowl, which is also home to one of the world's best toboggan runs.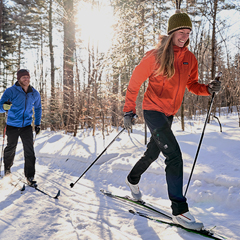 Cross-Country Skiing
If the quiet glide of cross-country skiing is your idea of heaven, Maine has you covered. Especially Aroostook County, which could be considered the cradle of Maine cross-country skiing. Check out Aroostook's Fort Kent Outdoor Center and the Nordic Heritage Center in Presque Isle for comfortable lodging, clean trails and easy rentals. But there are tons of outfitters and cross-country skiing facilities across the state to help you hit the trail.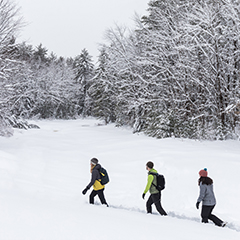 Snowshoeing & Winter Hiking
Who said hiking stops when winter starts? Maine's many state parks, land trusts and Acadia National Park provide the perfect, easily accessible settings to strap on pair of snowshoes and head out into the woods or up to a snowy summit. Some of the most popular spots include Mount Blue State Park, Bradbury Mountain State Park and the Rangeley Lakes Heritage Trust.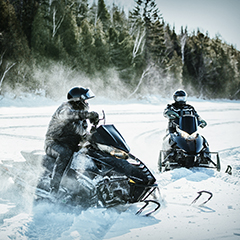 Snowmobiling in Maine
We take snowmobiling seriously in Maine. With more than 14,000 miles of groomed trails, you can ride uninterrupted from one end of the state to the other and all sorts of places in between. Trail towns from Bethel and Rangeley to Jackman, Greenville, Millinocket and Madawaska have gas stations, lunch stops and nearly 300 snowmobiling clubs that maintain the local trails.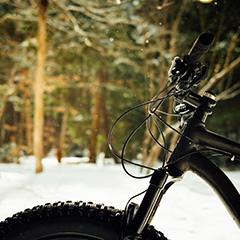 Fat Tire Biking
Take two-wheeled fun to another level on fat biking trails across the state. Not only does The Rangeley Lakes Trail Center  boast fat biking trails, it offers options for snowshoeing and Nordic skiing so the whole crew is happy. Maine's Lakes and Mountains region hosts plenty of outfitters to get you in the saddle and out on the trails.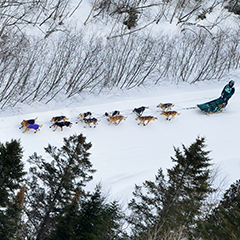 Dogsledding
Saying just one word has never quite had such thrilling results: Mush! With various dogsledding tours throughout the state, it's time to meet some new furry friends and experience one of the most exciting ways to traverse Maine's beautiful winter landscapes.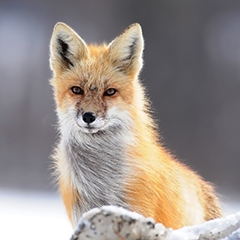 Winter Wildlife Watching in Maine
While some animals hibernate, Maine wildlife watchers don't. And you shouldn't either. Once the leaves fall, Maine's wildlife is much easier to spot. Winter residents like black-capped chickadees, juncos, cedar and bohemian waxwings are favorites and you can join in the Christmas Bird Count throughout the state. Other animals are frequently spotted as well, including moose, fox and lynx.
---
Things To Do
Winter Shopping
From bargain to boutique, Maine has all your winter and holiday shopping covered. Head to Freeport to peruse more than 120 outlets and, of course, the L.L.Bean Flagship Store. Is it really winter in Maine without a pair of L.L.Bean boots? The Kittery Outlets, just across the border are a must-shop spot for anyone driving up from New Hampshire. To show a little local love all across the state, check out our many charming Main Street Maine communities for unique shops and plenty of Maine-made finds.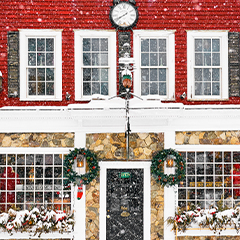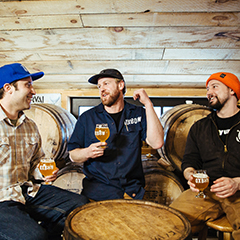 Winter Tours
Imperial hazy IPAs. Spicy lobster rolls. Robert Indiana originals. There's no telling what you'll find when a Maine expert is leading the way. The Maine Art Museum Trail can keep art lovers happy all winter long, but for a unique look at Maine's role in American art try a guided tour of the Farnworth Museum. In Portland, Bar Harbor, Biddeford and beyond, you can satisfy your inner foodie with a Maine Foodie Tour. And whether you consider yourself a craft beer connoisseur or not, the Maine Brew Bus will be sure you sample local favorites and quirky batches at Portland's beloved breweries, distilleries and wineries.
---
Where to Stay in the Winter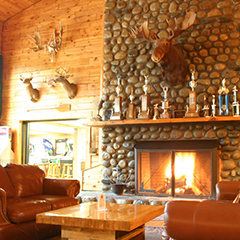 Resorts & Cozy Winter Cabins
Staying in Maine during the winter months has more than just beautiful scenery as a benefit. Accommodation rates are often lower and there may even be off-season specials in coastal areas. You have your choice of the best luxury winter resorts or cozy winter cabins in Maine. Cities like Portland don't shut down for the season and Portland's great restaurants and shopping are fantastic all winter long. And, while Sweetgrass Winery in Union closes for the season after New Year's, you can always try a glass of wine or spirits at their tasting room in the Old Port. Winter in Bar Harbor and nearby Acadia National Park is also spectacular. This region isn't as cold as Chicago or upstate New York, so the weather is perfect for heading out to cross-country ski on the 44 miles of carriage roads or snowmobile on the Park Loop Road.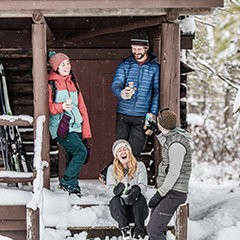 Unique Winter Stays in Maine
A unique way to see Maine in winter is to cross-country ski from The Forks down to Carrabassett Valley, staying in the boutique eco-huts maintained by Maine Huts and Trails, or along the Appalachian Mountain Club's lodge-to-lodge trail in the Moosehead Lake region. There are also several fully furnished yurts available for rent in the backcountry. If you're not sure you want to head out on your own, you can always take advantage of guided tours with a Registered Maine Guide, ranging from half- and full-day outings to extended trips of a few days or more.
---
From ice fishing to skiing to tobogganing, discover all the outdoor adventure waiting for you in Maine this winter.
Learn More