When you're ready to explore Maine again, we're ready to welcome you back.
Safe Travel in Maine
Maine lodgings, campgrounds, restaurants, shops, museums and other attractions, have implemented recommendations from the state CDC of best practices for safely operating and protecting guests and residents during COVID-19.
Traveler Guidelines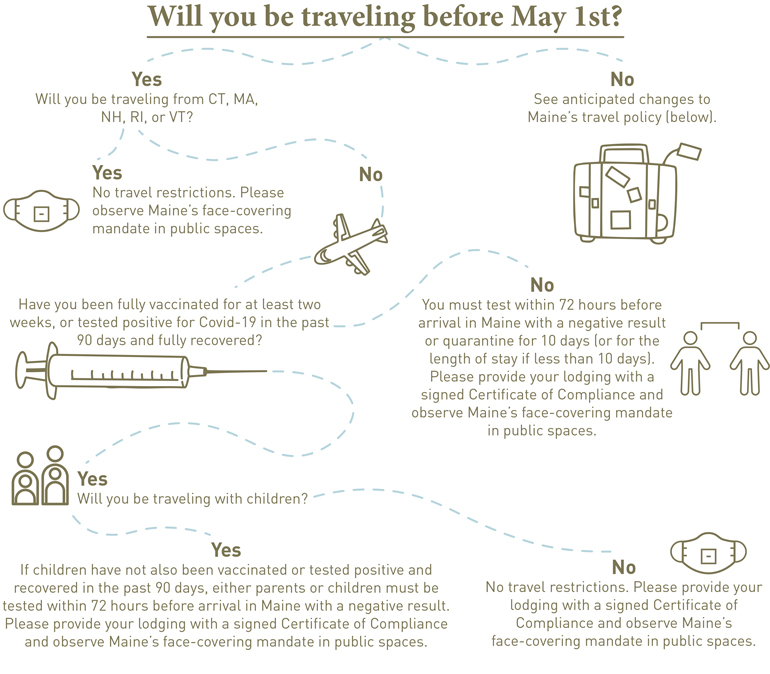 Traveling to Maine after May 1, 2021?
Under the Moving Maine Forward plan, Maine will shift its COVID-19 travel policy by May 1, 2021 to automat- ically exempt all states, unless a state is otherwise determined by the Maine CDC as being high risk. If one or more states see a spike in cases of highly contagious COVID-19 variants, Maine will apply its test or quarantine requirement to travelers to and from that state. The Maine CDC will publicly announce any such states when they are identified.
For more detailed information see the Keep Maine Healthy FAQs.
The Certificate of Compliance & Pledge to Protect ME
Visitors traveling to Maine from non-exempt states must complete a Certificate of Compliance indicating they have either received a negative COVID-19 test, agree to quarantine for 10 days (or the length of their visit, if less), have already had COVID-19, or have completed a COVID-19 vaccination. The Pledge to Protect ME is a convenient online tool you can use to demonstrate your compliance with State COVID-19 guide- lines.
Or, you can use the PDF versions below of the Certificate of Compliance.
Print PDF Form - English
View Fillable PDF Form - English
Print PDF Form - Spanish
Print PDF Form - French
Even if you have been vaccinated or received a negative test result, please remember to follow these safety measures!
Bring a face covering for venturing out to public places such as restaurants, retail shops, and other public places where you may not be able to maintain 6-feet physical distancing.
Wash and sanitize your hands regularly.
Avoid unnecessary contact with people outside of your travel party.
If you are feeling sick or experiencing any symptoms, contact a healthcare professional immediately.
Questions?
Email info@visitmaine.com