Organization
Rufus Porter Museum
add bookmark
Rufus Porter Museum
The Rufus Porter Museum celebrates the life and times of a remarkably creative American genius who worked throughout Maine, New England, and beyond.
Founded in 2005, The Rufus Porter Museum located in Bridgton, Maine features the history of a remarkable 19th century New Englander, Rufus Porter (1792-1884). Porter is well-known in the folk art community for his landscape murals and miniature portraits, however, Porter was more than just a painter. He was the founding publisher and editor of the magazine Scientific American as well as inventor, writer, teacher and more.
Open seasonally from early June-October, the museum's main exhibit located in the Webb house features the story of Rufus Porter that includes a collection of miniature portraits, models of some of his inventions, books and pamphlets written by Porter, and early editions of Scientific American. On exhibit in the historic Nathan Church house are landscape murals in situ in Porter's School of Landscape mural style, and an extricated wall section painted by artist John Avery, a contemporary of Porter's. Included in the museum's collection though not yet on display are walls painted by Jonathan D. Poor (Porter's nephew). Temporary exhibit panels depicting the Poor murals can be viewed in the interim.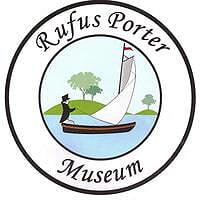 Address 121 Main Street
Bridgton, Maine 04009
Phone (207) 647-2828
Website www.rufusportermuseum.org
Payments Accepted Check, cash, major credit cards
Hours Open seasonally and available by appointment 2020 Season: June 13th to October 10th Wednesday through Saturday, 10 am to 4 pm (last tour is at 3:30 pm)