Organization
Original Irregular
add bookmark
The Original Irregular
Local Weekly Newspaper and Seasonal Guides serving Maine's High Peaks
The Original Irregular is the weekly newspaper and publisher of more than a dozen seasonal guides and special sections. Our publications serve Northern Franklin County communities including the towns of Kingfield, Carrabassett Valley, Stratton, Eustis, Strong, Phillips and Rangeley, as well as the surrounding unorganized territories.
The Original Irregular newspaper –published every Wednesday- covers local news, schools, sports, features and events. We also offer our readers regular local columns such as Recipes from the Ridge by Jane Wilkinson, Irredioms - a look at common idioms, Explore Western ME Adventures, Rear View - a look back at old Irregulars, Award-Winning Columns: Observations from the F.A.R.M. by Karen Pease, and Away With Words by LE Hughes; local commentaries and much more.
Our seasonal publications feature events; outdoor activities such as hiking, biking, and skiing; short walks or hikes to unique natural areas, waterfalls, swimming holes – and many other places to play and enjoy the natural beauty of the Maine High Peaks. Our guides also feature stories on local businesses, organizations and people that add to the area's uniqueness.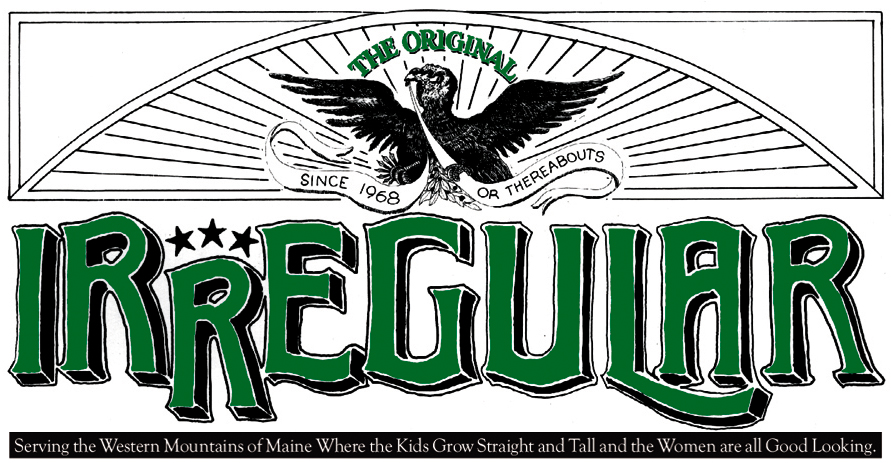 Address 239 Main St #1 PO Box 616
Kingfield, Maine 04947
Phone 207-265-2773
Website www.theirregular.com
Payments Accepted Cash, Checks, Visa, MasterCard, AMEX
Hours Open year-round. Office located on street level at 239 Main St, #1, Kingfield. Parking in front. Entrance is a curbside step onto building entry (covered) and small step up in office doorway. Hours: Monday 8 a.m. to 4 p.m.; Tuesday 10 a.m. to 4 p.m.; Wednesday through Friday 8 a.m. to 4 p.m. Closed weekends and holidays.