Organization
Kennebec River Pub Brewery
add bookmark
Kennebec River Pub & Brewery
The Kennebec River Brewery, located at Northern Outdoors Adventure Resort is open year-round serving fresh ales and great food in the Maine woods!
Northern Outdoors is the only white water rafting and adventure resort with its own brewery! After your day of fun and adventure, relax and enjoy a specialty Maine craft beer in the casual comfort of the Kennebec River Brewery, located in the main lodge at The Forks Resort Center. Our handcrafted beers on tap offer a unique (and tasty) addition to your adventure resort experience. In fact, Travel + Leisure recently rated our Kennebec River Brewery as one of "America's Coolest Breweries."
Sample our staple brews and our seasonal specials created by our brewmaster. We're proud to be part of the craft beer industry in Maine and featured on the Maine Beer Trail. Northern Outdoors is located 4 hours from Boston, MA and 2.5 hours from Portland, ME on Route 201, The Old Canada Road National Scenic Byway in The Forks, Maine.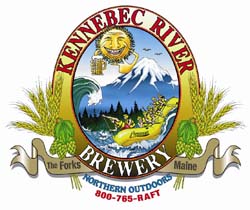 Address 1771 Route 201
The Forks, Maine 04985
Phone 207-663-4466
Website www.northernoutdoors.com
Hours The Kennebec River Brewery is open year-round at Northern Outdoors: May through mid-October during [whitewater rafting season](https://goo.gl/a6TtVt "white water rafting maine"), November during [hunting season](https://goo.gl/cDeVHn "Maine Deer Hunting"), and late December through March for [snowmobiling season](https://goo.gl/a2vV8J "Maine's snowmobile resort").