Organization
Guilford Bed & Breakfast
add bookmark
Guilford Bed and Breakfast
Sublime tranquility at this historic Bed and Breakfast in the traditional mill town of Guilford. Welcome to vintage charm and elegance throughout for a "step back in time" experience. Book now and Relax, Recharge and Repeat!
Up on the hill, a warm glow emanates from the candles in the windows. Hosts Wendy and Michael, along with their friendly dog, Snickers, eagerly await guests arrival. Enter the wraparound porch, follow it around to the front door, step cross the threshold, and experience convivial hospitality like so many before. The Guilford Bed and Breakfast has welcomed guests from around the world for over thirty years. It is your turn, now.
Guests enjoy the spacious, vintage-inspired bedrooms with en suite baths. Unwind in the library with your nose in a book or play a game with your traveling companion. The sitting room's timeless elegance includes a Victrola, sure to stimulate fascinating conversations. After a restful sleep, the aroma of fresh-brewed coffee and tea beckon guests to the formal dining room for a gourmet breakfast served on fine china.
Each guest room is unique, and photos are posted on guilfordbnb.com for inquiring minds. So don't delay, book today via www.gbnb.us for the best deals, and keep an eye out for those welcoming lights.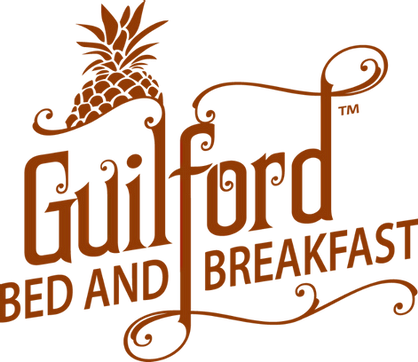 Address 24 Elm Street #85
Guilford, Maine 04443
Phone 207-876-3477
Website guilfordbnb.com
Payments Accepted Credit Card
Hours Phone: 9 am - 7 pm. Visits: by appointment only.