The City Theater
The City Theater in Biddeford is a 122 year old former Opera House that is operated and maintained by the City Theater Associates, Inc., a registered 501(c)(3) non-profit organization. The CTA produces five shows per year. We also work closely with local organizations to host quality performances, such as concerts and plays.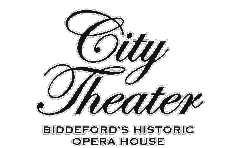 Address

205 Main Street
Biddeford, Maine 04005

Phone

207-282-0849

Website

citytheater.org

Payments Accepted

We accept most major credit cards and cash.

Hours

Open year round. The CTA produces five shows per year, and the Theater is also host to several local groups and performance artists and works closely with the Heart of Biddeford to offer top-quality shows. The Box Office is staffed Monday-Friday from 11:00 to 2:00.