Events
Thursdays On Sweden
add bookmark
Thursday's on Sweden Street
6/1/23 more...
6/15/23 6/29/23 7/13/23 7/27/23 8/10/23
The County's most fun street fair! Every other Thursday in downtown Caribou, Maine!
Thursdays on Sweden Street is one of the highlights of summer in Aroostook County.
The great city of Caribou hosts the free concert series every other Thursday in downtown on Sweden Street. It's the perfect place to get the community out to enjoy some of the best local musical talent. The event starts at 5 pm and goes right on through until 9 pm.
There are food and vendors to check out too. Be sure to stop by and get something good to eat when you get there at the featured sidewalk cafe. If you're interested in becoming a vendor, you can fill out this form.
Thursdays on Sweden Street have a really good Facebook Page and they update the information on a regular basis. Also, the city of Caribou has a very informative home page including links to the recreation department. The Caribou parks and recreation has their own Facebook page as well with a lot of posts on community activities.
About the City of Caribou,Maine
Caribou is the second-largest city in Aroostook County, and the most northeastern city in the United States. It is a favorite spot to venture from when heading out on Maine's interconnected snowmobile trail system to access the 1,600 miles of trails in Aroostook County. Winter comes early to Caribou and stays late, so they celebrate it each year in February with a fun, family-friendly Winter Carnival.
Things to Do in Caribou
Besides snowmobiling, Caribou has plenty to offer. Just outside of Caribou is the Aroostook National Wildlife Refuge, which has more than five miles of trails perfect for hiking, snowshoeing or cross-country skiing. The Aroostook Valley Trail passes through Caribou on its 28 miles of multi-purpose trails from Presque Isle to New Sweden. An unexpected treasure is the Nylander Museum of Natural History where there are delightful displays from the archeology, paleontology and other natural sciences collections. The museum exhibits the collections of Swedish-born naturalist Olof Nylander, who spent years studying the fauna of Aroostook County. The Caribou Historical Society is another popular spot with more than 10,000 artifacts on the campus and a replica of an 1860s one-room schoolhouse.
Visit Goughan's Berry Farm, open year-round celebrating each season with homemade ice cream, gifts, pick your own gardens, a corn maze, Christmas tree farm, and farmer's market.
Don't leave town without a bag of locally-grown potatoes you'll find at many roadside stands.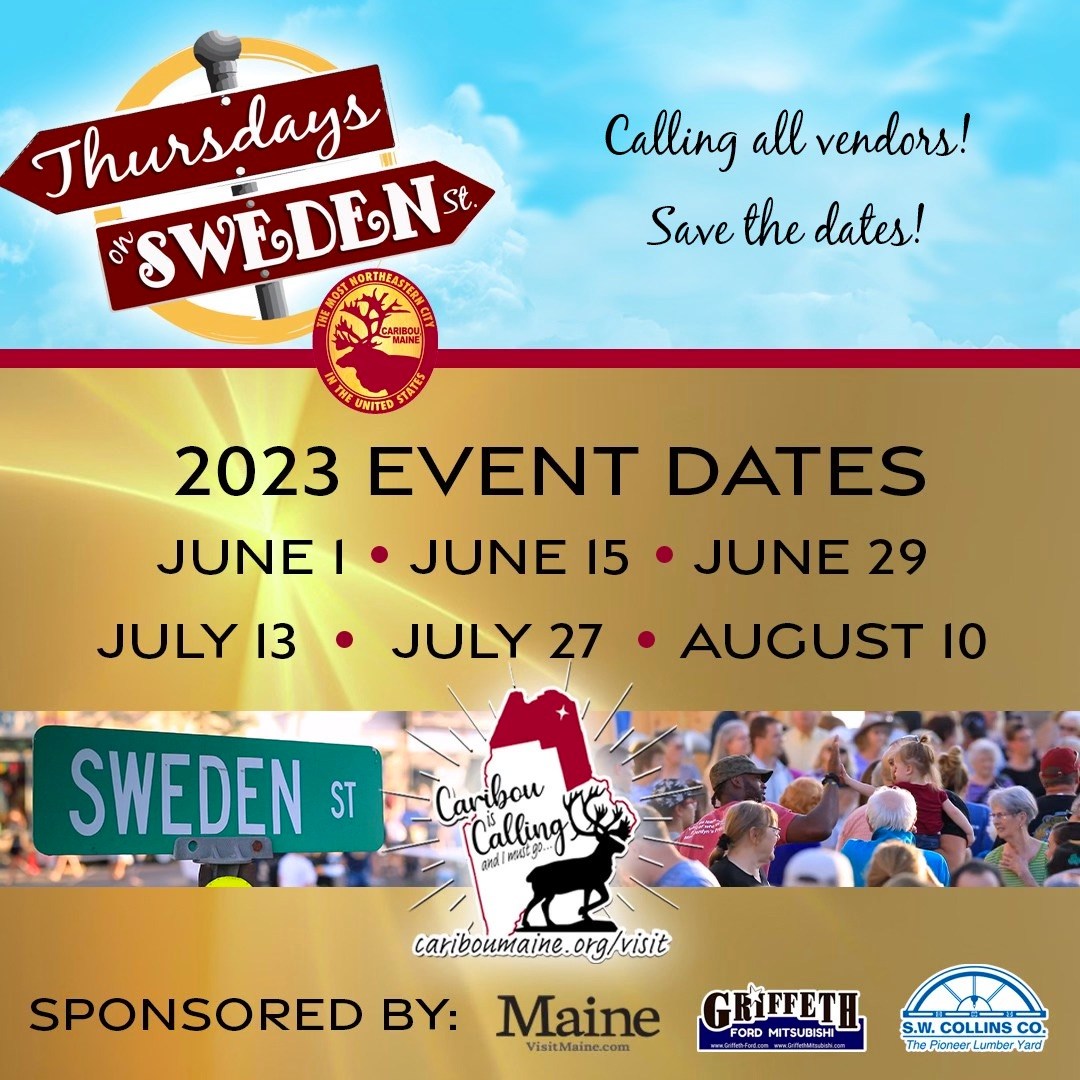 3:00 PM - 8:00 PM