add bookmark
Northwoods Nectar, Maple Syrup Weekend
3/26/22 - 3/27/22
Join us for samples and a tour of our sugar shack and store!
All are invited to Eagle Lake to tour a real Maine maple sugar shack! Northwoods Nectar is a family owned and opperated sugarbush and we are eager to demonstrate our process and show you exactly how we make this wonderfully sweet treat. Admission is FREE. This is a great way to spend your visit to Maine's Aroostook County.
Did you know it takes roughly 40 gallons of sap from the maple tree to make 1 gallon of the maple syrup you enjoy on your pancakes and ployes?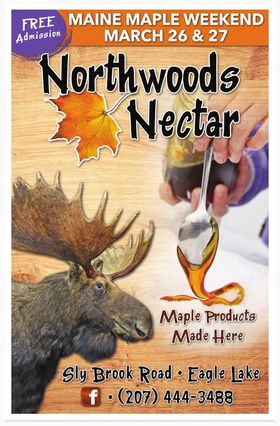 ALL DAY