Events
Benedicta Snow Gang
add bookmark
Benedicta Snow Gang Fishing Derby
2/19/22
Family Ice Fishing Derby at Plunkett Pond
We are excited to invite you to Benedicta for family fun on Plunkett Pond. All are invited to relish in our community and you can stay up to date on our event by visiting our Facebook page.
This event takes place over Free Fishing Weekend!
Cast a line or set a tip-up during one of Maine's Free Fishing Weekends, February 19-20 and June 4-5, 2022. Learn more here.
On these days, any person (except those whose license has been suspended or revoked) may fish without a license. All other laws and regulations apply on these days.
View the Maine Fishing Law Book.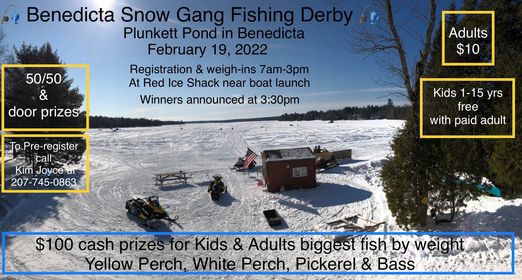 7:00 AM - 3:00 PM