Events
Arootsakoostik Music
add bookmark
Arootsakoostik Music Festival
7/9/22
The most fun music festival at Thomas Park in New Sweden, Maine
Arootsakoostik Music Festival presents: Concert in the Park
We are very excited and thankful to return to our beloved Thomas Park in New Sweden on Saturday, July 9 for an afternoon celebration of original Maine made music and art.
We are thrilled to be joined by our friends:
the Ghost of Paul Revere
Tricky Britches
Dominic Lavoie and the Junction Butte Pack
Bad Combo
Milk & Honey Rebellion
ThunderHeart Lion
Matt LaJoie
Sara Trunzo
Music from 12:00 PM until 8:00 PM.
Tickets will be available at the gate ONLY on the day of the show - $30. Kids under 10 free.
We will have vending from "FK That's Good" (Tacos) and Storibord Coffee. Coolers are welcome. We ask that you PLEASE try to carry out whatever you carry in, respect the park and help us keep it clean. Thank you.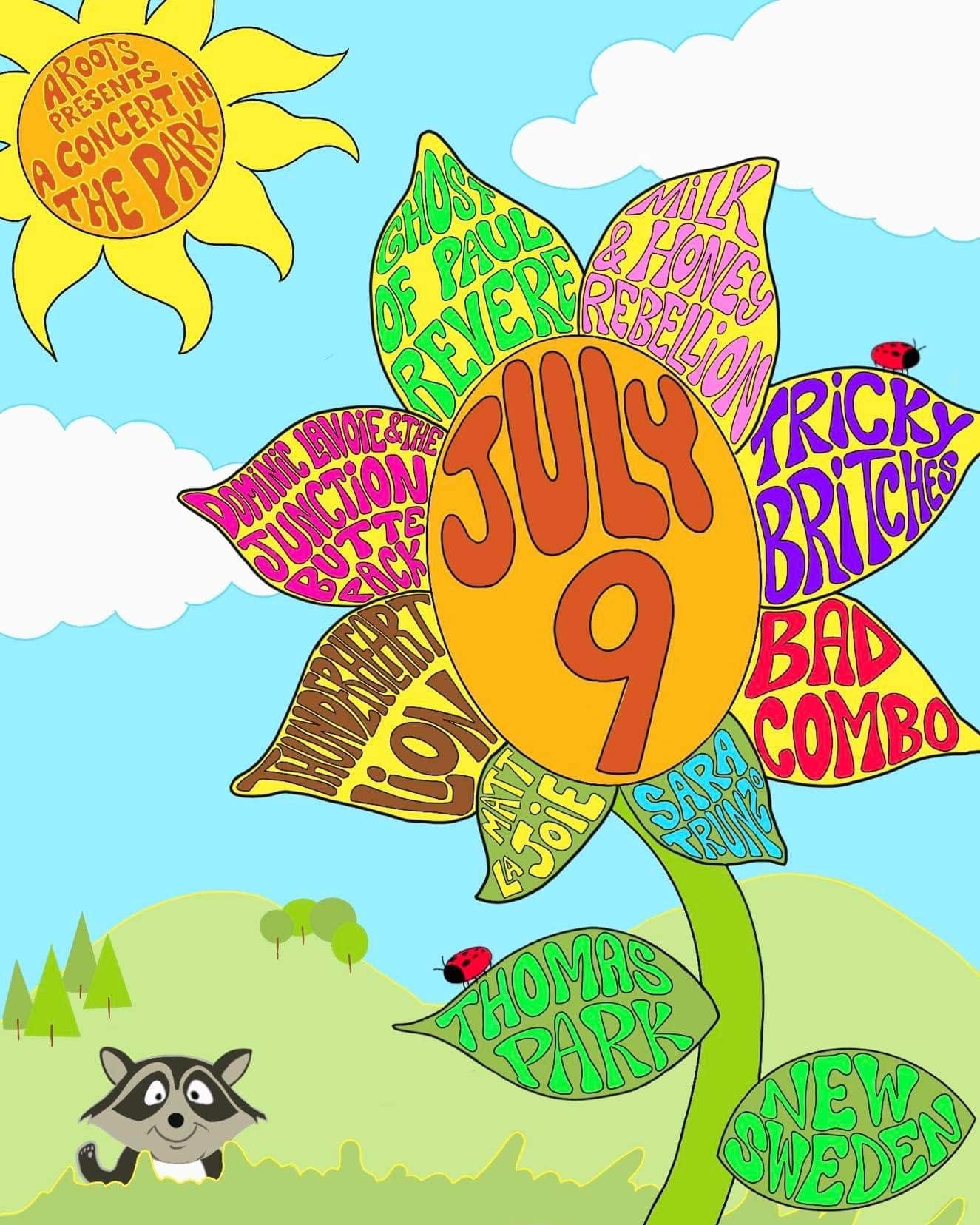 Poster art by Corey Gagne.
Music programs in our schools are hurting. We thoroughly believe in the power of music. This year we are gonna try to do some good and raise some instrument donations for the The Scott Brewster Music Fund. The Scott Brewster Fund is a local, charitable organization founded in 2016. It's primary goal is to help children participate in music and to help the music programs in our schools. For more on them, please check out their Facebook page.
Our main objective is to collect any musical instruments you have lying around unused in your closet, attic, studio or elsewhere. We will get all donations to the Scott Brewster Fund and they will get these instruments into the hands of the needy teachers and students throughout our local area schools.
Anyone who brings an instrument for donation will be given a ticket for a drawing of a prize package of music and merchandise from the festivals artists.
This is a great opportunity to do some good and we always enjoy doing good. Please spread the word and bring an instrument. Thank you!
12:00 PM - 8:00 PM