add bookmark
The 150th Anniversary of the Founding of New Sweden, Maine
6/17/22 - 6/19/22
The town of New Sweden, Maine celebrates 150 wonderful years of incorporation!
Fun, festivities and feasting are the hallmarks of Midsommar Festival, June 17th – 19th in New Sweden in Maine's Aroostook County. This will be a special celebration when combined with Hundrafemtio - the 150th anniversary of New Sweden – postponed since 2020. In addition to the usual exciting events of Midsommar, which include decorating and dancing around the Midsommar Pole, as well as a delicious smorgasbord, this year's celebration will include sporting events, fireworks and an historical pageant depicting New Sweden's early days.
The very best live music!
Schooner Fare will be in concert in the Thomas Park Bowl as well as October Gold, which features New Sweden's own Aliza Thibodeau and her husband, Kit Soden. A new Immigrant Exhibition also will be on display bringing to life the stories of the first settlers to New Sweden in photos and stories. There will be activities for visitors of all ages who are invited to become honorary Swedes for this unforgettable weekend.
Stay up todate on this event schedule at the New Sweden Historical Societies Facebook page.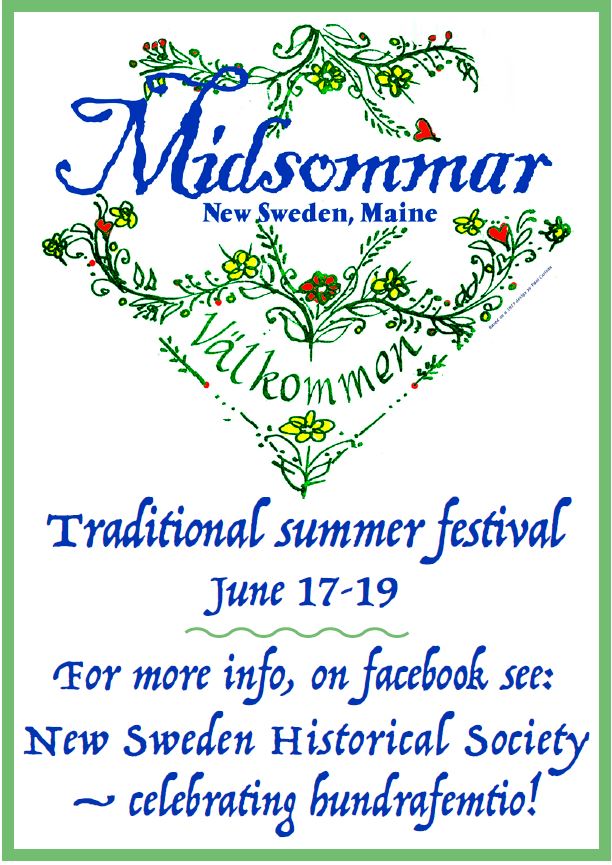 ALL DAY