Maine
A recent scientific report revealed that the happiest people in the world have one thing in common. And, nope, it's not access to a private jet or a lifetime supply of gummy bears. It's actually Maine. Yep, people who frequently eat lobster rolls, take long walks in blueberry fields and grill with views of Penobscot Bay are proven to be not just happier, but also funnier and more charismatic. I don't remember exactly where I saw the study, so you'll just have to trust me. I mean, how else do you explain all the folks I've run across who have a certain glow about them and who just happen to have recently returned from a trip to Maine? This can't be a coincidence.
In my little corner of the planet, it sometimes seems that everyone is going to Maine these days—or, at least, they want to. I've sent dozens of people to Maine over the years, and they all come back with their own stories and personal discoveries. Here I thought I was a Maine know-it-all, but with every friend comes another new recommendation, another find and, for me, another place to check out. With that in mind, I asked a few well-known writers, musicians, chefs, and other tastemakers who frequently visit Maine what is the thing that made them fall in love with the state. I can't promise you'll have the exact experience on your next trip to Maine, but I can, I swear, promise you happiness.
---
The perfect day goes something like this: blueberry pie. It starts with a slice of the blueberry pie and coffee at Tandem Coffee & Bakery in Portland. It's a big chip to ante with, but it does start the day off right. One of the best pieces of pie I've had the pleasure of enjoying. And then follow that up with the chocolate chip cookie for good measure. A dozen oysters at Eventide combined with their lobster roll keeps me sailing through lunch. A quick stop at Higher Ground Coffee for an afternoon Americano before setting course for Peaks Island. It doesn't get much better than lapping around the island on a bicycle. A 20-minute ferry ride can make you feel like you've departed on a spacious mini holiday. Such a beautiful bucolic island. Find myself a bench and lose an afternoon inside a book. Portland during the summertime is one of the loveliest places I know. — Daniel Kessler, Guitarist, Interpol
When I think of Maine's long summer days and cool summer nights from the humid swelter of my Alabama home, I think invariably, "What's for dinner," starting with pristine DownEast ingredients of the unparalleled quality and specificity that can't be had anywhere else. I'm talking about perfect lobsters steaming in tall pots, of course, and also saline steamer clams with faces only a mother could love; delicate oysters rolled, cupped, and groomed by the tide; and dainty blueberries sweetened by the sun. — Hunter Lewis, Editor in Chief, Food and Wine
My Maine itinerary changes every time I go based on the time of year (yes, I go in the winter, too!), but if we are talking summer, there is one place I must go: Young's Lobster Pound in Belfast. It's (you guessed it) a lobster pound situated on the Belfast Harbor that also just happens to be BYO and BYOS (Bring Your Own Sides). Think of it as a picnic on the water where someone brings you a perfectly cooked lobster on the finest plastic tray like the Maine royalty you're pretending to be. You still get to make dinner with all that insane Maine produce without figuring out how you're going to steam 6 pounds of steamers at once–the best of every world. — Alison Roman, Cookbook author and New York Times columnist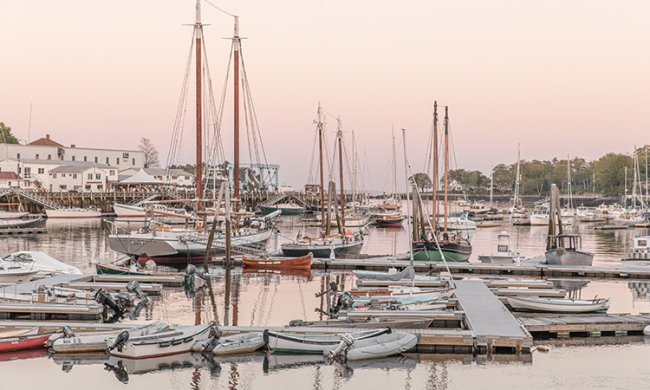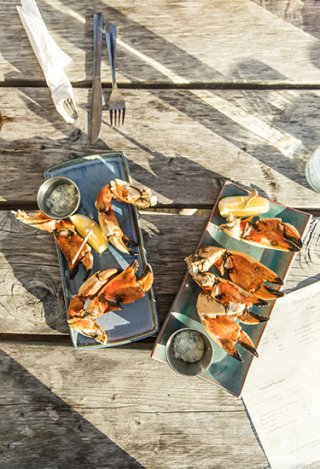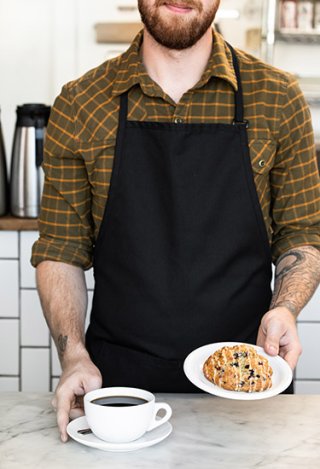 This might sound odd but the thing I love most about Maine is buying vegetables in the back room of Chase's Daily in Belfast. It's the most gorgeous stuff you can buy. And then I love to go up front and have lunch in the old Victorian storefront with its nods to an old timey diner. — Andrew Tarlow, Restaurateur
I think about the lobster toast from The Honey Paw in Portland more than I should. I had it once and not a week goes by when I haven't thought about it. It's a classic pu pu platter standard given a fresh, local makeover—it's so Portland. — St. John Frizell, Restaurateur
A trip to Maine sets my mind at ease. It's one of my wife's favorite places in the country, and we loved making our way up along the coast, collecting special experiences. First stop was eating fresh oysters at Glidden Point Oysters and taking a couple dozen to go. Then we headed to Belfast to shop for fresh vegetables and crusty loaves of bread at Chase's Daily. We took our provisions and boarded the Schooner Yacht Heron in Rockport. We sailed the bay at sunset, learned the history of the whaling and lobster industry with husband and wife captains Nigel and Bonnie. We saw beautiful lighthouses, shucked our oysters, ate juicy tomatoes on bread with mayonnaise, dipped fresh radishes in honey, and soaked it all in. — Alon Shaya, Chef
It's no secret that Maine experiences some long winters. But it's that endless season that is responsible for this beautifully fleeting and triumphant summer. I've been all over the world, and there's nowhere else I want to be from June through September. The landscape pops, crops bloom, the sun and saltwater air crisp your skin so perfectly. And the food is simply unbelievable. There's a simple and timeless quality to everything that no other place captures so convincingly, and it's heaven. I think the most idyllic moments are cooking along the rocky shore of Bailey Island with a saltwater wind off the shore and a buoy bell ringing faintly in the distance. There's ingredients like lobsters, corn on the cob, tomato salad and blueberries. All my friends are around. That's how I want to go. — Jay Carroll, Creative Director
I went to Maine for New Year's Eve once. There was a crazy ice storm, and you could barely walk anywhere. The brown butter lobster roll at Eventide Oyster Co. was worth all the pain and almost suffering. I'd risk my life again in a second. — Joe Beddia, Chef
Every night in Maine we have ice cream. That's non-negotiable since we stay with my aunt in Round Pond, and her house is just a few doors down from the Granite Hall Store. After dinner we join the line that forms for giant scoops of Gifford's ice creams: wild blueberry, peanut butter, mint chip. It's not really the flavor that matters as much as the fact that you're eating it on a bench with kids climbing on the trees and the sun slowly setting, and there's always one M&M placed perfectly on top of all the scoops. — Julia Kramer, Deputy Editor, Bon Appétit
If you're anywhere near Acadia, a twenty-minute drive off of Route 1 will put you in the tiny town of East Franklin, in front of the ultimate mom and pop ceramics studio, Hog Bay Pottery, where Charlie Grosjean makes beautiful pottery in the kiln that he built on the end of Hog Bay. His wife Susanne makes handwoven rugs, which they sell out of a showroom attached to their house. The last time I was there, they were on vacation and left a note on the studio door that said to take whatever you wanted and leave cash or a check on the table. That's as small-town Maine as it gets. — Alex Delany, Drinks Editor, Bon Appétit
In late summer, I head to Pine Point Fisherman's Co-op in Scarborough for steamers, Jonah crabs and a dozen soft-shelled lobster to cook back at the house. I'll go foraging for blueberries and chanterelles to fill out the meal. Getting the family together after a fun day outdoors and eating at a picnic table together makes for the ultimate day. Even right now, I can see the newspaper spread over the table and the smell of Old Bay and clarified butter filling the air. That's the life. — Brad Leone, Host of "It's Alive"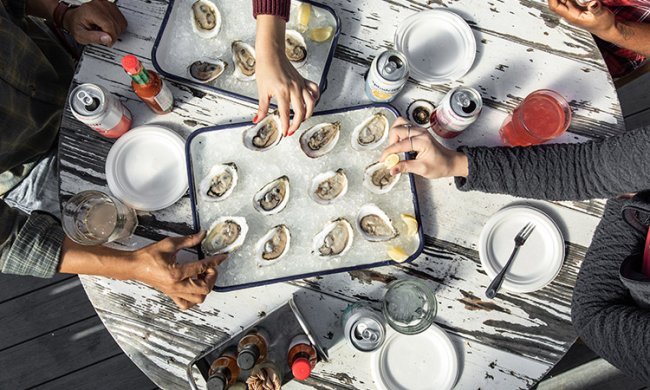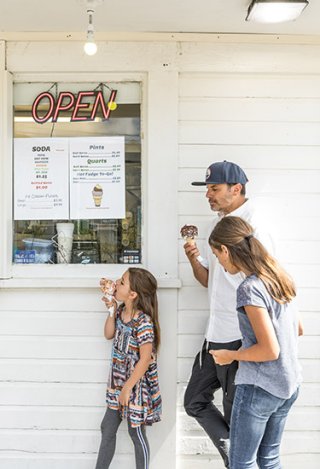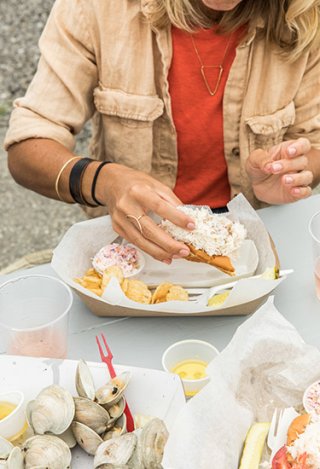 I stay in Kennebunk with my family every year, and it's a tradition to head straight to Rococo Ice Cream. Owner Lauren Guptil has a real flair for mixing international flavors and local, seasonal ingredients. You can't go wrong with a scoop of earl grey with rose hip jam and pistachio or blueberry chipotle. — Kerry Diamond, Editor in Chief, Cherry Bombe
If I had to pick one experience, it would definitely be the short hike up to Maiden's Preserve up Maiden's Cliff Road (off Youngtown Road) in Camden. It's less trafficked than the Maiden's Cliff Trailhead, an easy hike (even for the kiddos), and the reward of endless blueberry fields while looking out over Megunticook Lake is stunning. It has got all the nostalgia of Blueberries for Sal, bucket "kuplinking," etc. Go towards the end of July after the pesky black flies and before the berries disappear, and don't let anyone tell you that another state has a better blueberry. — Jou-Yie Chou, Designer
My family and I love hiking Cadillac Mountain, with amazing views of Frenchman Bay and Bar Harbor. After that we go foraging on the beaches near Ellsworth for clams, wild garlic, periwinkles, and seaweed. The perfect Maine day ends with a home-cooked meal using all those ingredients. — Sarah Hendler, Jewelry Designer
People don't usually associate Maine with potatoes (but they should), and maybe that's why Fox Family Chips come in a shiny, eye-catching mylar-silver bag. These chips are coming home with me whenever I get my hands on them, specifically the Salt and Pepper or the Salt and Vinegar they just released. They are thick-sliced and cooked in two types of oil to a golden amber color, perfect for scooping smoked bluefish or onion dip. — Donald Kenney, Hotelier
Maine beckons when the weather down South becomes too hot to handle. Up North, the temperatures lure you outdoors all day long—for porch-front coffee, midday dips, afternoon hikes and evening meals. Nothing defines the outdoor Maine lifestyle more for me than L.L.Bean—my dad's brand of choice—and nothing says Maine like their flagship store in Freeport. When I see the boot, I know I've arrived. — Brooks Reitz, Restaurateur
Written by Andrew Knowlton – Editor at Large for Bon Appétit
This content is a paid promotion between Visit Maine and Andrew Knowlton.
Must Reads
;