Maine
The shaving scuttle mugs, ikebana vases and butter dishes from Georgetown Pottery travel less than 30 miles from a studio on a Maine island to the showroom in Freeport. The journey for Maine Woolen's woven blankets is even more brief, a 10-mile jaunt from the Brunswick mill to the Main Street shop. At Wilbur's of Maine Chocolate Confections, you can lob a maple maltball from the factory floor to the retail area without straining your arm. If this were a race, the Vietnam-made pajamas from J. Crew Factory would lose to Team Maine by almost 8,000 miles.
Play the free association game with "Freeport" and you will most likely blurt out "Outlets." The southern Maine town (population: about 7,800) is known for discount shopping at more than 170 national and international stores. The only connection the chains have to Maine is their street address. But the retail topography is changing. "Made in Maine" signs appear in shop windows, and labels on handmade goods proudly hail their place of birth. Employees eagerly explain the origin stories of the companies and demonstrate, through props, videos or simple instruction, the craftsmanship of their products.
"The local movement is definitely catching on," said Jim Cram, executive director of the Freeport Historical Society.
Boots, blankets and pottery
The town has dabbled in many careers over the centuries, including shipbuilding, fishing, canning and shoemaking. Its most famous boot guy is Leon Leonwood Bean (long for L.L.Bean), but the outdoorsman who disdained cold, wet feet wasn't the first visionary to sow his dreams in Freeport's soil.
"The outlets piggybacked on L.L., and he piggybacked on E.B. Mallet," said Holly Hurd, the historical society's collections manager and curator.
In the mid-1800s, Mallet poured a sizable inheritance into the development of Freeport, which benefited from the railroad and the nearby Harraseeket River. He invested in coal and steam power, and built one shoe factory and then another.
L.L.Bean overlapped with Mallet. In 1912, he introduced the Maine Hunting Shoe, which he sold from the basement of his brother's apparel shop. Today, the Beanopolis in the town center comprises the 200,000-square-foot flagship store plus separate buildings for its home goods; hunting and fishing gear; bike, boat and ski toys; and outlet.
"Take your time," a green-vested employee advised an overwhelmed customer. "We're open 24 hours."
In 1951, the company introduced a 24/7/365 schedule and has closed only a handful of times — when President Kennedy was assassinated, Bean died and a fire broke out in the 1980s.
The outlets rose from those ashes. The small inferno destroyed Leighton's Department Store; Dansk moved in. More chains arrived. But over the years, new buds have started to blossom: the homegrown retailers.
"Maine-made products symbolize our state," said Wilbur's employee Nate Parent. "Maine is a beautiful state with gorgeous coastlines, woods and mountains. However, we also have some of the harshest winters anywhere, so that makes us tough, independent and resilient."
In late November, I borrowed some of that Maine grit as I strolled along Main Street, a blocks-long run of national and local stores. I ducked into Brahms Mount, which uses antique shuttle looms to construct its blankets, throws and towels. A video transports viewers to the Monmouth mill 30 miles north of Freeport.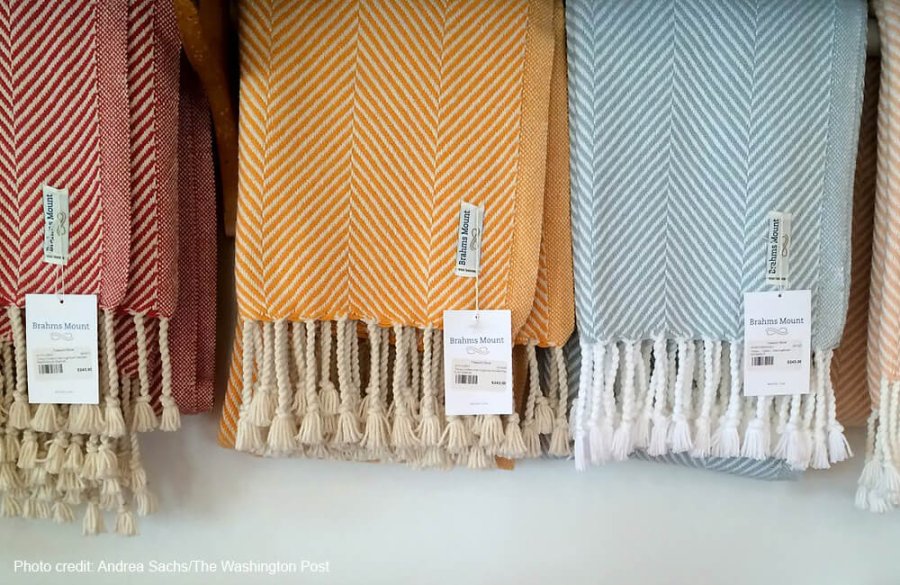 Suzanne Lauzier, a store manager, guided me around the store, practically a Dwell magazine spread with warmly dressed beds and artfully cluttered tabletops. I followed her to a hanging rack of blankets. Pulling one down, she described the signature markings of a Brahms Mount: closed selvage (banded hems), a herringbone pattern, hand-twisted fringe that falls like Komondor locks. The blankets come in more than 20 colors, including seven shades of blue that cover all of the moods of the Maine sea and sky. The eco-minded manufacturer also crafts smaller pillows out of leftover material and stuffs them with balsam, which "makes you think of Maine," she said.
Across the street, Maine Woolens names its blankets after Pine Tree State towns (Belfast, Rockport, Harmony) and landscape features (Seacoast, Sugarloaf, Rangeley). Many of the patterns have backstories, too. The stars in the Galaxy blanket were inspired by a 19th-century item discovered at a flea market in Scarborough, Maine; the Bedford's hucklace weave pays homage to New England whalers, who could bring limited personal items on the long sojourns. If only we could send blankets back in time.
At Georgetown Pottery, I stepped into a quintessential Maine scene without having to brave the cold ocean spray. Brush-painted renderings of blueberries, birch trees, lighthouses and sailboats adorned the porcelain works. I held a vase up to my ear and listened for the crashing waves.
"No two pieces will be the same," said Judy Wing, an employee. "The color of the water, the thickness of the sand or the shape of the clouds might be different."
The company was started by Jeff Peters, a Californian who embarked on a cross-country road trip in the 1970s and bailed on the adventure — and college — once he reached Maine. The ceramics student glazed and fired pots in a one-room log cabin in Georgetown. About 80 percent of the objects at the Freeport store are made by potters at the studio. The remaining items showcase other Maine artists, such as Sarah's Sand Dollars' colored pendants. The lobsterwoman discovered her second trade after accidentally spilling red wine on the sea urchin. Art was borne out of clumsiness.
Official dessert, treat and gem
Quick quiz: What is Maine's official state treat? If you guessed wild blueberry pie, you are wrong. That is the state dessert, which just happens to be made with the state berry.
Bow Street Market sells both official edibles (try the baked good from Two Fat Cats Bakery) plus the state treat, the whoopie pie. Wicked Whoopies is the big whoop in town and offers pies in a rainbow of flavors at its Main Street location.
Quick quiz, Part II: What is Maine's official gemstone? Hint: It's the October birthstone.
Tourmaline was the first gem to be excavated by modern-day miners in America; the original dig took place in 1820, on Mount Mica in Paris, Maine. In 1972, three men unearthed the largest tourmaline find in North America, on Plumbago Mountain in Newry, Maine. The main chamber of the Dunton Quarry contained 1,700 pounds of tourmaline. (The National Museum of Natural History owns one of the treasures, the 10-inch Jolly Green Giant.) Six years later, the government pronounced tourmaline its state gem.
"Tourmaline is much rarer than diamonds," said Annette Evans, who owns and operates R.D. Allen Freeport Jewelers with her husband, Mark. Tourmaline moves nimbly along the color spectrum, from translucent to coal black. The store devotes several display cases to a pink and green combo that resembles a slice of watermelon.
The store features about 20 Maine artists who often keep the New England environment in mind. For example, rings with a low bezel or twin prong setting easily clear gloves and mittens. The ultimate fashion test: "You can wear these with your L.L.Bean clothes," she said.
Chocolate moose and lobsters
Wilbur's advances the theory that everything tastes better drenched in chocolate. The company coats blueberries, cashews and even the state animal. Schoolteachers Tom and Catherine Wilbur created Wilbur the Moose in their basement during a summer break in the 1980s. The animal pop on a stick has milk chocolate antlers and nose, and peanut butter fur. The couple later introduced a chocolate hunting boot, an ode to its neighbor, and a chocolate lobster, which the government crowned as the state crustacean in April.
Wilbur's produces about 5,000 pounds of candy per week at its Lower Main Street factory. Visitors can watch the process from start to finishing bite. "It is not uncommon for candy to come off of our belt, get packaged and labeled, and then be rushed right onto our shelves," said Nate, "all within a matter of minutes."
Recycled sail bags
If Sea Bags could talk, they would regale us with maritime stories as riveting as Patrick O'Brian sagas. All of the items — duffels, totes, envelope clutches, log carriers, wristlets, diaper bags — are made out of used sailcloth. The Portland company has reclaimed more than 500 tons of sails since 1999 and, over the past two years, has salvaged more than 10,000 sails destined for the landfill.
As a sailor, the navy blue anchor spoke to me, but my allegiance to my upbringing was tested by the cute critters, including a fox, a bear, a black Labrador and a lobster claw between snaps. But then I found a more fitting souvenir: a tote with the state outline. I could decide where on Maine to affix a big heart.
Where to stay
Harraseeket Inn 162 Main St., Freeport
800-342-6423
The 84-room luxury inn, which is walking distance from the shops, supports local manufacturers and farmers. Its two restaurants prepare regional cuisine, including a lobster Sunday brunch. Some rooms come with fireplaces. Rates start at $158 and include a full buffet breakfast and afternoon tea when booked through the inn.
Where to eat
Maine Kitchen and Topside Tavern 88 Main St., Freeport
207-865-9835
The restaurant is owned by Linda Bean, a granddaughter of L.L. Her menu features family favorites, including some of her grandfather's camp specialties, plus lots of lobster and seafood. Sandwiches from $8; main courses from $12.
Information
By Andrea Sachs December 22, 2016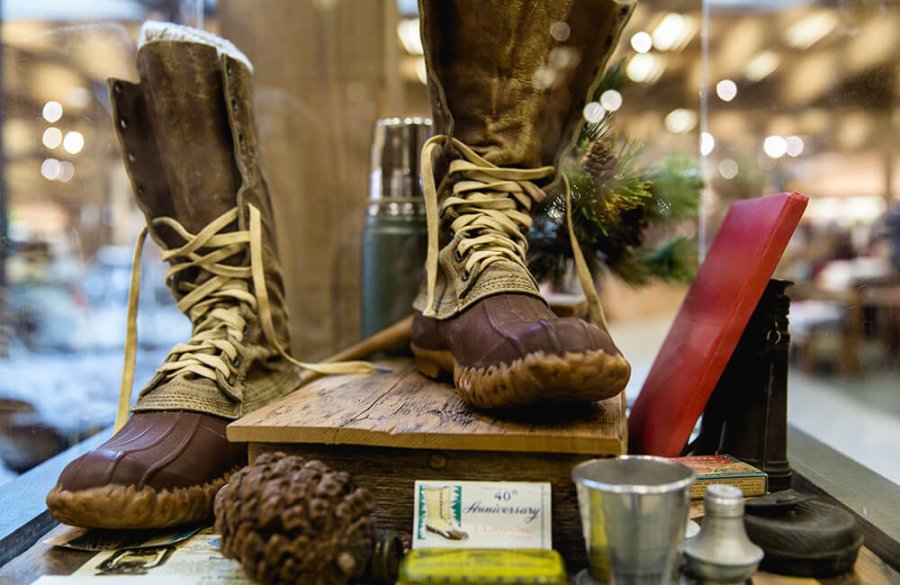 Content created for Visit Maine by WP BrandStudio. Learn more about WP BrandStudio.