Maine
Food Buzz: Restaurants in Biddeford, Maine
Biddesance. You won't find this word in any online dictionary. But to folks who know the definition, it has all the meaning in the world. Particularly in a special place in Maine near the merging of the Saco River and Atlantic Ocean. Welcome to Biddeford, a designated Main Street Maine city, where the community renaissance is fueled and flavored by a new wave and renewed appreciation of all things food and drink.
The term Biddesance was coined by a Portland newspaper and has been minted in shiny new entrepreneurial ventures ever since. Today, the legendary mills and historic neighborhoods are teeming with inspiration and fresh enterprise. It's a movement you can actually taste and savor at local eateries, brew pubs and distilleries.
While you won't find Biddesance on any of the menus in Biddeford, you'll encounter it in every dish, mug and tumbler, and every element of design and décor. Here's a sampler of establishments hoping to establish an epicurean relationship with you. In other words, come and get it.
Elda is a creation of Chef Bowman Brown who draws inspiration from Maine's coastal landscape and changing seasons. An homage to his great-grandmother, Elda Whiting Brown, the new restaurant is where Chef Brown creates the kind of dishes that won him the 2011 Food and Wine Best New Chef Award, and six James Beard semi-finalist honors.
Housed in a vintage railroad dining car, Palace Diner has been on the tasty side of the tracks in Biddeford since 1927. New generation owners, Greg Mitchell and Chad Conley, use their culinary talents to keep Palace Diner chugging along with classic diner faire. An inspiring "I think I can, I think I can" Maine-style success story.
The "Best Biscuit In Biddeford" had its genesis two generations ago, with co-owner Stacy Cooper's grandmother. Her recipe for a "true Northern biscuit" has been adapted with Maine-grown sifted wheat flour, sweet cream and buttermilk. The biscuits are at the heart and soul of breakfast and lunch dishes, all multi-generationally approved.
"Better coffee. For everyone." That's the mission at Time & Tide Coffee. Founders Jon Phillips and Briana Campbell created a space in which people from all walks of life can enjoy everything that goes into a great cup of coffee or a bag to go. Time & Tide is located on the Saco River, but its big tent philosophy flows throughout the region, and beyond.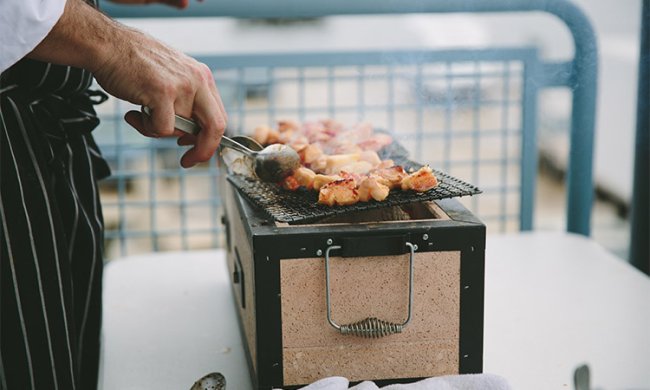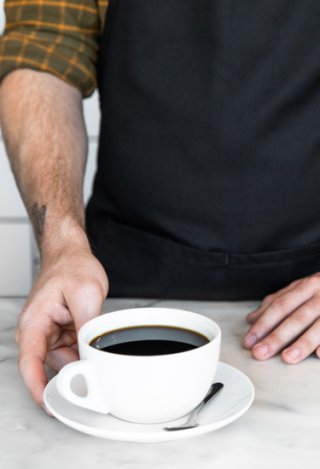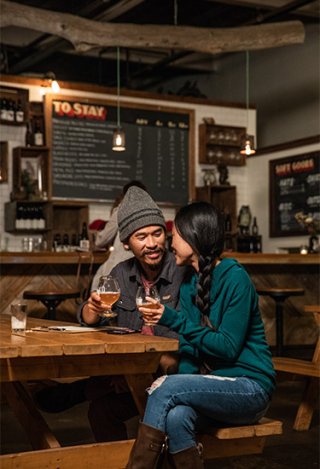 Husband-wife team, Darren Case and Kristina Hansen, use steam to power their still, much as textile-makers once powered the mill where they're located. Round Turn Distilling is the home of Bimini Gin which, as the owners are happy to share, "is inspired by bright sunshine, warm breezes and sparkling waves."
Friendship. Collaboration. Celebration. The cornerstones Banded Brewing is built on. You could set quite a few of their exceptional handcrafted brews on those stones, to share with the folks who are entrepreneurially banded with them in historic Pepperell Mill. And, with all their customers. We'll drink to that.
It's a self-roasting, delicious coffee shop with books and beer. It's an eclectic, mind-stirring bookstore with coffee and beer. It's a best-of-Maine-breweries bar, with books and coffee. It is, of course, all of the above. A local favorite for years, Elements was the gleam in the Biddesance's eye.
Contrary to the popular poem, there's no screaming to be heard at Sweet Cream Dairy. That's because guests are too busy enjoying the many delicious flavors of ice cream, from the classics to the creative. Simplicity and local sourcing are the key. The result is ice cream everyone can love. I. You. We all.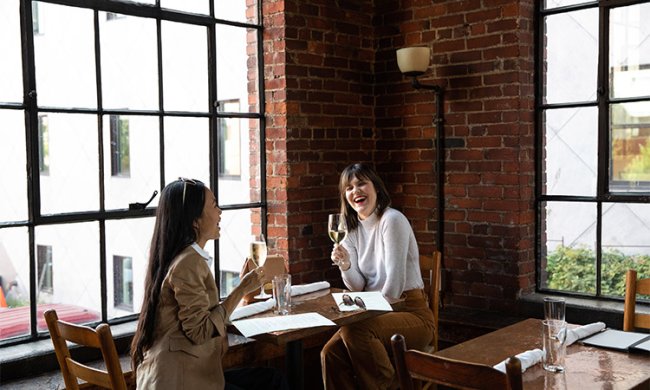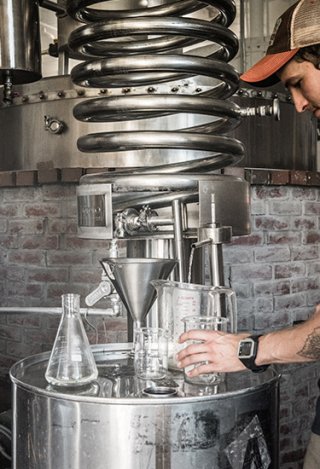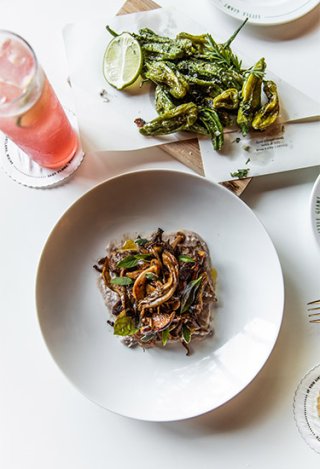 So what are low intervention wines? The kind wine lovers can clink their glasses to in a Biddeford toast. As co-owners Carson James and Erin Sheehan explain: "They're organic/biodynamic, sustainably-produced wines with minimal intervention in the winemaking process."
All together now: We…are…family. As in husband and wife, sons and brothers, a cousin and a nephew. It's 85 years of culinary experience with one mission: "To craft wholesome, delicious and honest food in a manner that honors and respects our bounty of resources." An extended family elevating the art of comfort food.
Biddeford's historic Pepperell Mill on the Saco River is home to a rising tide of fresh places to dine, imbibe and shop, including this fine trio.
Dafni Greek Gourmet offers the freshest olive oil products this side of the Peloponnese Peninsula. Which is exactly where the olives are grown and the extra virgin oil pressed – with the blessings of founder, Daphne Contraros Rioux, and daughter Melissa.
"Bringing good people together with great beer." If that sounds like a rallying cry for a better world, raise your glasses to Nuts and Bolts Brewing. It's the motto of brewers Patrick, Deedra and Ruby. Come for the vibe and stay for the mouthfeel and finish of the Flux Stout and Ruby Red Ale.
The word is that one taste of anything at Night Moves Bread and Pie will make your day. Using only stone milled, locally sourced grain, the breads are slowly and naturally leavened. "We craft each day with passion and intuition" goes the theme. It's the stuff Renaissances are made of.
This walking tour offers a sample of Biddesance food and drink at its finest, with a generous serving of entrepreneurial spirit at every stop.