Maine
It started with an oyster. I'd picked up a dozen on impulse from Beth's Farm Market in mid-coast Maine while buying their legendary, candy-sweet corn. The oysters were small, not much bigger than a silver dollar, and harvested that morning from the nearby Damariscotta River, the source of some the best bivalves on the planet. I headed back to my parents' house in Rockland with every intention of shucking them that balmy mid-July evening, but an all-day island-hopping kayak tour put things behind schedule. There was also that whole Maine summer sunlight thing, where the light hits the water just right so that the patterns and colors of a thousand lobster buoys in Penobscot Bay light up like stars. I could—and did—stare at them for hours. And, yeah, maybe those bottles of Morphos Pet Nat from Oyster River Wine Growers in Warren didn't help with getting dinner on the table on time either.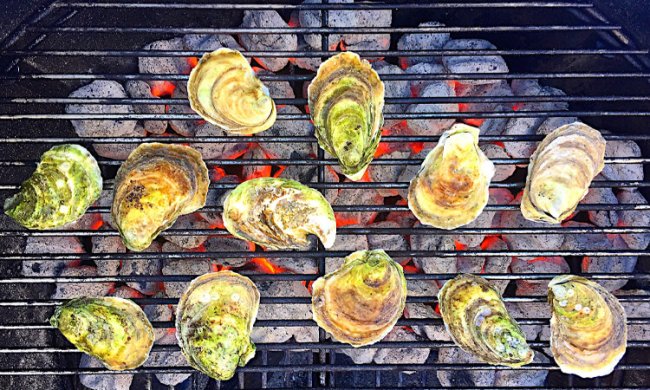 As the sun set, I decided to quickly roast the oysters on my dad's old Weber grill. Before I had time to chill another bottle of Morphos, they popped open like one of those built-in Butterball thermometers. Trying not to spill their precious liquor, I pried off the top shells and squeezed a dollop of homemade hot sauce on each oyster. I handed one each to my mom, wife, father, and two little girls, Julep and Signe. Everyone went quiet. In between the contented slurps you could hear the waves of Penobscot Bay crashing along the rocky coast below. In one direction an islet, exposed at low tide, was dense with a group of honking seals braying their approval. That night we also grilled baby artichokes, salsa-verde-marinated mackerel and that corn, which we threw directly on the grates, husk and all. It was one of those Maine days that sticks with you.
This wasn't my first Maine moment. I was raised in Atlanta, but I went to Bates College in Lewiston, Maine, in the 1990s. I remember drives to Bailey's Island for steamed lobster and bottles of Geary's, and the corned beef hash and blueberry pancakes I ate the morning after graduation. In 2000, my parents bought the house in Rockland, where we became regulars at Primo, run by James Beard-award-winning chef Melissa Kelly. At my wedding on a dreamy coastal farm in Port Clyde, Melissa cooked an amazing Maine-ingredient-driven meal, one that many of the guests still talk about 12 years later. I quickly became a cheerleader for the state, telling all my big-city friends that they had to check out Long Grain in Camden or McLoons Lobster Shack in South Thomaston or the Saturday market at Chase's Daily in Belfast. I had my favorite spot to eat crab rolls (I've always liked them more than the lobster ones), and steamers quickly became Julep's favorite food. I think it was really about the drawn butter, but still … It also didn't hurt that as an editor at Bon Appétit magazine it was my job to profile the growing food scene across the state, keeping tabs on the state's ambitious (Drifter's Wife) and sublimely simple (Palace Diner) new restaurants.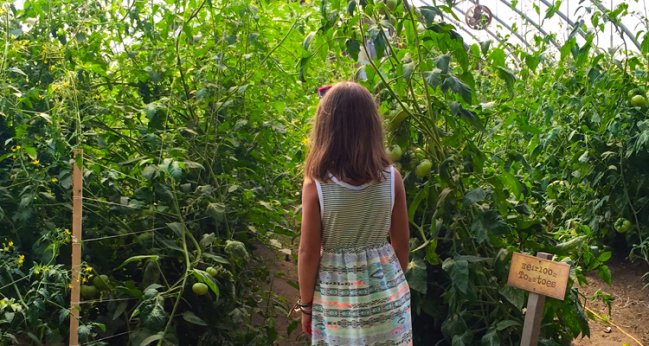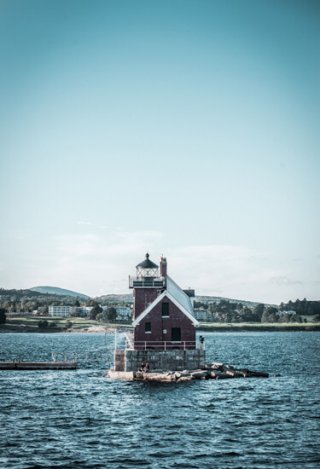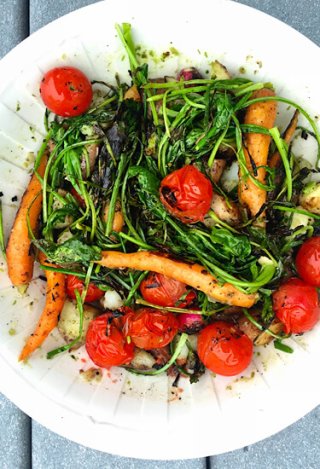 At some point, though, I stopped going out so much and started to cook, inspired by the incredible produce, meat and fish the state had to offer. My ideal day in Maine now goes something like this: I spend the morning at either the Camden or Rockland farmers markets, chatting up producers such as Fine Line Farm. I'll head down to the docks that stud the St. George Peninsula to see what the fishermen are selling off their boats. There's usually a trip to Beth's for corn or green beans (not to mention those oysters), and Maine Street Meats for the best lamb and sourdough bread. And when it comes time to make dishes like sausage tacos with onions and peppers, chicken wings with Padron peppers and scallops with charred garlic-scape pesto, the goal is to not spend a second inside over the stove: Everything must be grilled. OK, I'll spend a couple of hours making a few meal's worth of my favorite vinaigrettes, salsas and sauces, but after that it's all going down outside, with Penobscot Bay as my backdrop.
So my advice to folks going to Maine for the first or 50th time is, after you hit the lobster pounds and restaurants that I've been writing about over the years, hone your knives, grab the tongs and light the charcoal. Because in my book there's no better way to understand a place as special as Maine than through its ingredients and making a great meal from them. Throw in friends and family, a few local beers (anything from OxBow or Marshall Wharf), and some killer views, and you've got cook's—and eater's—paradise. And for me there's no place I'd rather put dinner on the table than in Maine. I've just got to remember not to get distracted.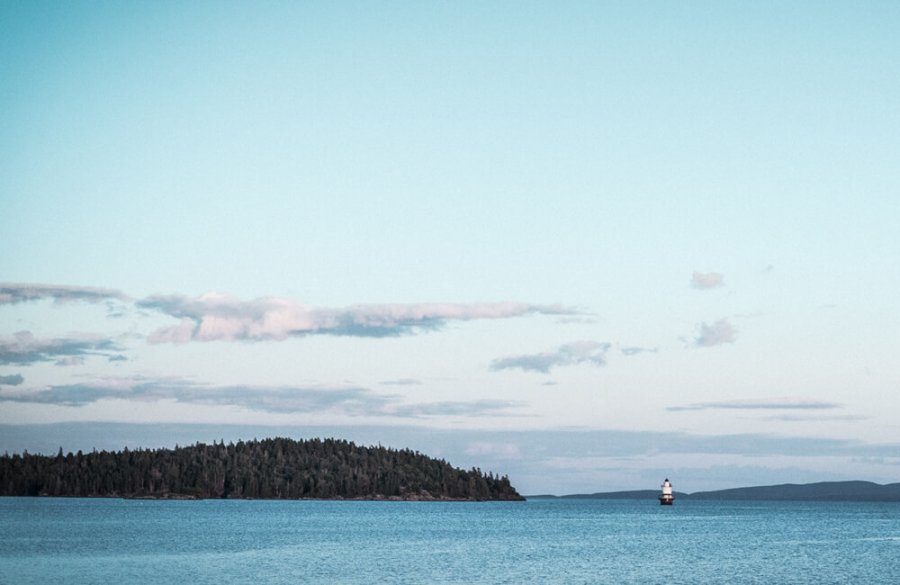 Written by Andrew Knowlton – Editor at Large for Bon Appétit
This content is a paid promotion between Visit Maine and Andrew Knowlton.
Must Reads
;