Maine
Summer Feet Cycling
You know the saying. Once you learn to ride a bike you never forget. And chances are you've never forgotten the feeling of your first ride. Maine native Norman Patry, owner of Summer Feet Cycling in Portland, remembers his like it was only yesterday.
"My first bike was a red Schwinn. My older brother, Mark, said he'd teach me how to ride it. So we're out in the street in front of the house and he said, 'Don't worry. I got ya. I got ya.' He's pushing me. 'I got ya, I got ya.' And then when I wasn't looking, he let go."
Just like that, Norman entered the world of bicycling. Many years down the road, as he found himself at a turning point in his business career, he would think back to that feeling of freedom on his first bike. Ultimately, it would lead him to let go of one career and ride off into another.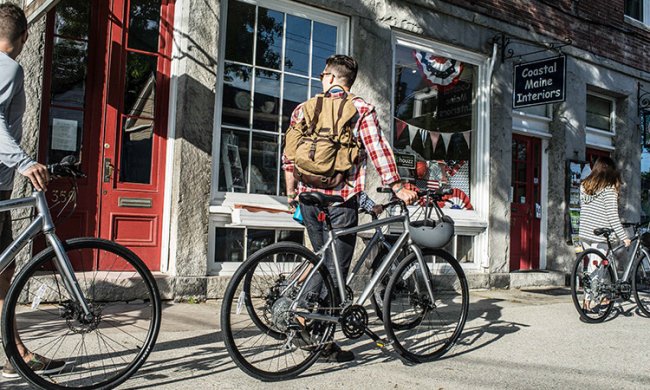 After growing up in Lewiston, Norman spent 16 years in Boston, first in college and then working in insurance and investments. After years of not riding a bike, he decided to go big and go home. He left the white collar world for the wicking t-shirt realm and embarked on a cross-country bike trip. Eventually the journey took him home to Maine. And, an epiphany.
"I was standing barefoot in Christmas Cove," Norman explained. "And the name "Summer Feet" hit me. And it just felt right. It felt like the right name. This is what I wanted to do."
The rest of his vision rolled out like this. He created a bike tour company with a mission of reconnecting people to that simpler, more carefree time in their lives. A time, as Norman describes it, "When summer was magic and life was fun. Our feet adapted to a shoeless existence. Soon we had summer feet and could move barefoot through the woods and along the shore."
Today, Summer Feet Cycling's tours around Portland and Casco Bay do require the wearing of shoes. But not the wearing of hip cycling jerseys. Because part of keeping it fun with Summer Feet, is keeping it real – and accessible to all levels. That way you can just go with the flow and enjoy the experience. Like Norman's older brother did for him – you can just let go. And while biking in Maine can be enjoyed in endlessly exciting ways – from challenging mountain terrain to idyllic rural roads – the tours of Greater Portland are as unique and original as the fellow who puts them together.
"I think what's great about Portland," Norman offered, "is that we have stunning natural beauty with the islands in Casco Bay, the ocean and the lighthouses. And we also have a super vibrant urban community. And I think it's rare where you have the stunning beauty and the lively, original urban space so close together."
Consider some of the names of his tours – Bikes and Brews, Beaches and Backroads, 5 Lighthouses – and you're well on your way to understanding their one-of-a-kind appeal. Whether a one-day, a weekend or a weeklong, Summer Feet tours include plenty of stops for foodie-friendly dining, boutique browsing, wildlife watching, sunset savoring and just plain letting go. And, if it makes you happy, standing barefoot in the water.
At the end of the trail, what are the things Norman wants for his guests? "I think the most important thing," he said, "is that we want you to end the day with a big smile on your face. Number two is to have a sense that you really got to see Greater Portland in a way you couldn't on your own – and to and learn something from an insider's view. And number three is memories. I want people to go back home and say, 'You know, we did this bike tour with Summer Feet and it was fantastic. We're always going to remember it."
Like it was only yesterday.
Must Reads
;