Maine
"Because it's there." Nearly 100 years have passed since legendary mountain climber, George Mallory, immortalized his rationale for climbing Mount Everest. Does the same reasoning apply to climbing in Maine? Yes. With one slight edit. Here people climb "Because it's Maine."
With Maine, it's all about the geology. In a state famous for uniqueness, it's no earth-shattering surprise that Maine's geology, too, is one-of-a-kind.
Taki Miyamoto, expert climber and founder of climbing gym and fitness center, Salt Pump Climbing Company, offered his take. "The big thing with Maine is the mountains here are really old. They've been affected by all kinds of geological forces and weather patterns. So there's a variety of styles to climb. It may be surprising, but there are still crags to be discovered in Maine."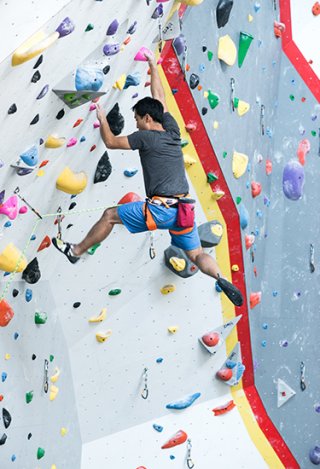 It's one thing to climb on a transcendental mission to "find yourself." It's a whole other thing to boldly go where no boulder climber has gone before. "We're always looking for that secret spot," Taki expanded. "So that sense that there's still stuff out there is alive here in Maine."
Climbing of all natures and levels is alive in Maine. Maybe for you it's scaling a sunrise-reddened granite wall with the ocean pounding below. Or, immersing yourself in the silence of a boulder climb in the deepest Maine forest. There are more than 400 designated rock climbing routes in Maine, including some of the most awe-inspiring coastal climbing in America. Acadia National Park is a national treasure for climbers and adventurers.
And then there's legendary Mount Katahdin. The Everest of Maine. Just not quite as high. But with its aura of the majestic and mystical, Katahdin has carved its own special place in the sky. Henry David Thoreau was inspired to write some of his greatest prose upon encountering it. Thoreau actually scaled a part of Katahdin, then decided to let his imagination do the rest. It might have helped if his daypack had a pair of super sticky rock shoes among the notebooks.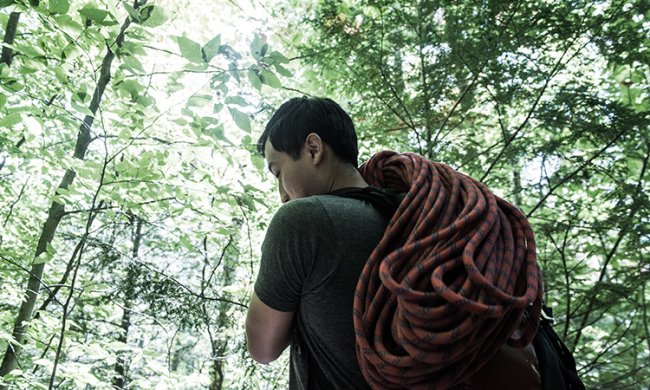 While Maine's outdoor climbing scene is truly phenomenal, there's the whole other realm of climbing that's become a phenomenon of its own. That would be the great indoors. How great? Taki Miyamoto left a successful law practice in New York to come back to Maine – he went to college here – and open one of the top indoor climbing facilities in New England.
Taki's mission is to make Salt Pump Climbing a place that reflects and celebrates the increasing diversity of the climbing world. "We want Salt Pump to be a home away from home for people," he stated. "A place where they can be themselves, rejuvenate, have fun, meet with their friends, and be their happy place."
One of a growing number of rock gyms and climbing schools in Maine, Salt Pump also offers yoga classes. "Learning to breathe, how to control your breath, and better coordination of your body are the kind of things that tie climbing and yoga together," Taki explained.
In an adventure sport that literally lifts the heart and soul, it only makes sense that reaching upward goes with looking inward. Taki has an even loftier perspective on it. He can. He's a world-class climber. "We think climbing can make your life better. We think the climbing culture can make the world a better place."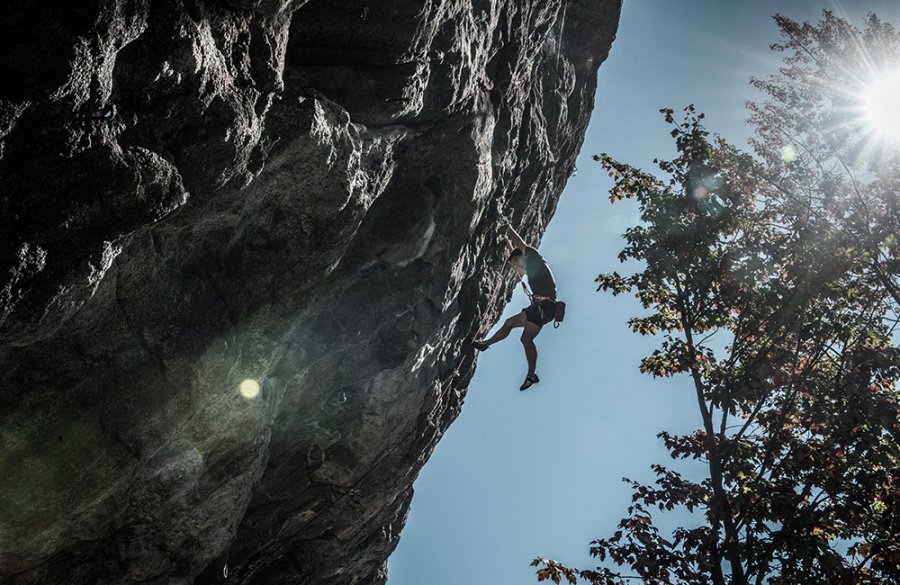 Must Reads
;