Maine
When was the last time you heard "Surfin' USA?" Doesn't matter. Because you can hear it in your head right now. Next question. When was the last time you heard "Surfin' ME?" That's M-E, Maine's official abbreviation. Of course, there's no such song. At least not yet. But surfing in Maine is not only a thing, it's a big thing. As big as the ocean that serves up the awesome waves.
On any given day, Maine is the first place in the USA where you can surf by sunlight. That's because Maine is the first place where the sun's rays touch America's eastern shore each morning. We wouldn't have it any other way. This is a place where folks like to get up and get after it. A place where originality and authenticity are alive and well. A hands-on kind of place. Except for those times when it's feet-on. Like when the surf's up.
Mike Love sang the lead vocal in the Beach Boys' Surfin' USA. But it's Michael Grover who sings the praises of Surfin' ME every day. Born and raised in York, Maine, Michael is partial to his local beach. But there are plenty of great waves to be ridden up and down the coast. And each locale has its own unique personality.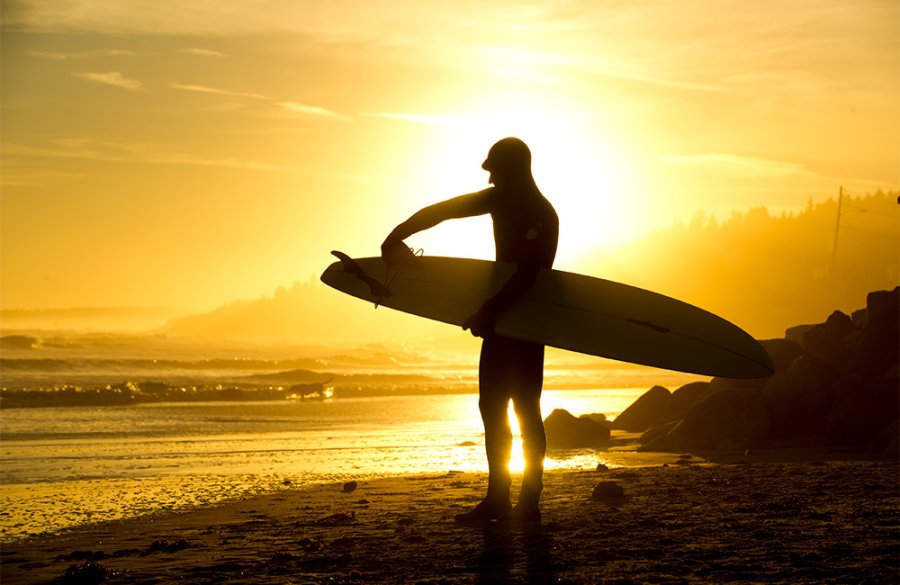 Michael described it this way: "If you spend the time and travel up the coast and stop by each of the beaches, there's a distinct culture in the people that surf there and the communities that exist there. From rocky beaches to sandy beaches. For me, it's really the most beautiful place in the country."
Think about it. You've got that spectacular Maine coastline. The majestic Atlantic Ocean. And after that, it's just you and the waves. Well, actually there is one other thing. Your board. And there again, you'll find originality, authenticity and that hands-on thing.
When you're talking surfboards in Maine, you're talking Grain Surf Boards. In 2005, founder and principal owner, Mike Lavecchia, caught the perfect wave when he moved to York, Maine, combining his experience in snowboards, commercial sailing and wooden boat building. The concept was simple enough. After the rise of foam and plastic boards, Mike wanted to return to the glory days of the wooden board.
The way he saw it, there was disconnect in communing with nature on boards that were at odds with it. The answer? Get real. Return to the inspiration of those early wooden boards, use modern design technology up front, then let your hands do the rest, using the best natural wood and best practices of sustainability.
"Grain surf boards are more hand-built than any other surf board you can get," co-owner Brad Anderson explained. "When we build a surf board the wood grain makes these things look like musical instruments that are designed for a different type of expression."
Hmm. Natural surfboards. Musical instruments. Maybe Surfin' ME will not only become a real song. Maybe it will evolve its own surf music movement. Crazier things have happened. And if it doesn't, the whole vibe and attitude of Maine surfing is definitely something anybody can hum along to.
Anybody is the key word here. Because you don't have to be an expert surfer or know the definition of "gnarly" to experience Maine surfing. Surf shops are plentiful and the door is always open to arrange a lesson with a professional and get properly equipped and out enjoying the waves. Paddleboards are a great way to go too.
As Michael Grover said between runs, "My best piece of advice is to keep a positive attitude. You come here. You're on vacation. People are going to respond to positive-ness. And that's the way I live my life. Be positive and you get positive energy back."
Somewhere in the back of a surf shop, there's a couple of Maine surfers strumming chords and writing lyrics on that theme.
Must Reads
;