Things To Do
Family Friendly Hiking
add bookmark
Family Friendly Hiking
The best kind of family hike is one that doesn't end up with mountaintop meltdowns or threats to never hike again from you or your clan. Maine has hundreds of hiking trails across the state, but finding the right one that meets your family's needs can be tricky. We've chosen great family-friendly hikes, one in each region of the state. They are easy to moderate in difficulty, and we've included suggestions for other nearby activities. Grab your water bottles and treats for bribes (but here's hoping you won't need to bribe anyone).
The Barrens are in York County, inland from Maine's sandy beaches. The 4.4 miles of trails throughout the 2,475-acre preserve range from easy to moderate, but you can easily shorten your hike to suit your family's needs. For a 2-mile hike along repurposed fire roads, consider the Sand Pool Hike, which leads you to a unique sandy pool in Buff Brook. Find the remains of an old stone dam, too. Here you will discover the state's best example of boreal pine barrens. The uniquely beautiful forests of this preserve are primarily pitch pine and scrub oak with lowbush blueberries dotting the landscape. See if your family can spot the 11 species of rare butterflies and moths and the numerous rare plants that call the barrens home. Keep an eye out for whip-poor-wills and common nighthawks that nest on the ground in the open areas, but keep your pets at home to protect the numerous uncommon species found here.
If you're ready for more, head to Little Ossipee Lake to enjoy swimming, paddling, or fishing in Waterboro. Both Old Orchard Beach and Kennebunkport are 45 minutes away if you prefer a seaside experience. Funtown and its sister waterpark, Splashtown, are in Saco, just 30 minutes away.
A short drive from Portland, the Casco Bay Trail in Wolfe's Neck Woods State Park is an easy half-mile hike with great rewards. You'll enjoy wending through the coastal woods before coming to Casco Bay, where numerous ospreys fly overhead, islands dot the horizon and interpretive panels educate the curious. Bring your leashed pup along, too. Stop for lunch at one of the picnic spots, or head into Freeport for dining options and shopping galore! Freeport's famous outlets and the L.L.Bean flagship store are always enjoyable. Kids love L.L.Bean's trout pond, where they can watch the fish swim from glass bubbles. For a small, quiet beach, visit Winslow Memorial Park in Freeport. Make sure the tide is high for the best swimming. There's also a playground.
For an easy, 2.5-mile loop in MidCoast Maine, the Devil's Back Trail on Orr's Island descends to Long Cove and then to the rocky shore, where you can watch as ospreys soar overhead. You will cross rustic wooden bridges (look for trolls!) and can admire the seals on the east coast and the oyster farms on the west. Bring your leashed pets!
For a tasty meal, head over to Bailey Island, crossing the unique Cribstone Bridge, and dine at Dolphin Marina or Cook's Lobster & Ale House for all things seafood — from fried clams and fresh oysters to lobster mac and cheese or whole steamed lobsters — or grab a fresh-picked lobster roll or sandwich from the Bailey Island General Store. You could take your lunch to Popham Beach or Reid State Park, both 45 minutes away and phenomenal MidCoast beaches.
In DownEast Maine, a veritable moss garden awaits! This easy 1.5-mile hike through the Barred Island Preserve on Deer Isle leads you to a bald granite overlook with a panoramic view of the bay and islands before reaching the sand bar, which takes you to Barred Island itself. Check the tide schedule before you go; for about three hours on either side of low tide, you can walk around the little island. Use this self-guided nature trail to look for amazing plants and animals in this beautiful maritime boreal fog forest, with spruce trees decorated with lichens. To protect this delicate ecosystem, pets are not allowed.
Grab sandwiches to go from Stonecutters Kitchen in the village of Stonington, and enjoy lunch on Sand Beach, just five minutes away.
For a short but moderately challenging hike with panoramic views, Jockey Cap in Fryeburg is a great option. The Maine Lakes & Mountains is a region full of fantastic hikes, and this 0.8-mile trail brings you from deep woods to a boulder field. At the base of Jockey Cap are small caves and some excellent bouldering opportunities! At the top of the granite outcrop, the woods give way to views of the Saco River Valley, high peaks of the White Mountains and the town of Fryeburg below. A monument features a panoramic landscape compass, with every visible summit depicted to scale and aligned for ease of identification. Pets are permitted on this hike.
Fryeburg is a great town for dining and activities. Each October, the Fryeburg Fair draws crowds for a week of fun. Visit the Hemlock Covered Bridge — the state's oldest remaining covered bridge — built in 1857. For some peaceful river swimming or kayaking, stop by Weston's Beach along the Saco River. There is a large sand beach and a rope swing downstream on other side of the bridge.
This 2-mile round-trip hike is rated intermediate, although it starts off nice and flat. Before long, you're making your way toward one of Maine's highest waterfalls. Plunging 90 feet, the falls are spectacular. If you're willing to brave the chilly water (and what kid isn't?), the swimming hole is ideal for cooling off or catching a fish. Your dog can enjoy the stream as well. The Kennebec Valley has numerous outdoor recreation possibilities. Northern Outdoors in The Forks is the oldest and most experienced whitewater rafting company in Maine. They also offer lodging, and their restaurant serves up tasty food as well as fresh Maine craft beer.
The Aroostook National Wildlife Refuge in Aroostook County's Caribou has 7,750 acres on part of the former Loring Air Force Base. Look out for waterfowl, ruffed grouses, American woodcocks, northern goshawks and bald eagles. Other residents include white-tailed deer, snowshoe hares, lynx, river otters, minks, ermines and coyotes. The Beaver Pond Trail is only 1.4 miles round-trip, and this easy hike goes past a lake, where you can spot moose and beavers. Keep your pets leashed on the trails.
Olof Nylander was a Swedish-born self-taught naturalist. The Nylander Museum of Natural History in Caribou is dedicated to his work. Geology, archaeology, paleontology, taxidermy, shells and butterflies form the major categories of the museum's displays. Goughan's Berry Farm has fun activities throughout the year, including mini-golf, a corn maze and a petting zoo.
In the Maine Highlands, enjoy foraging for berries on the Blueberry Ledges Trail. Beginning on the Appalachian Trail, the trail to Blueberry Ledges veers off shortly after entering Baxter State Park. The 4-mile, well-marked, out-and-back trail goes through a beautiful birch forest to reach the waterfalls, open ledges and many wild blueberries, which are ripe in July or August. Keep an eye out for deer or moose, too! This intermediate hike is the perfect way to get away from it all. In the town of Millinocket, you can also book another adventure with the New England Outdoor Center. They offer moose safari trips, whitewater rafting for older kids and more. You can also stay at their lakeside cabins. River Drivers Restaurant at the center serves breakfast, lunch and dinner. Check the schedule, as some days they are closed.
As your family heads out and enjoys Maine's many hiking trails, remember to leave no trace and respect the lands and waters so that they can be appreciated today and in the future.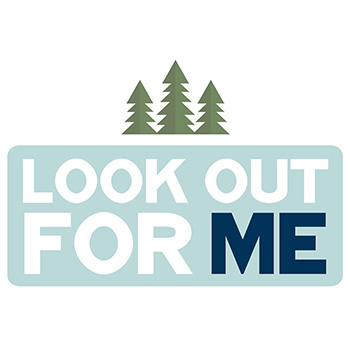 For more info on how to enjoy the outdoors responsibly, visit our Look Out for ME page.
Businesses & Organizations
Retrieving results.
Related Articles
Retrieving results.