Maine
With its beautiful landscape, learning experiences and farm-fresh goodness, Pineland Farms offers an inspiring view of farming – yesterday, today and especially tomorrow.
Welcome to Pineland Farms, a working farm on 5,000 acres of rolling land in New Gloucester, Maine, that's as grounding, connecting and just plain beautiful as 5,000 acres can be. It's a place where sustainable farming and living the good life are taught, shared and celebrated with families, friends and anyone who wants to learn what farming in Maine is all about.
The mission of Pineland Farms is a good one, and it goes like this: To provide a productive and educational venue that enriches the community by demonstrating responsible farming techniques, offering educational opportunities and encouraging a healthy lifestyle through recreation.
Now that you know Pineland's mission, this is ours: To do as many things as we can and enjoy every moment of a truly special experience. Starting with the Family Farmyard and one of the first three-letter words you learned to spell. Starts with C, ends with W. Don't be surprised if Pineland's world-renowned herd of Holsteins put a spell on you. They're that special. Some say amazing.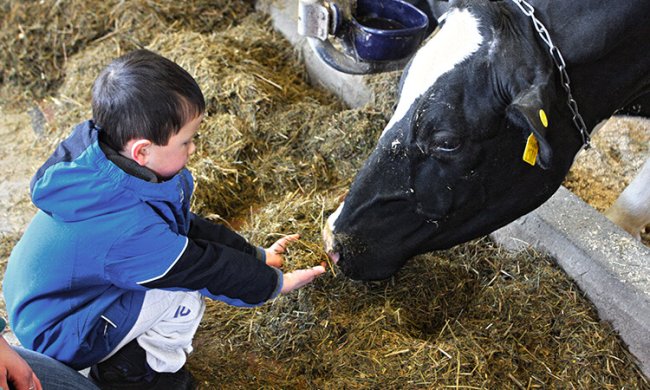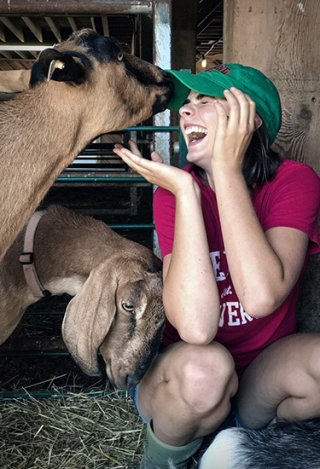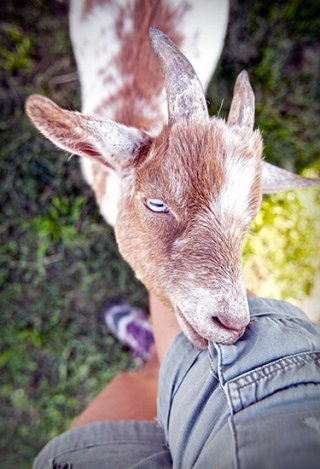 Brandy Cressie of Pineland Farms is one of them. She recommends getting up close and personal for a hands-on experience. "One of the things people really enjoy is our "Udderly Amazing Cows," Brandy tells us, "where kids can milk a cow and learn where milk comes from. And we go a step further where you can make ice cream from the cow's milk."
So not only do we learn where milk comes form, we learn the same about ice cream. Turns out ice cream, like most good things in life, comes from learning how to do it and then doing the work. That's one of the lessons and tasty rewards of taking the ice cream making class in Pineland's education barn.
Milk and ice cream are sweet way to start, but there are lots more learning opportunities for kids and families, including classes in salsa making and natural paper making. There's a class called Harvest Take Home where you learn about growing and harvesting Maine crops. You can learn to make maple syrup in the spring and cider in the fall. And trot over to the Equestrian Center any time of year, a state-of-the-art facility that breeds and trains quality Morgan Horses.
Meanwhile back at the farmyard, there are other animals waiting to make everyone's acquaintance. Depending on the time of year, you'll meet goats, sheep, pigs, alpaca, even a peacock who couldn't be prouder to be part of the scene. And make sure to introduce yourself to the free-range chickens. They'll return the favor by inviting you to collect some of their free-range eggs.
When it's time to move on – long good-byes are okay – Brandy Cressie suggests picking an activity where picking is the activity. "Our Pick Your Own is open from June 20th until mid to late July. You can pick your own produce beginning with strawberries. Then we go into blueberries and raspberries. We also have vegetables like peas and green beans and cucumbers."
The produce is also available in The Market at Pineland Farms, as are Pineland's cheeses and baked goods as well as meats, craft beer, wines and other made-in-Maine treats and gifts. There's also a kitchen and deli to fuel up for more farm fun or to take with you.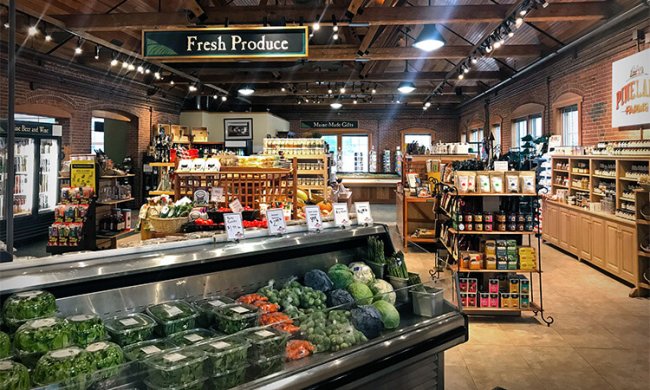 Now that we're firmly planted in the Pineland experience, it's time to check out the garden. Or, actually five of them, all professionally created and designed. With more than 130 varieties of perennials, 6,000 flowering annuals, five different types of blueberry bushes, 20 apple trees and an ornamental conifer bed, The Gardens at Pineland Farms are horticultural and floral works of art.
"Visiting the gardens is a great thing to do," Brandy agrees. "We have beautiful pathways and little nooks that you can discover. There's also a native tree walk where's there's about twenty types of trees and there's a QR code on each tree so you can pull it up on your phone and learn about the tree in front of you."
There's an interactive tree walk and then there are the other trees – by the thousands – where you can walk, run and mountain bike on Pineland's extensive and scenic trails. There's also a world class disc golf course that disc golfer's rave about – sometimes while on the course. And in the winter, Pineland's trails magically convert into some of the best cross-country skiing and snowshoeing trails you'll find.
A vast, vibrant four-season farm, open for fun, learning, connecting, bonding and growing. That's Pineland Farms. "It's just a beautiful place to be," says Brandy Cressie. "Everyone here is passionate about what they're doing – teaching people about farming techniques, how to take care of animals and inspiring people to live a healthy lifestyle."