Maine
It's a classic summer day in Maine. Sunny but not hot. Breezy but not cold. From my perch on the deck of the Schooner Lewis R. French, I watch the New England scenery slip past — lighthouses, evergreens and tawny-colored shorelines of massive rocks that look as though they've been scattered by giants playing dominoes.
Our third day on the water has been quiet, even uneventful. Until now. Garth Wells, the captain of our tall ship, has spotted another vessel. The crew and my fellow passengers are hankering for a food fight, a rare occurrence on a windjammer cruise, but one that at least a few veteran passengers recall with fondness. Steering the French so that the wind fills its billowing sails, Wells puts us in hot pursuit of the Stephen Taber. People are grabbing leftover corn bread from lunch as ammunition. It's a shame to see good carbs go to waste, I protest, but it doesn't stop anyone. The Taber evades our first approach. "I've got all day, Noah," Wells growls into the radio to Taber captain Noah Barnes. Suddenly, the Taber turns back in our direction. The ships slide into position beside each other, and my comrades let loose their starchy projectiles at the Taber's passengers. We're laughing so hard that we almost miss the return fire. I freeze as I spot a piece coming straight at me, but someone whacks it away. And then we and the Taber go our separate ways, two ships passing in the, well, broad daylight.
No one's taking themselves too seriously here, so if your idea of a sail involves starched white slacks and a sweater knotted just-so around your shoulders, then a windjammer cruise is probably not for you. I've never had much interest in conventional cruising. I don't want to be on a big, impersonal boat with thousands of other passengers and only sea on the horizon. But a Maine windjammer cruise seemed right up my alley. I've always wanted to visit the Pine Tree State, and what better way to see its natural splendor than from the deck of a small sailing ship? Eight of the old-fashioned ships known as windjammers offer overnight trips off Maine's mid-coast, from Boothbay Harbor to Bar Harbor, all promising convivial company, beautiful scenery and good food. I was drawn to the Lewis R. French for its history — built in 1871, it's one of the oldest — and its sense of humor. "We are proud to announce that our crew is 100% scurvy-free," boasts its Web site. A sense of humor is a must aboard the French. Not 10 minutes after checking into my cabin on a balmy August evening, I've already hit my head going up the ladder onto the deck. And that cabin? It's tiny. I feel like a very large, very clumsy bull in a very small china shop. But, hey, the idea is to be on deck the whole time, right? If anyone's anxious about the tight quarters, it's not showing on our first evening, during which we stay docked in the French's home port of Camden. With lanterns glowing romantically around us, we're feeling each other out. Have you ever done this before? What brings you to Maine? I chat with Ben and Natalie Kraut, who tell me that they'll soon be relocating from Pennsylvania to Alexandria, Va. All in the neighborhood of 30, the three of us are the youngest passengers on this trip.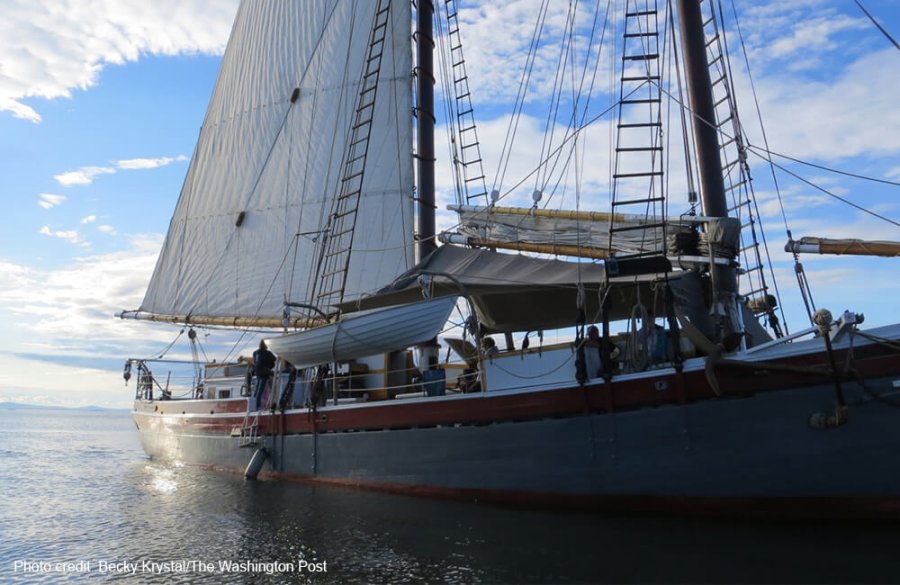 I begin rattling off some Virginia dining recommendations to them, until the 10 p.m. start of quiet hours approaches.
"Quiet" on the boat is a little relative. The walls are thin, and the cabins are packed close together. Which means that you can hear everything. After listening to someone's, uh, resonant breathing for an hour, I head back up to the deck to hit the reset button and ease back into relaxation.
The cool air is a balm to my restlessness. A flash catches my eye. It's a shooting star, I think — or hope, anyway.
Ah, Maine. You big show-off.
In some places, people wake to morning reveille. Aboard the French, we wake to the muffin of the day, placed out with coffee and tea by 6:30 a.m. (You can see why quiet hours are as much for the hard-working crew as the paying customers.) That's only the start of our daybreak feast. With a ring of the breakfast/lunch/dinner bell on the schooner's bow, cook Amber Nuite, a bit of soft-spoken reserve in her voice, tells us what we'll be having. The main attraction is — what else? — blueberry pancakes, prepared on an antique wood-burning stove in the cozy galley.
The next agenda item is safety, as explained by first mate Zach Simonson-Bond, a surfer look-alike with a silky-smooth singing voice that he serenades us with as we raise anchor each morning. We learn about the location of rescue equipment and what to do in a man-overboard situation.
Then it's time to leave Camden, and the crew divides us into teams to raise the sails.
We're not using them to their full extent yet. To get out of the harbor, we're being pushed by the Greyhound, the motor-equipped yawl that the French tows for those times when Mother Nature doesn't cooperate.
Today, she doesn't want to cooperate.
But that's okay. One of the beauties of sailing on the French is that there's no set schedule. We go wherever the winds and Wells direct us. It's incredibly liberating for a traveler — not to have to worry about your next move or getting so caught up in making it somewhere that you forget to look up.
Turns out, I spend most of my time on this trip looking up. I've loaded my Kindle with books and brought several magazines, but all I want to do is admire the scenery. There's water, of course, but we're never really out of sight of some kind of island, whether big, small, tree-covered or barren. I'm constantly searching for wildlife. No whales here in Penobscot Bay. Plenty of porpoises, though. Binoculars are passed around as we spot islands covered in birds or sea lions (or is it seals?).
The French, overhauled for tourists about 40 years ago, is easy on the eyes, too. Her shiny wood deck is 65 feet long, above which rise six sails that measure 3,000 square feet in total. The ship, with a blue and red hull, is only 19 feet at its widest point. Down the middle of the deck run the protruding roofs of our cabins, which double as seating, leaving relatively narrow aisles on both sides.
Most of us grab seat cushions and station ourselves in whatever spots we think are warmest or have the best view or are closest to Wells, the very picture of a tanned, scruffy, lanky captain who draws us all in with his wry humor. Wells bought the French in 2004 after spending five years as its first mate. His wife, Jenny Tobin, who can also captain the French, handles most of the onshore operations.
Seemingly only minutes after breakfast, it's time for lunch, which always consists of soup, bread and salad. Today, we have sweet, chunky, dilly tomato soup and grilled cheese, gooey with crisp, lacy edges.
The winds finally pick up (brrr!) and spirit us away to our next meal. Each French cruise has one lobster bake, and tonight's will take place on a beach on Pickering Island that Wells hasn't been to yet.
Once we anchor, mess mate Kelsey Kraft, whose blond ponytail is perpetually, endearingly off-center, propels a rowboat laden with supplies to the island. Nuite sits in the back of the vessel, strumming a mandolin. It's like something out of a Wes Anderson movie.
Once the rest of us join them, no thanks to my inept rowing, we entertain ourselves. Professional foragers Marion and Marty Bush of White Plains, N.Y., set out into the woods and return with a haul of chanterelle mushrooms. Others search for mussels. I pick around among large stones, looking for sea glass. There's even a rock-skipping competition going on, with Simonson-Bond the clear ringer.
A parade of food cycles on and off Kraft's rudimentary grill, while the lobsters and corn steam over a separate fire. I opt for a Maine red hot dog, per Wells's recommendation. He also impishly goads me into trying Moxie, the official state soft drink. What a setup! I can barely stop myself from spitting it out. I like to think of this hazing as my initiation as an honorary Mainer.
What's next?
On our second day on the water, we anchor off Isle au Haut. The sparsely populated island is about 11 square miles, about half of which is part of Acadia National Park. After hours of mostly sitting still, I'm itching to get off the boat and stretch my legs. Some passengers plot hikes. I'm captivated by Simonson-Bond's rapturous description of Black Dinah Chocolatiers, an artisanal chocolate shop in this unlikely location.
Once on the island, I head straight for Black Dinah. Thick woods line the mostly traffic-free road, with occasional breaks in the forest that afford postcard-worthy views of the water. I swipe a few berries here and there from wild bushes. My appetite is inexplicably bottomless on this trip.
After my chocolate hit, I turn around to explore in the other direction. I pass a postage-stamp-size post office, a red rowboat overturned in front of a gray-shingled boathouse, a twinkle-light-filled wedding and a one-room schoolhouse. Click, click goes my camera. Isle au Haut, you're ready for your close-up. I have my camera in hand again when we're back on the French, our anchor point here perfectly situated for sunset viewing. How does Wells plan these things? Or maybe every summer evening in Maine is like this, tinted in burnished hues of red and gold. We're all soaking it in and nibbling antipasto when we're shaken out of our reverie. Cannon fire! Not from hostile parties (no sign of the Taber), but rather the large house we're floating in front of. A tradition, apparently.
That night we're treated to fireworks, probably for the wedding. Those of us still awake — it's only 9 o'clock or so! — lean back and watch them sparkle against the inky sky.
By Day 3, we've all figured out whether we're sailors or, um, watchers. I choose to observe, not just because I'm clueless about the terminology and mechanics, but because there are so many aficionados who clamor for the chance to work the ship. I do find my niche, though: Helping lay out and clean up our buffets.
As the days add up, we bond over shared interests — home towns, hobbies, pets. Such a diverse group, too. There are scientists, retirees, writers and alpaca farmers. I talk about literature and England with Peter Miller, an English professor from New York, sailing on the French for the first time with his wife, Gail.
The people I was anxious about spending four nights cooped up with now seem like friends I've known for years. Karen and Charlie Love of Butler, Pa., even insist on paying for my iced sipping chocolate at Black Dinah after my order is accidentally tacked on to theirs.
I'm comfortable enough with everyone that I hardly blink when Wells, kidder that he is, suggests that I be the "sitter" on the hand-cranked ice cream machine. That I can do! People take turns churning our final evening's dessert while I use my weight — growing, thanks to the excellent food — to hold down the lid that jumps under me like a bucking bronco. That night, we feast on sundaes.
Frozen milk gives way to the Milky Way as darkness descends off the coast of Islesboro. Simonson-Bond — is there anything this guy can't do? — guides us through the constellations, weaving in tales from mythology. There are fireworks again, off in the distance, but the only show I need is the real-life planetarium above my head. This I could get used to. Open sky, open water, open mind.
Cruising there
Schooner Lewis R. French
Camden, Maine
800-469-4635
Information
By Becky Krystal September 18, 2014
Content created for Visit Maine by WP BrandStudio. Learn more about WP BrandStudio.