Maine
Maine's Handmade Traditions Offer One-of-a-Kind Memories
Not so long ago, the ideal holiday, in the collective imagination of Americans, looked something like this: an all-inclusive luxury cruise with all-you-can-eat buffets and waterparks and large-screen theaters, or perhaps a whirlwind Parisian getaway with fine dining and high-end shopping on Rue Saint-Honoré. In recent years, however, explorers of all stripes have been seeking something more elusive—authenticity.
More than ever, travelers are looking for local culture at its most intimate and personal. And among those seeking the unpackaged and unfiltered, Maine will always be a sort of sacred grail. A 1993 cartoon in The New Yorker best summed up the unbuttoned, laid-back spirit of travel here: A father, tilted back in his porch chair with arms crossed behind his head, calls out to his kite-flying son, "Hey, Ben! We're in Maine now. We don't have to perform."
For the most die-hard authenticity-hunters, there's no better way to immerse oneself in the life of a place than to roll up one's sleeves and learn a local craft. For these creative souls, Maine's fine artisan tradition offers endless outlets for enterprising hands. Whether it's building a wooden boat or weaving a rug or dropping into a pottery studio for a behind-the-scenes glimpse of ceramic techniques, travelers can lose themselves in an experience that's immediate and engaging. Best of all, they leave with something—whether it's knowledge or a skill or an heirloom—that's distinctly connected to the lifeblood of Maine.
Dive Into the Old-World Art of Boatbuilding
The WoodenBoat School in Brooklin was founded in 1980 to sustain the art of hand-crafting vessels in an era of increasing mechanization. And if the school's 2017 program of 89 courses—on everything from open-boat cruising and sea kayaking to building dinghies, peapods and canoes—is any indication, interest in old-world seafaring skills is booming. "There's such a tradition of wooden boatbuilding in Maine especially," said Rich Hilsinger, director of the school. "Every town along the coast had boatbuilders building boats for fishing or commerce or trade or travel—and it's still going on."
On 64 acres of oceanfront greenery nestled between Penobscot Bay and Blue Hill Bay, sailing aficionados, craftsmen, DIY tinkerers and adventurous visitors can dive into the world of boat craft by taking the one-week Introduction to Boatbuilding course or the two-week Fundamentals of Boatbuilding. During the all-day classes students learn the basics of constructing small wooden boats with hand tools—from reading boat plans and lofting (or scaling a plan to full size) to building frames, planking and installing seats and breasthooks (it's helpful, but not mandatory, to have prior experience with woodworking).
"I really think it's a basic part of human nature that we make things with our hands," said Hilsinger. "This is one of those experiences—especially in this day and age—that brings about a satisfaction to the individual that a computer will never be able to do." At the end of the introductory courses, students toss their names into a hat for the chance to take home one of the boats they build.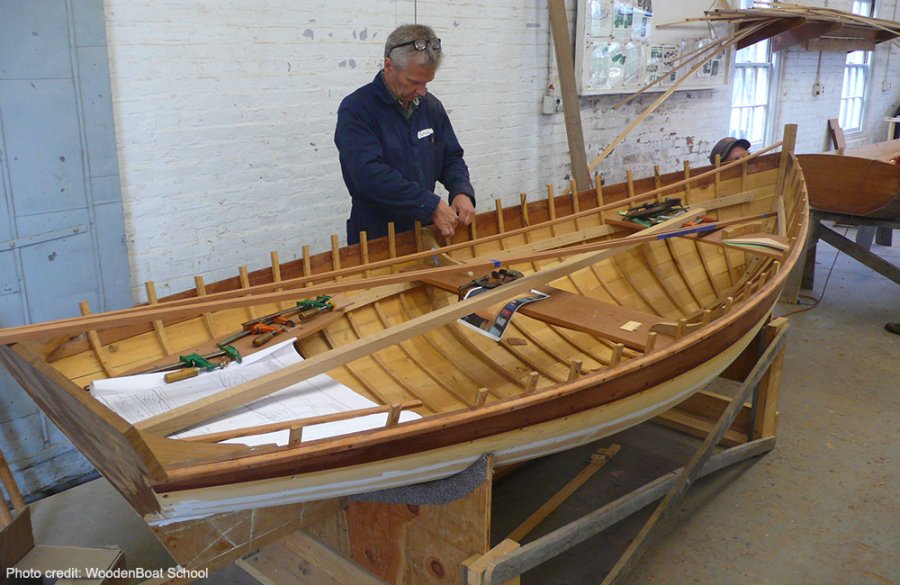 Weave Your Own Souvenir with a Master Rug Maker
In her home studio in rural Waldoboro, Sara Hotchkiss works an array of Swedish and American looms to hand-weave rugs bursting forth with buds, leaves, vines and stars—much of it inspired by the natural beauty she finds in her garden and in the wilds of Maine. "I love being surrounded by birds and moths and insects and a lot of sky and fields of grasses," Hotchkiss said. "I could go for a walk and see rocks with beautiful lichen patterns and feel like it's totally new, because nature changes every day, every hour."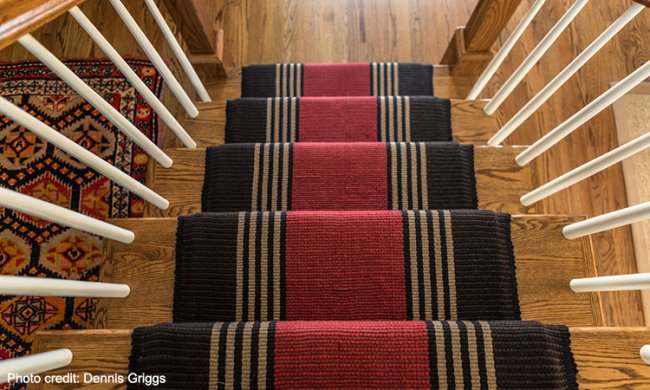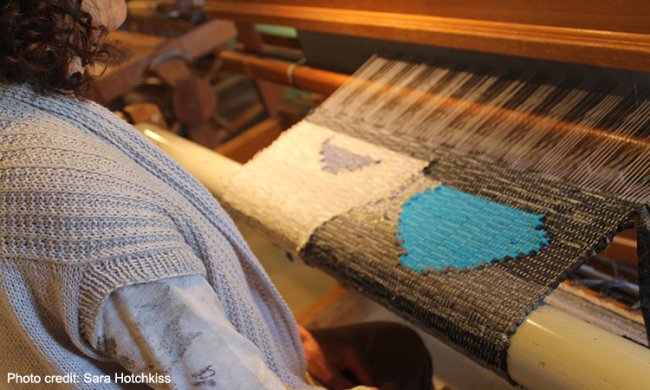 The shifting palettes of the seasons make their way into Hotchkiss's work, saturated with lovely shades of azure and cornflower, forest and fern, dandelion and goldenrod and the dusty rose of the quince blossoms in her garden. The charming rusticity of her textured rugs is a product of the combined techniques of rag rug and tapestry weaving.
Hotchkiss offers intimate two- and three-day workshops where students learn to weave their own rug, using a design they create with her beforehand. It's a process that is surprisingly challenging but thoroughly rewarding. "Weaving is deceptively simple looking, but there's a lot going on technically," Hotchkiss said. "It is partly physical and partly brain work, and it requires focus. And a rug especially is physically demanding"—largely because the weaver must "beat" down each row with a beater on the loom to make the weave as sturdy as possible. But with patience and perseverance, not to mention a gourmet lunch prepared by Hotchkiss herself, student weavers will be able to walk away with a colorful treasure for their home.
Peek in on a Pottery Maker at Work During Open Studio Nights
"Clay feels limitless to me in its potential," said Meghan Flynn, a pottery maker and Maine native. "I never feel bored. There's always a new way or another approach or a new form, and there's always more to learn."
Flynn regularly opens the doors of her Lincolnville studio to visitors, who will find a range of beautiful ceramics, from the austere to the whimsical. Among her creations are elegant, simple wheel-thrown stoneware cups, vases and porridge bowls, as well as more playful one-of-a-kind mugs sgraffito-etched with animal illustrations and "fur" prints.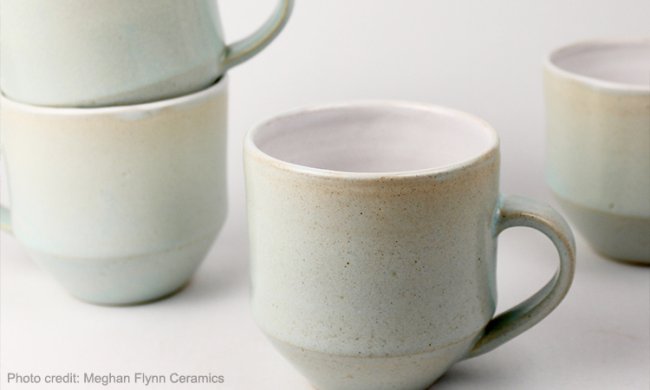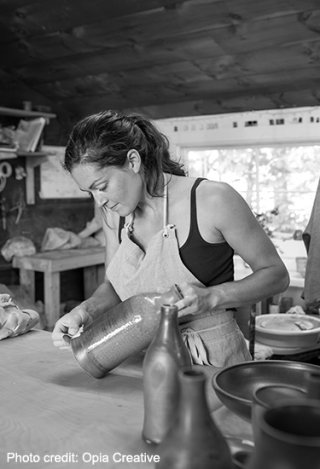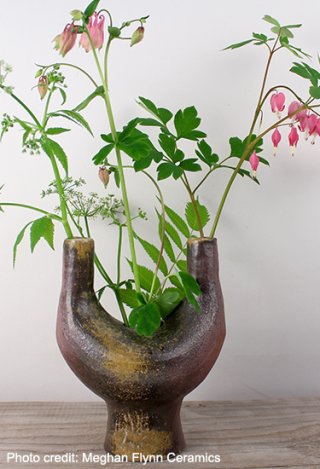 Flynn's most prized offerings, however, are her wood-fired pieces—bottles and vases created through an ancient, eight-day-long communal firing in a friend's Japanese-inspired Anagama kiln that results in works with singular wood-ash glazings. "So much of it is left to chance," said Flynn. "The path of the flame and the melted ash creates really unique markings and patterns and colors and tones."
On open-studio days, guests can peek in on Flynn's process—pots being made on the wheel or glazed or fired in an electric kiln. And visitors who want to shape the clay themselves can look for upcoming classes and workshops Flynn is planning on teaching at the nearby Belfast Clay Studio.
As for being a working artisan in Maine, Flynn said, "It's definitely home to me—I feel very rooted here. And home is very connected to the rituals of the day, and the daily usage of pottery… This is what a lot of artists appreciate—the quiet of daily life here." More and more, so do Maine's travelers.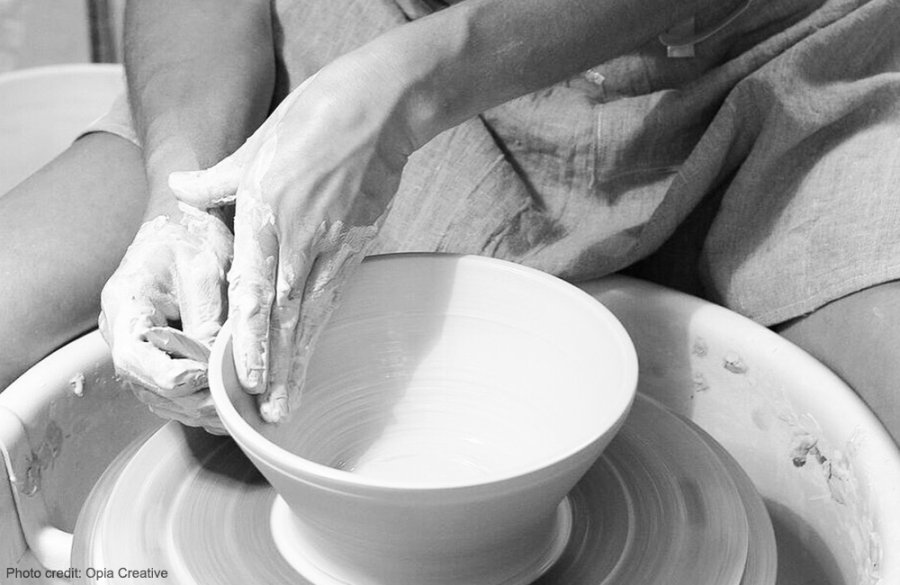 Content created for Visit Maine by WP BrandStudio. Learn more about WP BrandStudio.