If you've been to Maine, then you know the feeling. Steve Bromage, Executive Director of the Maine Historical Society, can actually see the feeling whenever he travels outside the state.
"If I'm in Oklahoma or I'm in Washington, D.C.," he said, "and I mention I'm from Maine, people kind of get a faraway look in their eyes. They have some moment or memory or reverie based on a summer camp or a family vacation or whatever it might be. I think that is the thing that distinguishes Maine more than anything. It's the special sense of place."
What special place do people see when they get that look in their eyes? Chances are it's a place that looks like Stonington, beginning with the iconic lobster boats made famous in an endless sea of paintings by some of America's greatest artists. These days in Stonington, there are more lobster boats than any painters or even phone cameras can keep up with.
Natalie Springuel of Maine Sea Grant revealed why: "Our lobster population has done nothing but break records in the last ten, fifteen years – every year. And this year again, we have landed more lobsters than ever before. We keep breaking records, and Stonington is the hub of that."
But Stonington is about more than sheer numbers of landed lobsters. While the island town is setting those records, it continues to set the tone for the bigger picture of Maine's maritime culture. "Stonington is a place where people can experience what a working waterfront is," Natalie explained. "Of what it has been, and what it will continue to be. It's a town that has really stayed an active fishing community for generations and generations."
While Stonington's working fleet of more than 300 lobster boats absolutely catches the eye, there's plenty more to see and experience. From the granite quarries still reflecting the same sun as they did in the 1800s. To the 100-acres of the Crocket Cove Woods Preserve that were donated by renowned Stonington artist, Emily Muir. And the historic and majestic Stonington Opera House offers world class performances with a local vibe that's pure Stonington.
But visitors keep coming back to the waterfront and those classic post card images. The ocean in the shifting tones of blue that have kept Crayola namers busy for years. The vintage lobster boats that favor the primary and patriotic red, white or blue. The jigsaw puzzle of docks in their grey-brown weathered wood. On shore, the clapboard houses stand together in solidarity on the rising shoreline with lots of white – and dashes of red, tan and blue.
When the sun sets on another classic day in Stonington, the boats come back to port and the world takes on an infinitude of pinks and reds, one of which is almost certainly named Lobster.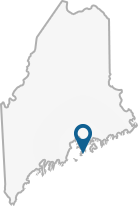 Stonington, Maine