"I always want to see the third dimension of something..." – Andrew Wyeth
Art Destinations
Experience Maine Art
A migration of artists to Maine began in the early 1800s, a movement that would influence the future of American art in ways no other state can claim. Today that great history is not only on display but alive and well – and flourishing – in the hands, brushes, chisels and software of Maine's world-class contemporary artists.
We thank all the visitors who've graced us with their presence in this virtual tour of our Maine Gallery. But there's only one way to truly experience the Art of Maine. And that's to do it, as Andrew Wyeth suggests, for real. To see, feel and really get to know the art and some of the special people who make it possible. The directors, curators, gallery operators and, of course, the artists. We're a very personable group. We hope you'll do us the honor of being our guest.
What follows is a list of some of the places, events, activities – and the people behind them – that make the world of Maine Art a destination and inspiration unlike any other.
South Solon Meeting House
Michelangelo Comes To Maine
Full disclosure: The Great Michelangelo did not actually visit the South Solon Meeting House in Central Maine. Yet his spirit – and those of the great fresco artists of Italy – is here in all its glory, covering virtually every inch of the walls and ceiling of this treasured landmark.
Built in 1842 in the Gothic Revival style, the meeting house features its original podium, pews, choir loft, windows and steeple. For decades it was used as a community-gathering place for both public and religious functions. In the 1950s, members of the Skowhegan School of Painting and Sculpture led a cooperative effort to restore the site.
The creative epiphany came in 1952 when Skowhegan held a competition among its artists to submit mural designs to be painted on the landmark's walls and ceiling. Today the results are here for all to see in magnificent frescoes painted with the same technique as those of the Italian Renaissance.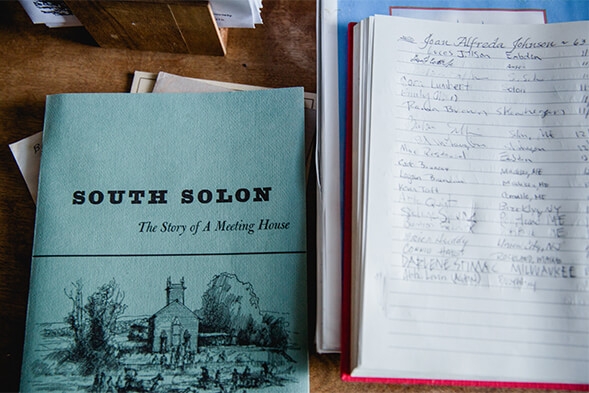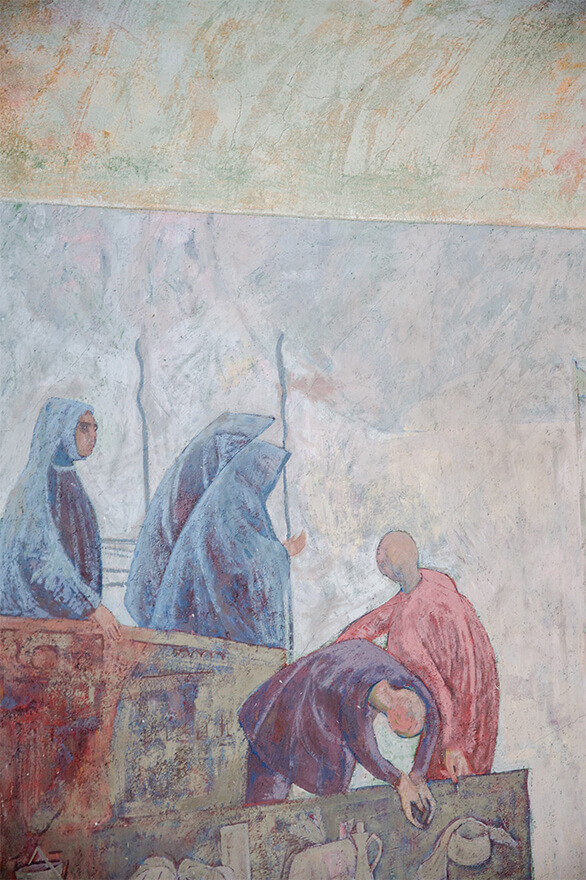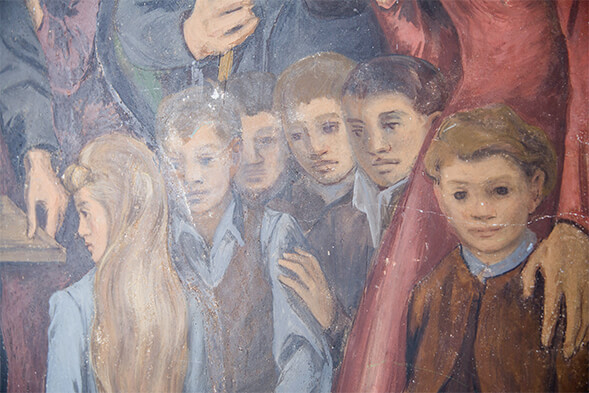 Rockland painter, Connie Hayes, who was awarded a fellowship at Skowhegan, takes us on a tour of the meeting house and its timeless expressions of inspiration. The South Solon Meeting House is open to the public. In fact, it never closes, and never ceases to amaze.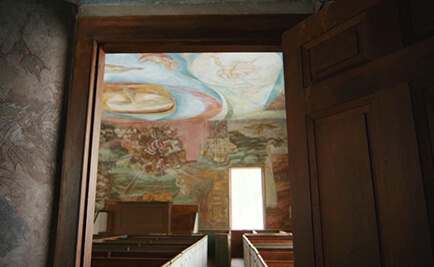 Content of this website contributed by: Carl Little, Art Writer; Claire Brassil, Program and Marketing Coordinator, Watershed Center for the Ceramic Arts; Kate Anker, Executive Director, Running with Scissors; Suzette McAvoy, Director, Center for Maine Contemporary Art; Connie Hayes, Painter; Jonathan Mess, Ceramic Artist; Kate Mess, Jeweler, Artist, Designer; Alan Bray, Painter; Hannah Blunt, Langlais Curator for Special Projects, Colby College Museum of Art; Portland Museum of Art - Portland, ME; Watershed Center for the Ceramic Arts - Newcastle, ME; Running with Scissors - Portland, ME; Center for Maine Contemporary Art - Rockland, ME; South Solon Meeting House - South Solon, ME; The Langlais Art Trail - Cushing, ME; Georges River Land Trust - Rockland, ME; Colby College Museum of Art - Waterville, ME; Dowling Walsh Gallery - Rockland, ME