"I must put my foot in a bit of truth; and then I can fly free." – Andrew Wyeth
Artists
Four Impressions
Given Maine's rich tradition and dynamic influence on American art, you're probably wondering "What would it be like to be a working artist in Maine today?" Well, it's interesting you asked that question. Because we have some fresh perspectives on that very subject.
Over the course of a week, we knocked on the studio doors of four Maine artists recognized for the exceptional work they've done, and are doing, probably right at this moment. Not only did all four answer the door, they were gracious enough to invite us inside for a rare and intimate look at their creative process and what it's like to be a working artist in Maine today.

"Let's say you're driving down the road and all of a sudden the light is just at a certain angle and a certain quality. A lot of people say 'Wow, that's beautiful' and move on. But the artist says, 'There is something unique about this, and there is something I have to do about it.'"
Painter, Rockland, Maine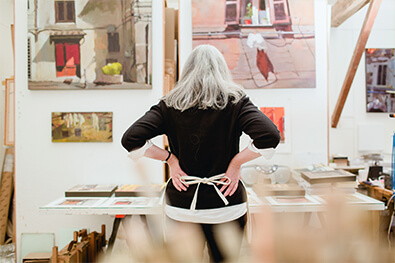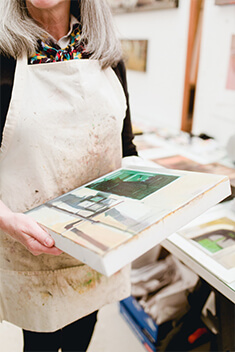 Painter
Connie Hayes
It's a long way from Gardiner, Maine, to Europe. And a long way back. Connie Hayes knows the route well. And, as she sees it, it's the coming back that reveals why Maine enjoys a unique and storied history in the art world – with an incredibly vibrant present and a future as bright as any.
"I had the urge to travel and live in other places, but my eyes just woke up when I came back from Europe," Connie professed. "I went straight from my time in Italy to living on an island in Casco Bay. And I just said to myself, 'This place is beautiful.'"
When Connie Hayes says something is beautiful, it's not just an observation. It's a call to action. "My process is to be astonished first," she explained. "When I'm astonished with the light, with the color, with the shape – the way the yellow is pulsating underneath something – that astonishment makes me itchy. My hands start to move. I'm grabbing for paper."
While Connie has racked up some serious frequent flyer miles painting and teaching in Europe, her daily life in Rockland is much easier to navigate. In the 1850s house and barn she and her husband "rescued," Connie takes her astonished moments and puts them to canvas in her second floor studio, just off Main Street.
From there, it's a short walk to the Dowling Walsh Gallery that shows her work. Across the street from the gallery is the world-renowned Farnsworth Art Museum. The historic Strand Theatre is just a block away. And right down the street is the brilliant new Maine Center for the Contemporary Arts.
In other words, Connie's Rockland neighborhood is quite the happening place. But it's all part of the thriving world of Maine's contemporary arts. A world that, in Connie's view, has truly come into its own. "A lot of people think that New York is the center and Maine is a province. But lately, I think Maine is becoming its own center."
Central to that movement are people like Connie who represent the next wave of Maine's exceptional artists, drawing from the great influences of the past while creating their own signature styles in the present. Regarding her influences, art critic Edward M. Gómez observed: "There are hints of Edward Hopper and Fairfield Porter in her vision, and in her brush."
Connie remains grateful for her influences, but happy to be creating her own path. "I'm always interested in raising the bar for myself. And that's part of having a huge list of influences. But now I've got my own voice."
We can't help but anticipate some astonishing things from that voice, and that brush.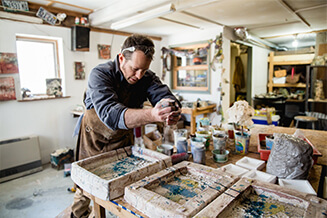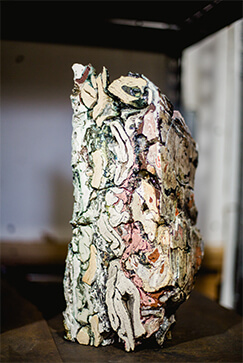 Ceramic Artist
Jonathan Mess
Growing up in Columbus, Ohio, Jonathan Mess faced challenges like a lot of other teenagers, trying to find his focus, his center, his core.
In an amalgam of serendipity, Jonathan found the grounding he needed. It had actually been there all along. Right beneath his feet. The earth. Although he would have to come to Maine to find just the right composition.
One day during his sophomore year, Jonathan peeked into the clay room at his high school. As he described it, "I saw some people on the wheel and I was like, 'I want to do that.'" From that day forward, Jonathan Mess became known as "The Clay Guy."
For a few years, The Clay Guy moved around, from the University of Montana to SUNY at New Paltz – where he met his future wife, Kate – to a teaching job at Lincoln Academy in Newcastle, Maine. He loved that so much, he continues there today, teaching art, ceramics and sculpture.
He also loves his wife – an artist as well (more on that in a moment) – their young daughter, and the state he now calls home and a source of inspiration. He's also quite fond of Maine's famous marine blue clay. "It's blue and green and full of oyster shells and all this awesome, beautiful stuff," he said.
What Jonathan does with that stuff is getting noticed. Art critic, Daniel Kany, described the artist and his work this way: "Mess is in a class by himself as a Maine contemporary artist. His ceramic sculptures are built up like sediments, and take on geological logic through their construction and firing processes. They are fascinating and powerful objects."
The way Jonathan sees it, his art was grounded in the good earth from that first day in the clay room. And in the state he now calls home, the good earth is a great inspiration.
"You look at Maine," he said, "our mountains are millions of years old. The rivers have carved away the rock and exposed the different layers of time. The Earth's texture, the geology, the time, the layering, the strata…all those things have really affected my work."
In Maine, The Clay Guy has definitely found the perfect medium for his art.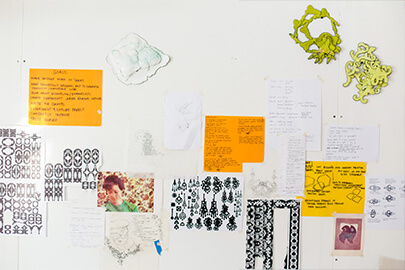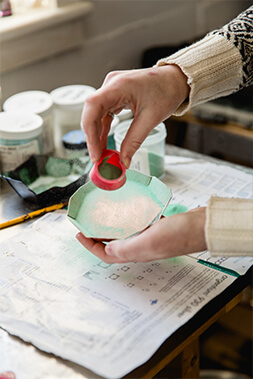 Jeweler, Artist, Designer
Kate Mess
Maine and Wisconsin have some really nice things in common. One is their northern climate. Another is jewelry artist, Kate Mess. For Kate, having a real winter every year has always gone with the territory, and come with certain benefits.
"If you're an artist or a writer or any kind of creative person," she said, "you can take the winter to hermit yourself away and work on what you're really engrossed in."
As a child in Wisconsin, one of her favorite ways was making jewelry. "I just always loved drawing, painting, and making crafts. We would go to the craft store and pick out a lot of stuff and make things. Then I started just making jewelry out of whatever materials we had."
Inevitably, the spring came, followed by summer and, eventually high school and college. As part of the art major at the University of Wisconsin, Kate was required to take at least one three-dimensional art class. To the shock of no one, she chose Jewelry.
Kate remembers picking it up really fast, mastering the tiny jewelers saw, learning the intricacies of enameling – the fusing of powdered glass in various colors to metal.
"For whatever reason, I just had a really steady hand," she explained. She also had a really strong talent for creative design. In grad school, she met future husband, Jonathan. The young artists moved to Maine and everything began to crystallize. With her graphic design background and Maine in the foreground, Kate had the elements she needed to create her unique style of jewelry.
"Living here and getting out and hiking and exploring the beaches, I was constantly photographing things and looking for small details and moments of beauty, textures or images that I could use in my artwork."
And that other special Maine season – the really warm and sunny one – puts an extra sparkle in every piece of art Kate designs.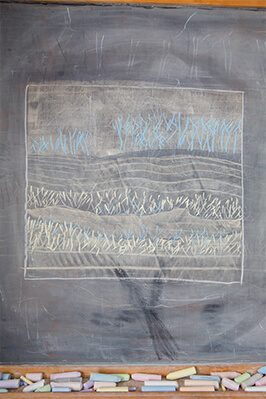 Painter
Alan Bray
As a boy growing up in Maine, Alan Bray dreamed of playing for the Boston Red Sox. Like any good shortstop, he learned to keep his head down, especially off the diamond where he began to observe the natural world in the rugged foothills of his quarry town.
And even if baseball didn't work out, Alan had confidence he could be pretty darn good at something else. "I went to The Museum of Fine Arts in Boston," he recalled. "I think I was thirteen. I was very taken with the Monet Haystacks, and I thought, 'I can do that.'"
For the time being, however, Monson, Maine, and the wooded countryside would be his gallery. "We spent a lot of time in the woods – building forts, a lot of fishing. I think that's where I really delved into thinking about nature. That was my first real connection to an understanding of the natural world."
Years later, Alan, his wife and their young son would move to Italy where Alan would formalize his studies, earning a Master's degree in painting at the Villa Schifanoia Graduate School of Fine Arts in Florence. The painters of the early Italian Renaissance would also influence him forever.
"It just absolutely blew me away, those paintings. There's an intimacy about them, an intensity, hard edges, bright colors. It just struck me that there was this honesty about that work. And the spiritual quality was unmistakable."
While the revelation changed the way he looked at the world, it would make the world of Monson, Maine, more clear in his mind than ever. In Italy, Alan began to paint his boyhood home from memory, and from his new perspective.
"I kind of went up Main Street, painted the house I grew up in. It was just fascinating trying to remember how many windows are on the south side of the house, and where the dormers were. I ended up painting the whole town from memory."
Upon returning to Maine, Alan would infuse his landscape paintings with his new way of looking at the world. That vision has been catching the eye of critics and collectors ever since. Author Edgar Allen Beem describes Alan Bray's art as being "as fine, clear-eyed, and imaginative as any art of Maine has ever been."
Art critic Ken Greenleaf adds: "In Bray's work, one always has the sense that there is something out there that is ready to become part of one's life, that right around the corner is a force that will affect matters in some unpredictable way."
Alan's path has always had its degree of unpredictability. That's the nature of art, and the nature of life. Yet Alan has come to see that nature has its own special genius for making sense of it all. "I try to find the way things are put together, the way nature organizes structure."
These days Alan Bray expresses his unique view of the natural world in the second floor studio of his family farmhouse near Sangerville, surrounded by the land that has always inspired him, and just a few baseball throws from the Piscataquis River.