We encourage you to check websites for your destinations before visiting for the latest health and safety guidelines in place.
Things To Do
Watching Maines Night Sky
add bookmark
Watching Maine's Night Sky
We depend on the dark to frame our galaxy's billions of glittering stars brightly and clearly. And in Maine, we take our dark skies seriously. A largely rural state, Maine provides plenty of places to gaze up and engage the universe. Home to some of the most pristine night skies you could imagine and even one of the world's few Dark Sky Sanctuaries (more on that in a sec), you can find specially designated viewing areas, or simply take in the jaw-dropping lightshow just by finding yourself in our wide-open spaces. So, where can you lay your blanket to soak in the galactic scenery? Here are a few of our favorite night sky viewing locations across the state.
Where to Stargaze in Maine
A Natural Monument, A Dark Sky Sanctuary
The Katahdin Woods & Waters National Monument is known for its hiking, paddling and all-around epic outdoor recreation. And now, The International Dark-Sky Association, the world's recognized authority on combatting light pollution, has designated the monument as an International Dark Sky Sanctuary.
So, what does that mean? First of all, only 13 exist throughout the entire world. And in the United States, there's only one east of the Mississippi. So if you're hoping to spy some new stars in the eastern half of the United States, there's just no better place. Even though we haven't quite nailed time-travel yet, the monument's night skies glimmer just as brightly as they did when the native Wabanaki people would have seen 11,000 years ago. Not bad.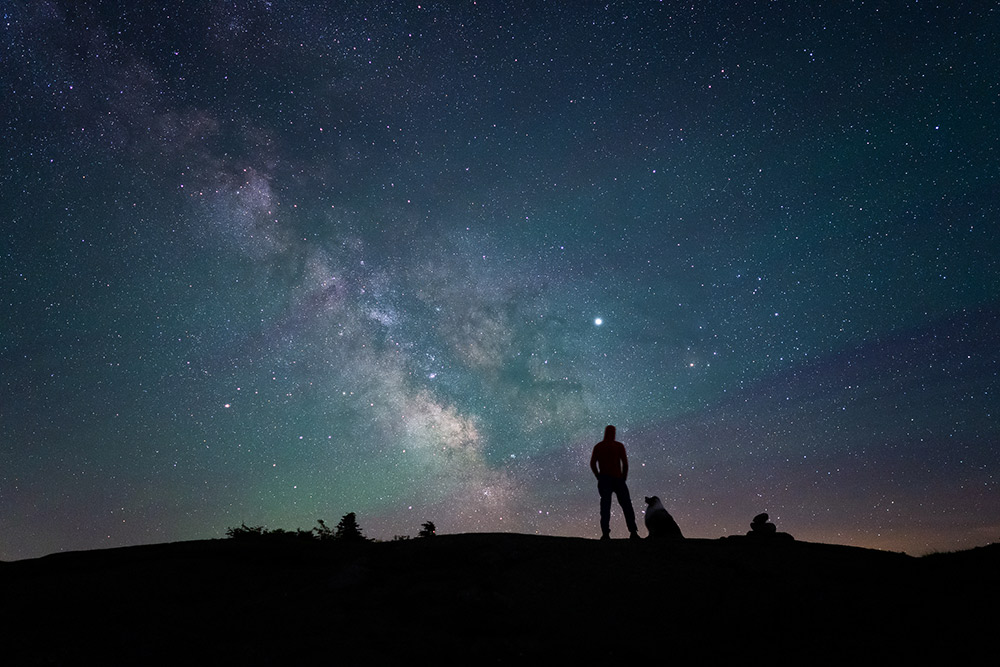 Awe-Inspiring Aroostook
It's simple. The farther north you find yourself, the more likely you'll be lucky enough to spy the Aurora Borealis. And in Maine, you can't go any farther north than Aroostook County. The tiny towns and simply vast wilderness of Aroostook mean little light pollution, so even if you don't spot the dancing green waves of the Northern Lights you'll be treated to innumerable stars on any clear night.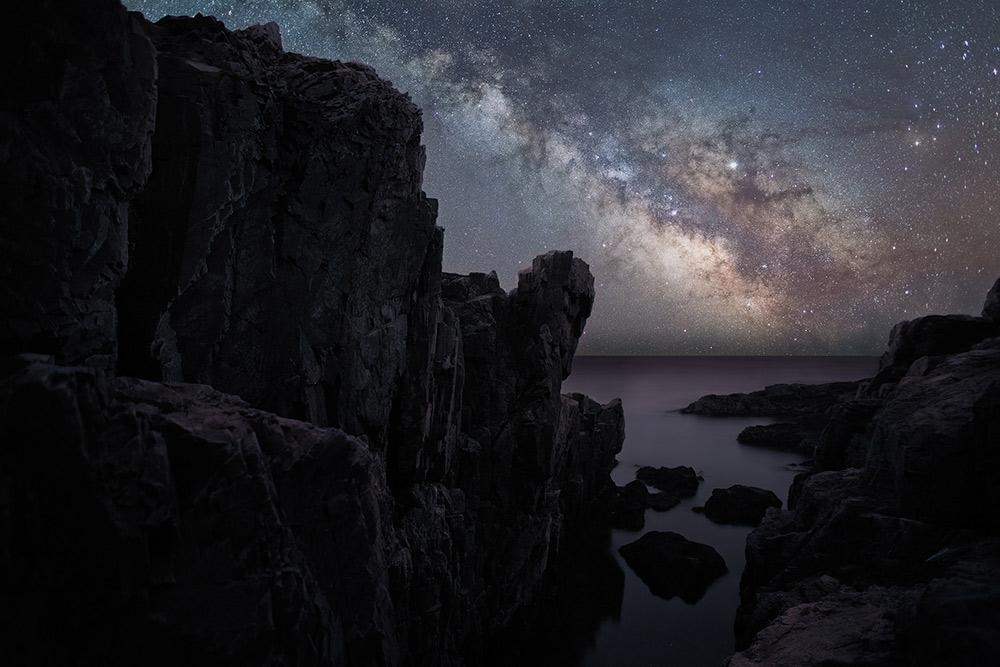 Acadian Nights
Rising out of Acadia National Park, Cadillac Mountain is the first place to see the sun shine in the United States for much of the year. But, no matter what time of year it is, if you stick around until the sun sets, you'll find a shimmering quilt of stars overhead. The view of the Milky Way is exceptional in the park, but the best times of the year to spot it are in July and August. To protect the night skies here, a light-pollution ordinance in Bar Harbor mandates "night sky-friendly" outdoor lighting on all new construction. That law, in turn, helped inspire the annual Acadia Night Sky Festival that takes place every September. (From May 26 through Oct 19, vehicle reservations are required for Cadillac Summit Road between sunrise and sunset.)
Brighter in Cobscook Bay
A campfire. S'mores. Stargazing. It's hard to think of a better combo, and we can't think of a much better place for all three than Cobscook Bay State Park campgrounds. Not only is it a great place to take in the night sky, it's the perfect launchpad for exploring Maine's northernmost coastline. Every August, the Downeast Amateur Astronomers host the Maine State Star Party in the park.
Appalachian Mountain Club's Maine Woods
The International Dark Sky Association has designated the Appalachian Mountain Club's Maine Woods property as an International Dark Sky Park. The property is within Maine's famed 100-Mile Wilderness and includes part of the Appalachian Trail. The park is the first of its kind in New England.
Businesses & Organizations
Retrieving results.