Organization
Cape Newagen Alpaca Farm
add bookmark
Cape Newagen Alpaca Farm
Our own farm raised alpacas' yarn. We are a family friendly alpaca farm in mid-coast Maine. Book your VISIT online.
We are mid-coast Maine fiber producers selling our own farm raised alpacas' yarn. Our alpacas feed on hay grown and harvested locally in mid-coast Maine. They are raised with care for the land which they inhabit, within the island community we live. Using our own fiber from our alpacas' yarn, milled in Maine or spun on our farm, helps to reduce our carbon footprint and provide a locally raised product.
Our farm is located on picturesque Southport Island. Meander past the Boothbay Botanical Gardens, or through the quaint seaside village of Boothbay Harbor, while heading south on Route 27. Rumble over the oldest swing bridge in New England. The bridge takes you over Townsend Gut to the small island community of Southport. Drive the island loop, meandering either route takes you to the village of Cape Newagen. Here you will find our farm, nestled beside the Southport Memorial Library.
We are a small-scale owned and operated business. We enjoy sharing our story about "why alpacas?" which is often asked during visits and we love to introduce and educate our visitors about alpacas in their natural habitat. We are not a petting zoo, but one may receive an "alpaca kiss" depending on the alpacas' sociable mood. Our alpacas love to be fed hay no matter the age of our visitors or time of day! Our farm operation is a new business venture for us, since the purchase of our first two alpacas in 2011. We spent four years building our farm and business. We opened our doors in 2015, as a second and novel career change from fire and education backgrounds and haven't looked back!
Our alpacas impart their natural colors in their fiber, without the use of dyes, into twenty three shades. Our yarns for sale provide opportunities for hand crafters to create a unique heirloom article of clothing from our Maine fiber animals. We enjoy collaborating with local sheep farmers to create small batch blended yarns, and nurture our farm community within our fibershed locale. As a purely natural product, once our yarn has reached the end of its life cycle, it may be composted back into the land.
We practice regenerative farming on a small scale. Our woodland use is tiny in footprint as alpacas' do not require large pastured space, but enough space to roam and run. They are a herd animal, environmentally friendly in nature, with soft padded feet and a split lip for pulling up grass gently while leaving the roots intact. We use rotational grazing methods, even though alpacas have common dung piles. They deposit small amounts of nutrients back into the earth as they move through pastures and woodland. We practice no-till preparations for our vegetable and herb gardens with our own composted alpaca manure and recycle and reuse where possible. We utilize hügelkultur practices with our decayed wood, grass and composed manure to aid areas of low ground or soil in need of nutrient content. Alpacas create a beautifully odor free manure that when composted can be used as nutritious top soil or a highly beneficial aid to the soil.
As of 2022, we have 24 alpacas, nine laying hens, one rooster, Mattie, who is in charge of the farm, two rescue farm dogs Louie and Baxter and three adopted barn cats, Lester, Raven and Ridley. All live with us as one small farm and home.
Agritourism visits to our farm are scheduled by appointment on our website. We offer 45 minute educational farm tours in our viewing pen, 75 minute alpaca treks learning about and walking your own alpaca, and various private tours and educational workshops, all provided by us as owners and farm educators. Visitors can shop in our gift shop for our local goods including our own salve and farmsoap. Our farm is handicap accessible and we have a restroom available for our visitors. All are welcome. Please visit our website linked below to learn more and to book your visit with our farm: Cape Newagen Alpaca Farm or email us at [email protected] If you need assistance navigating our website you may call the farm 207 633 0416.
We look forward to sharing our farm with you! Anne and Michael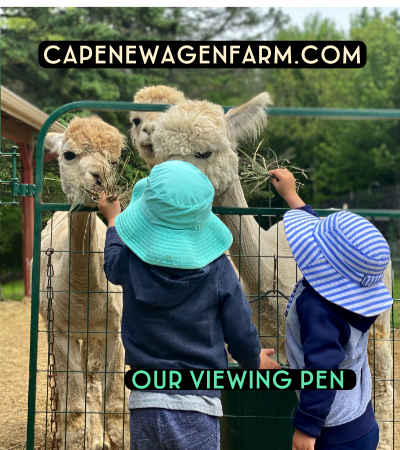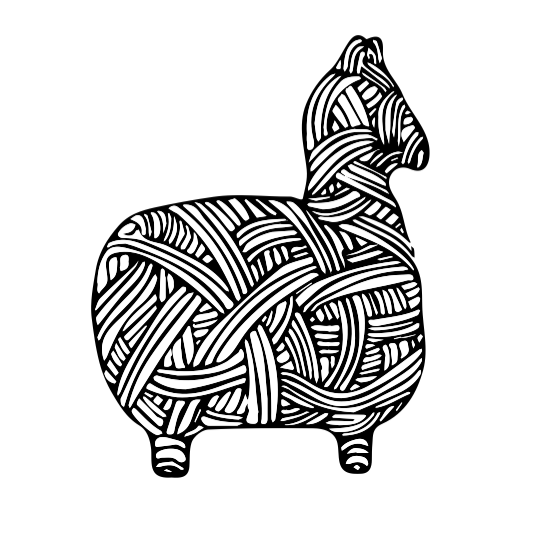 Address 1020 Hendricks Hill Road
Southport, Maine 04576
Phone 207-633-0416
Website www.capenewagenfarm.com
Payments Accepted We accept all credit cards, apple or android pay, checks or cash
Hours All our Farm Visits are scheduled by appointment. We provide an easy way for you to book your tour, trek or private tour through our booking app online. Tours for the season are updated in March every year. Please visit our website for more info and booking. We are on Instagram, Patreon, Trip Advisor, Facebook, and Google Maps and Business. We update our own website frequently. To check our website https://www.capenewagenfarm.com or call 207 633 0416 Please contact us with your alpaca questions.