Old Canada Road National Scenic Byway
Old Canada Road National Scenic Byway
About the Byway
As rich in history as it is beautiful, the Old Canada Road National Scenic Byway's 78 miles run throughout lands harkening back to (and pre-dating!) America's beginnings. Today, its proximity to the Kennebec and Dead Rivers, as well as numerous lakes and ponds, makes water activities a prominent attraction along the byway, while mountain trails and postcard-worthy views call to hikers and bikers of all ages and abilities.
Drive Back in Time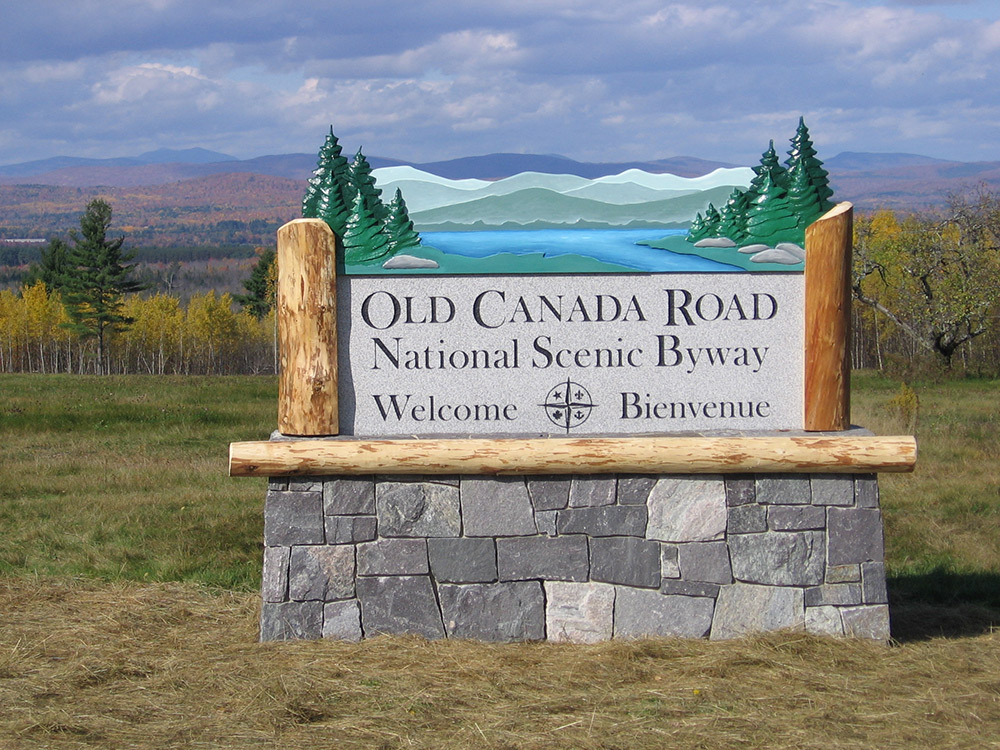 Visitors can learn about the region's culture and history through bilingual (English & French) interpretive panels and kiosks along the byway, detailing everything from its logging roots to its development into the important trade route that it is today. The signs tell the story of the arduous, ill-fated journey American Revolutionary War Colonel Benedict Arnold took with his army in the 1700s on their way to Quebec City, how many Quebecois walked to Maine in search of mill work in the 1800s and more. The road also follows the historical river trade routes of the Abenaki Tribe.
Water Adventures Abound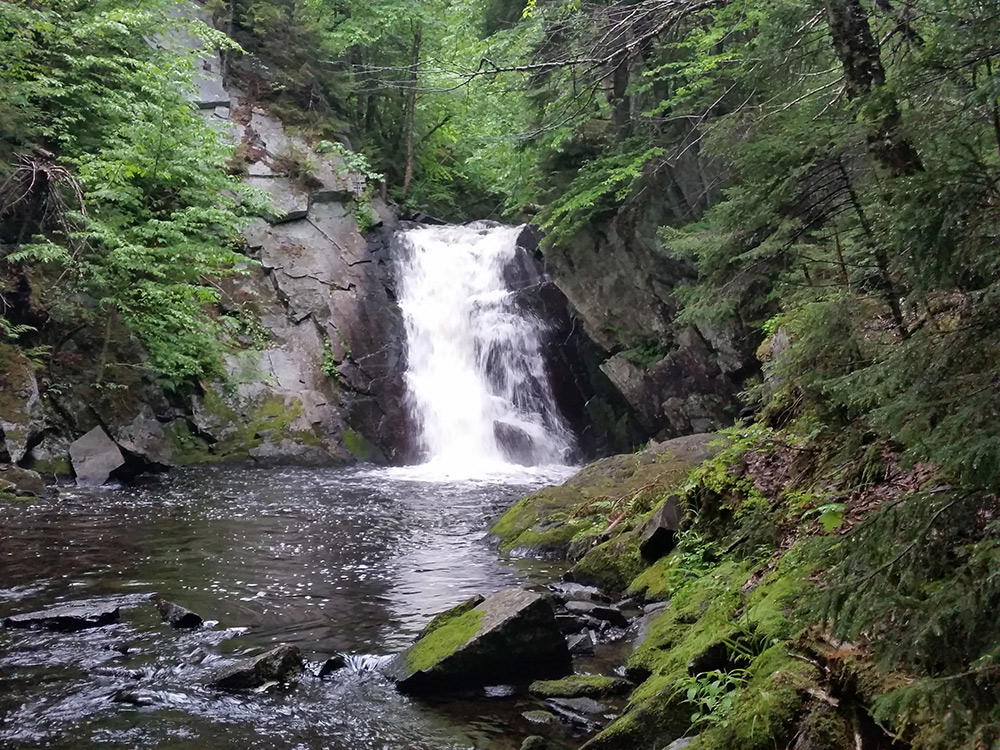 Running alongside rivers and their powerful currents, as well as many other lakes and streams, you'll find no shortage of water activities, for both thrill-seekers and leisure lovers, near the byway.
White Water Rafting: The byway's southern half meanders the eastern side of the Kennebec River all the way to The Forks, where the Dead River and Kennebec River meet. The dam-controlled releases of this intersection make it the Northeast's premier whitewater rafting destination, with trips ranging from "mild to wild."
Moxie Falls: Also in The Forks area, Moxie Falls is one of Maine's highest waterfalls with an impressive 92-foot drop. Short and sweet, this hike is great for families and dog-walkers.
Parlin Pond: This crystal clear, spring-fed lake is ideal for a paddle or swim. The serene water offers great fly fishing opportunities as well, with plenty of landlocked salmon and brook trout.
Jackman Moose River Region: With cool lakes, streams, brooks and rivers easily accessible, paddlers and anglers of every type and skill will appreciate this quality fishing area.
Must Stop Viewpoints for a Photo-Op or Picnic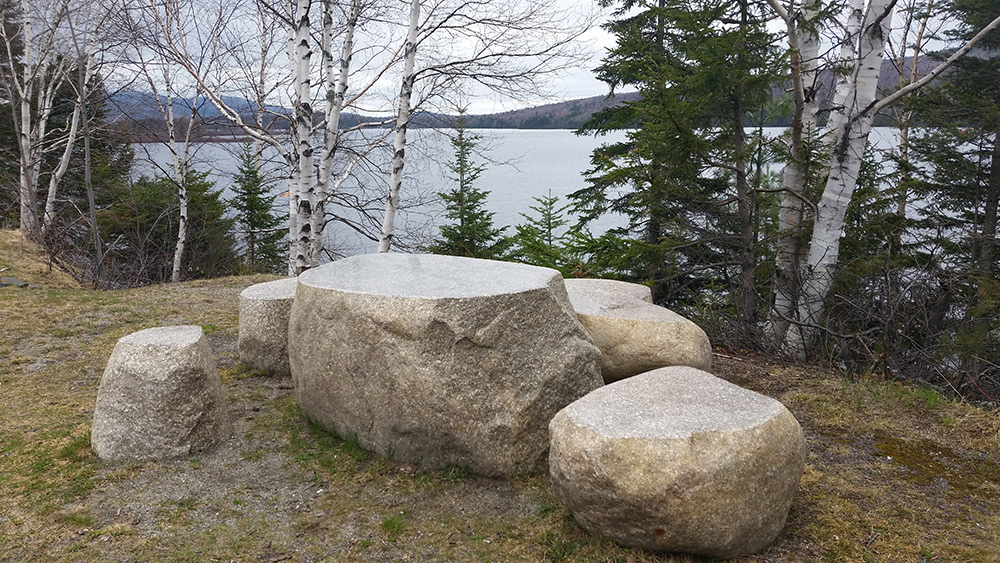 Old Canada Road is awarded the title of national scenic byway for good reason—the breathtaking overlooks dotting the byway are worth every pull over.
Robbins Hill
Marking the southern gateway of the byway and showcasing the sprawling beauty of Maine's High Peaks, this is a must-stop. A gentle network of trails, some being ADA-accessible, offers a mix of forest floor, and the chance get up close to some of Maine's flora and fauna, crushed stone and grass paths (all with incredible views!).
Attean Overlook: Just south of Jackman, this overlook showcases sweeping views of Moose River Valley, Attean Pond and miles of rivers and streams flowing to the Canadian border.
The Falls: The final crescendo of Old Canada Road, this scenic roadside area features views of a waterfall marking what is now almost the end of the byway.
Walk, Hike and Bike
The drive along Old Canada Road offers plenty of opportunities to get your heart pumping and legs working on one of the many trails and mountains spanning its length.
Pleasant Pond Mountain: Part of the Appalachian Trail system, this local favorite is a short hike suitable for all ages and rewards accordingly with expansive, 360-degree views.
Forks Area Scenic Trail: Whether you are running, hiking, biking, or have kids and a dog in tow, this trail will meet your needs with scenic beauty and gravel trails. This 5-mile section is just the beginning of a network of trails connecting the whole Kennebec River Valley, offering numerous adventures.
Jackman Area Hiking: The town of Jackman has several trails spanning woods, waters and impressive summits.
Seasonal Specialties
The byway offers four-season fun—you'll want to return for these ephemeral highlights that will become lasting memories.
Fall Leaf-Peeping: Foliage enthusiasts, rejoice. The brilliant color you witness on the road, trails and overlooks will inspire you (and your camera). Foliage typically peaks in late September through early October.
Spring Fiddlehead Foraging: Take part in a Maine tradition rooted in Native American history. A cherished springtime ritual, you can find these curiously furled, edible ferns near the brooks, rivers and lakes off the byway from spring into early June.
Winter Snowmobiling in the Jackman Area: The same trails that are favored for hiking, biking and walking in the milder months turn to thrilling, chilly fun in the winter, with options for long distance rides and leisurely outings suitable for the entire family.
Rest and Refuel
A day on the road calls for a night or two at one of these peaceful lodges. Awake to the call of loons and enjoy a hearty meal before getting on the road again.