Maine
"A man is rich in proportion to the number of things which he can afford to let alone." When Thoreau wrote those words in a 10-by-15-foot cabin furnished with little more than a bed, a table and three chairs, he laid down an essential truth for generations of simple-living advocates seeking greater fulfillment by owning less.
In the past decade, a new wave of 21st-century minimalists has revived this sentiment, downsizing homes, closets and jobs to embrace miniaturized lives that are big on ideals. Authors and bloggers, such as Joshua Becker, Joshua Fields Millburn and Ryan Nicodemus ("The Minimalists"), have become gurus for harried people who find themselves swimming in clutter or stressed out by debt. These would-be Thoreaus are inspiring many to shrug off the yoke of the modern work-to-spend consumer cycle.
Today's devotees of minimal, conscientious living have a variety of motivations, from concern about the environment to the pursuit of post-recession self-sufficiency. Many are turning their backs on unfulfilling corporate careers, or the drudgery of organizing, cleaning and storing possessions. They're seeking lives that can be supported without 80-hour work weeks or ecological damage—and emphasize values such as family, community and nature.
And while few can actually manage to pare their lives down to the dimensions of a Thoreau-size box, many are nonetheless adopting downscaled living where they can—choosing modest homes and ethically-sourced products, sharing or donating goods and volunteering for social causes.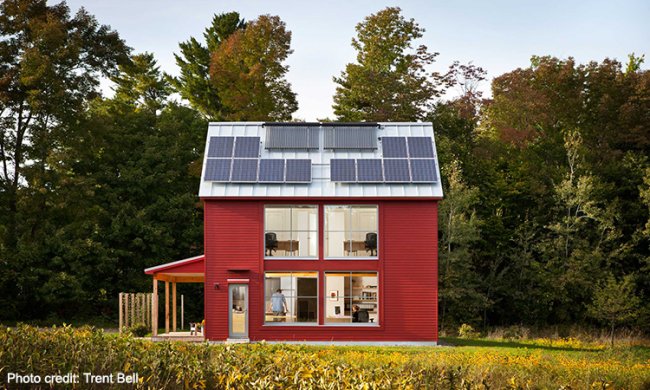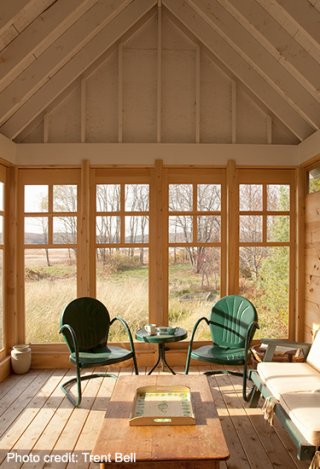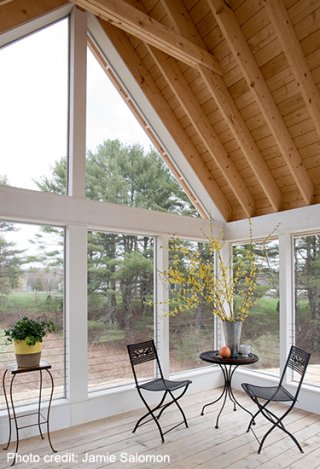 Simplicity is a way of life in Maine
Maine, for more than a few reasons, is a natural fit for minimalist living. "Most Mainers already live pretty simply," said Jan Robinson, a designer and founder of EcoHome design studio in Portland. "We're 'what you see is what you get,' salt-of-the-earth people."
Maine's pristine, unadorned beauty also beckons people outdoors. "You're living outside as much as possible here," said Jen DeRose, editor of Maine Home+Design. "You don't need to have a big house to hunker down in." Factor in the cost of heating during cold winters, and choosing smaller spaces with fewer belongings makes practical sense.
And Maine has a solid tradition of progressive experiments—spanning back-to-the-landers like Scott and Helen Nearing, communes such as Twitchell Hill and the artist colonies Monhegan and Hewnoaks—which have given rise to a new generation pursuing groundbreaking solutions for ethical living. Mainers, in short, can teach us a thing or two about the good life.
Prefab eco homes lower dependence on fossil fuels
In 2006, architects Phil Kaplan and Jesse Thompson began building their first high-performance structure, a 700-square-foot, net-zero-energy barn in Rockport. Interest in modest, affordable homes started growing after the 2008 global financial crisis, spurring Kaplan Thompson to launch a sister firm, BrightBuilt Home, in 2013. The Portland-based company now produces elegant modular houses for those wanting energy independence and uncomplicated construction.
"A net-zero home focuses on three things: adding more insulation, improving the doors and windows, and tightening up the envelope," said Kaplan. "In doing those things, the mechanical systems virtually drop away. There's no oil, no gas, no propane—it's all electric. And there's not a lot of stuff to break."
BrightBuilt's homes produce as much energy as they consume, thanks to thick, double-stud-wall construction, efficient appliances and solar heating and electric systems. It's an approach that's drawing everyone from ecologically-conscious millennial families to retirees who want low-maintenance houses. "We have a lot of 'last-house lefties'—older couples for whom this is their last house," said Kaplan. "They don't want volatility. They want predictability, and to hedge against future energy costs. It just reduces variables."
"Maine is a hotbed for this kind of building," Kaplan added. "I think it has to do with the history, the Yankee attitude, and the climate."
"There's a little innovation bubble of practitioners who are doing this in Maine," said architect Matthew O'Malia. "People value the natural beauty of the state, and they are prioritizing it in how they choose to live." GO Logic, the Belfast-based design/build firm O'Malia co-founded in 2008, offers a range of prefab houses called GO Home. Inspired by European passive houses, GO Homes feature a heavily insulated airtight shell, a patented concrete slab foundation and triple-glazed windows and doors imported from Germany.
"With a typical three-bedroom house, our heating bill is around $200 a year," said O'Malia. "The output of the heating system is equivalent to a hair dryer, which is about 2,000 watts of heat."
GO Logic also has constructed socially-minded projects such as the Belfast Cohousing & Ecovillage, a sustainable, intentional community of homes—connected by courtyards, garden plots and common houses for group meetings and meals—that is "like a grown-up back-to-the-lander commune for today."
Responsibly-sourced furnishings for the modern minimalist
High-performance passive houses, however, raise a new challenge. "Homes now are much tighter than they used to be—they don't breathe the way older homes do," said Jan Robinson. "All of those toxins that we bring in are being held inside." Robinson founded the EcoHome design studio in Portland to showcase the sustainably made furnishings she had been seeking in her ecologically-conscious interior-design practice.
EcoHome carries furniture and textiles produced without formaldehyde, flame retardants and other hazards. Cushions are made of plant-based materials, and wooden furnishings come from reclaimed or rapid-growth wood such as bamboo. There are Maine-crafted tables and benches that cleverly repurpose salvaged doors, as well as mirrors fashioned from antique windows.
"People are seeking more meaningful connections not only to other humans, but to their home and to their belongings," said Robinson. "They want just a few really useful, good things instead of a bunch of disposable junk."
Downsizing and decluttering for peace of mind
In a tidal cove in Tenants Harbor, Dayne Lamb and Gardner Stratton built a 625-square-foot, passive solar, steel-and-glass modern home from a kit designed by architect Rocio Romero. Nearly every decision was made with energy efficiency, simplicity and access to nature in mind, and the couple finds their streamlined routine to be liberating. "Our house doesn't have to reflect how big anything is, whether it's our egos or our bank accounts," said Lamb. "You come into the cottage, and you just take a deep breath and your mind relaxes."
Lamb and Stratton have few possessions beyond what they use daily. They keep the decor spare, compost much of their refuse and frequently use community resources such as their local library. "There's nothing that's hard to maintain or clean. You either wipe it or vacuum it," said Lamb. "You don't come in here and say, I want to buy more tchotchkes or pillows. It makes you a non-consumer because everything has answered itself in the design."
Lamb and Stratton, like other Mainers opting for smaller dwellings, are employing creative strategies to maximize their living experience. "A lot of homeowners here are avid boaters or sailors, and they're familiar with living in a really tight setup," said DeRose. "We'll see that same mentality in the homes they build. There's lots of custom furniture and built-ins, using every square inch of available space."
Minimalists look for smaller-scale furniture that does double duty. Companies such as Endicott Home Furnishings and EcoHome both offer diminutive sofas as well as tables and seating with storage. "People are looking at the functionality of everything they bring in," said Robinson. "Does it serve two purposes?"
Robinson found herself downsizing to a sustainability-built condo last year after her kids left home. "I asked myself of each item: 'Do I really love it? Is it really useful? Do I use it all the time?' And if the answer was no to any of those, it was gone. I see this with millennials like my children, too. They don't want grandma's antiques. They want to keep things simple."
It's all in keeping with the values of a place that, at heart, is thoroughly down to earth. "Living in Maine is accepting that it's a quiet and humble place," said O'Malia. "It makes for a really good, simple life."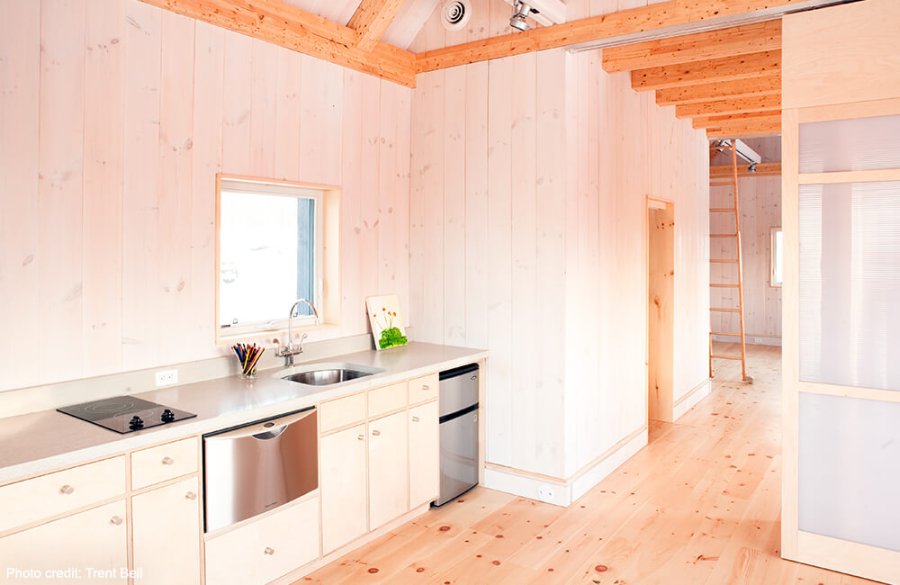 Content created for Visit Maine by WP BrandStudio. Learn more about WP BrandStudio.