Maine
"Once you get the bug for the vintage hunt, it's hard to stop because you know there is always some treasure out there waiting for you."
Sarah Cellier, Rice and Beans Vintage,

When you see the words hunt and Maine, it's a quick mind trip to a place where they pair perfectly. A classic sporting camp in Maine's pristine wilderness. Naturally. Yet in a state with such wild diversity, there are other places where those two words pair not just perfectly, but fabulously.
It all depends on who's doing the hunting, and where. For Maine native, Sarah Cellier, the hunting grounds are antique and thrift shops along the Maine coastline and points inland. Her quarry: Vintage haute couture.
The first thing a lot of folks think when they see haute couture is: Please don't ask me to pronounce it at a cocktail party. The first things Sarah Cellier thinks are Chanel, Gucci and Gianni Versace. When vintage items from legendary designers make their debut at Sarah's online boutique, Rice And Beans Vintage, the first thing her customers think is: Gotta have it.
Sarah is no stranger to that feeling. In her case, the vintage clothing fairy sprinkled the magic dust when she was growing up near the ocean in South Harpswell, Maine. When she was ten, her parents, both native New Yorkers, took her to the Big Apple and the now-iconic Screaming Mimi's, the boutique where Cyndi Lauper purchased her famous crinoline dresses. "It was definitely the first time I experienced the rush of the hunt for that perfect vintage find," Sarah recalls. "And I was hooked."
Sarah came home with a vintage '50s red crinoline skirt. As much as ten-year-olds just want to have fun, the experience would lead to a lot more than playing dress-up. "I started Rice and Beans Vintage as an eBay store while in grad school in 2001," she reflects. "As something creative to do on the side. I quickly realized this was what I wanted to do for the rest of my life."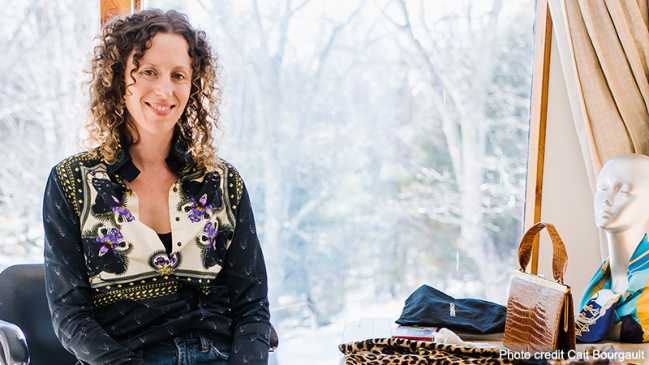 Today, Sarah's online boutique is frequented by vintage fashion lovers around the world. While she buys and sells with an international base, Sarah's home base continues to be an excellent and often exquisite source of discovery.
"Even after fourteen years of hunting for vintage designer fashion in Maine," she says, "I am still surprised by the amazing things that are here to be found. I have my favorite spots that I frequent – from Portland to Camden. These are places I have been going for many years, and I've been lucky enough to build friendships with some of the people."
Hunting, building friendships. That's definitely Maine. The fact that vintage fashion is also very Maine should come as no surprise. In a state known for inspiration and originality, fashioning a successful business with the original, inspired work of famous designers makes perfect sense.
It also represents something near and dear to Mainers. It's the real deal. At Rice and Beans Vintage, customers can find apparel that may have been billowing on the decks of sailboats in Casco Bay during the Kennedy Camelot years. Or, making a dazzling debut at a Cannes Film Festival after party, where Bridget Bardot was rumored to be in the house.
Sarah describes her acquisition philosophy like this: "I stock a curated selection of authentic designer vintage fashion and home decor. I specialize in vintage Chanel and am known for my selection of vintage Chanel handbags. Other designers I focus on are Gucci, Gianni Versace, YSL and Hermes."
There's another side to Sarah's buying approach. Whenever she makes a foray into Maine's antique world, she isn't just looking for items for Rice and Beans Vintage. She does what any antique shopper does – look for that special something that's been waiting just for you. "I don't just buy pieces for my store," Sarah shares. "I also have furnished the majority of our house with treasure I have found over the years."
So what advice would Sarah offer visitors to Maine who want to search for their own vintage and antique treasures?
"Set aside enough time so you don't have to rush, make a day of it," she says. "I like to head out in the morning and stop for a coffee at Treats in Wiscasset and then hit all my favorite shops. Take the time to look at the condition of a piece and don't be afraid to ask questions. Also don't forget to buy what you love, not what you think you should love. I think that's the most important tip."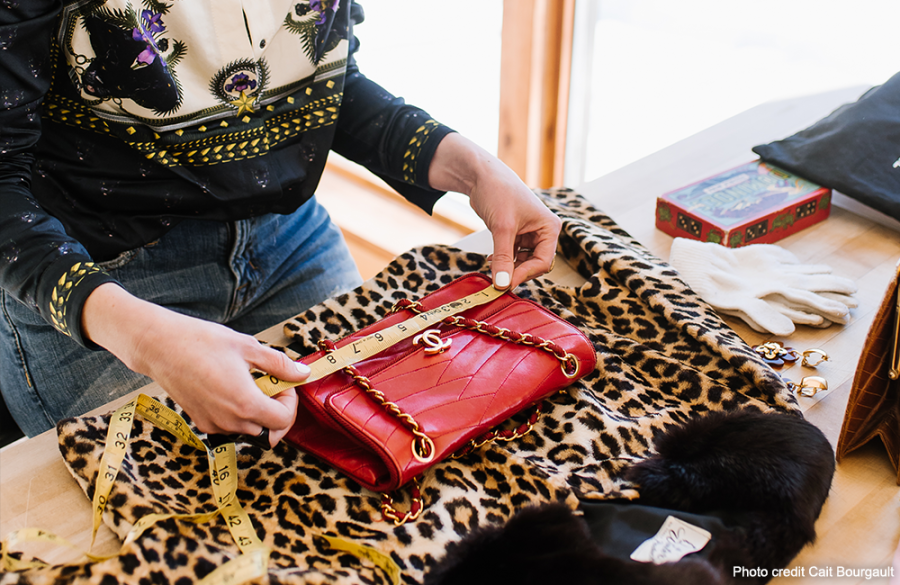 You can use Sarah's tips at antique shops throughout the state. The Maine Antique Dealers Association offers great information. And the Maine Antique Trail will put you on a path to discover vintage items of your own. Virtually every community offers antiquing opportunities, with many that are veritable treasure troves of shops, including Searsport, Wells and Cornish. You'll also find larger venues that are home to a variety of shops, among them: Fort Andross, Fairfield Antique Mall, Elmer's Barn in Cooper's Mills and Chicken Coop in Ellsworth. Let the hunt begin.