Maine
"I believe that Maine is one of the few places left in the U.S. where the ability to create or fix something physical is still a rite of passage."
Writer Emma Thieme
Maine, Motorcycles & Life Off the Grid
Some people may be born to write, others born to be wild. Emma Thieme has a foot in both camps, and roots planted deep in her native soil. A rising star essayist and journalist, she also runs her own one-woman company, Maven Upholstery, creating handmade motorcycle, auto and marine leather seats. One of those leather seats supports her habit of tooling through the Maine countryside on her 1980 Honda CM400. Self-expressing, self-sustaining – it's all part of a day's work with Emma. A day that starts in the Maine woods and goes from there. In her essay, Why I Moved Off The Grid, Emma described a typical day's end this way: "When the sun goes down, we can usually see the moon from our window. And someone always makes a point to comment on the stars." Recently, she proved more than generous in sharing her comments on life with The Maine Thing Quarterly.
MTQ – You were born and raised in Maine, traveled extensively and then came home. What is it about Maine that calls you back?
ET – Last winter I put 17,000 miles on a '99 Ford Ranger driving around the country and parts of Mexico. That trip allowed me to see so many different ways of living -- I drove through cities, deserts, small towns. I found in that time that I'm someone who has a deep connection to her roots. As I drove through some other parts of the continent, I felt really lucky to be from a place where billboards don't exist, where oil refineries don't take up the coastline and where people try very hard to protect nature.
That winter exposed me to so many different possibilities for how my life could go, but I still felt that it should eventually go back home to Maine. To be happy, I need to live self-sufficiently. I need to reside next to undeveloped, protected wilderness. I need to be around hard-working and creative people. I need to have a space to be creative myself.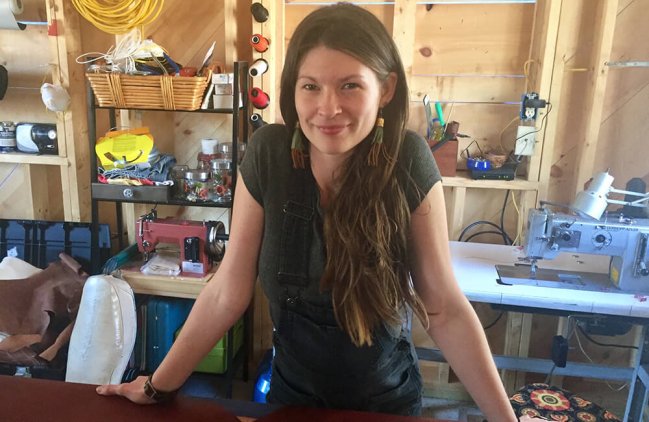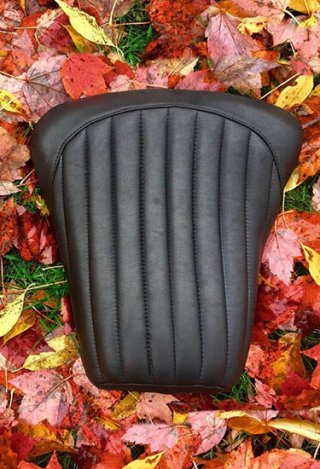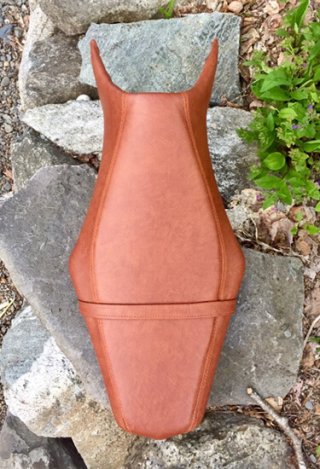 MTQ – Recently you bought some land and built a house. Tell us about that.
ET – Ever since I left my parents' house I've been lugging multiple sewing machines around to every apartment. I would often have to set them up on my bed when I didn't have a table and use my hand to press the foot pedal. You just don't create quality work that way. About halfway through this last road trip, I realized that I'm done with that. I want a workshop. I want a place to write.
So when we returned home my partner and I purchased 12 acres on a road that we love in Cherryfield. For months I lived in a tent on the property. It was rough and cold to wait, but eventually, we could afford to drill a well, to insulate, to purchase appliances. Just a few weeks ago we finally moved into our self-built, 555-square-foot home. My workshop still needs to be insulated but I'm working in there anyway.
MTQ – You're big into motorcycling. Why do you love it? And what are some of your favorite places to ride in Maine?
ET – What I love about motorcycling is the control. I love being so close to a machine that I can make it swoop around a corner on the Blackswoods Road with just a slight shift in weight. When I'm riding, I'm always thinking about the perfection of the motorcycle engine -- the fact that there is a contained explosion happening over and over again just inches away from my kneecaps.
I also appreciate the responsibility owning a motorcycle gives me. I've spent hours chasing ground wires, troubleshooting mysterious electrical malfunctions, taking wheels on and off countless times -- all because it's my machine so it's my responsibility.
As for favorite places to ride, I feel so lucky to live off of one of Maine's best motorcycle roads: Route 182 through Cherryfield and Franklin. Route 15 down to Stonington is a favorite as well, that bridge surprises me every time.
MTQ – Tell us about the evolution of your one-woman business, Maven Upholstery.
ET – Maven evolved after I tried to construct a new motorcycle seat for my bike and realized it was a lot harder than I initially thought. At that point I was a confident seamstress. I had sewn professionally and had a little side hustle going on designing leather bags and earrings, but I was lacking the education that upholstery requires -- especially leather upholstery.
The thought of going to school for a trade really excited me and I knew that it would be a unique skill for me to bring back to Maine. On an impulse, I signed up for a vocational program. A few weeks later, I moved to New Jersey and ended up being the only female student in the entire school. It's also worth noting that all of my classmates were veterans. I not only gained the education I needed to begin my business, I gained empathy and a deeper perspective on the world. I consider it one of the most influential experiences of my life so far.
I brought all that back to Maine and a little more than a year later, I'm pretty busy building motorcycle, auto and marine seats. One of my leather motorcycle seats was shown on a client's '16 Indian Roadmaster at the Handbuilt Show in Austin, Texas.
MTQ – Working with your hands and making things – it's definitely a Maine thing. Your thoughts on why.
ET – The people who I spend time with are builders, welders, landscapers, bakers, sternmen. I think there is art in every one of those occupations. I believe that Maine is one of the few places left in the U.S. where the ability to create or fix something physical is still a rite of passage.
When I was deciding what to do after high school, my dad recommended that I go into the trades. At 18, I rejected the idea. Now that I have a trade, and understand how difficult it is to learn one, I know that they are invaluable. Whether it's writing or upholstery, I take a lot of pride in the work that I do and I think that pride connects me to my neighbors and fellow Mainers.
MTQ – For a time you really lived off the grid. Tell us about getting away from it all and what you learned.
ET – For more than two years, my home base was a cabin in Washington County that did not have running water, electricity or refrigeration. I gained a lot of practical skills from my time spent off the grid. For instance, I can now make any recipe on an early 19th-century wood cook stove. I can name at least three practical uses for ash from the fire pit. And I know that poplar is my favorite wood to split.
Most of all, though, that time taught me a lot about what it means to be part of a small community. I came to appreciate that Sundays were reserved for unexpected visitors and that every age group should be represented at parties. My time off the grid forced me to get to know my neighbors and to be okay with loneliness. It made me a better writer and it solidified Maine as the place where I'll grow old.
MTQ – Any advice for folks who want to bring some simplicity into their own lives?
ET – I think it's become commonplace to be on our phones or screens all the time. For me, it's a killer of creativity. My only advice would be to put down your phone, put away whatever screen you're reading this article on, and take in the world around you. Bonus points if that world is in Maine.
Must Reads
;