Plan Your Visit
Weather & Climate
Maine's Seasonal Weather & Climate Patterns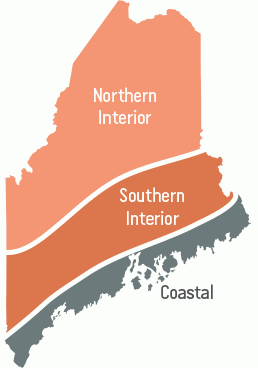 If you visit Maine in the summer, you can expect temperatures as high as the 80s along the coast and up to the 90s inland. Summer nights are usually comfortably cool. You may see some heavy ground fog along the coast or in low-lying inland areas. Some severe thunderstorms may occur between May and August.
Climatological Division
Maine is divided into three climatological divisions: Coastal, Southern Interior, and Northern Interior. The Coastal Division, which extends for about twenty miles inland along the length of the coast, is tempered by the ocean, resulting in lower summer and higher winter temperatures than are typical of interior zones. The Southern Interior Division extends in a longitudinal belt across the southern portion of the State, and encompasses about 30% of Maine's total area. The Northern Interior Division occupies nearly 60% of the State's area and has a continental climate. It is furthest from the ocean and contains the highest elevations.
Temperatures
Winters are generally cold, but very prolonged cold spells are rare. Average annual snowfall in Maine is 50 to 70 inches along the coast and 60-110 inches inland. The coast rarely has more than 15 to 20 days annually with snowfall of one inch or more, although a "Northeaster" may occasionally drop 10 or more inches of snow in a single day. January is normally the snowiest month, with an average of about 20 inches.
Precipitation
Precipitation is generally even throughout the year, although some flooding may occur in late winter and early spring. Maine is rarely subjected to ice storms, hurricanes or tornadoes.
Related Sites