Organization
Sabattus Disc Golf
add bookmark
Sabattus Disc Golf
Sabattus Disc Golf is a pay-to-play 3-18 hole disc golf course and Pro Shop located in Southern Maine.
OUR COMPANY MISSION
SDG's mission is to bring family and friends together in a safe and beautiful environment. To be outdoors exercising while having fun and enjoying a wonderful spot in the state of Maine. To enjoy nature's brooks and streams along with dense woods and open fields while playing a sport that you're new or an expert at.
FAMILY | FUN | FITNESS Bring your family, bring your friends, and discover what disc golf is all about! Here at Sabattus Disc Golf we also have a pro shop that is stocked with everything you need to start playing the sport, our staff are always available for assistance and even here for a quick demonstration if need be. Keep fit and have fun with your family, friends and neighbors!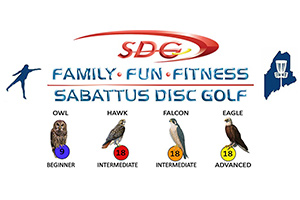 Address 605 Bowdoinham Road
Sabattus, Maine 04280
Phone 207-375-4990
Website www.sabattusdiscgolf.com
Payments Accepted Cash, Credit Cards, Debit Cards, Corporate/Organization Checks
Hours SPRING 2020 HOURS OF OPERATION (effective 3/12/2020) Thursday - Sunday 9am-6pm $5 play all day *Course closures subject to weather conditions. PLEASE BE MINDFUL No pets allowed on premises or left in vehicles No glass Wear proper footwear WE ARE A SEASONAL BUSINESS, DEPENDENT ON WEATHER AND COURSE CONDITIONS.