Organization
Patricks Restaurant & Pub
add bookmark
Patricks Restaurant and Pub
Meals Packages - Cabin Lodging - Bingham, Maine
Patrick's Restaurant & Pub is located inside the main lodge at our Kennebec-Dead Resort and Campground. Patrick's is open 7 days a week; offering our famous "hot breakfast buffet", as well as a full dinner menu from June-August (see menu below). The pub opens daily after trips begin returning (around 3:30 p.m.), and, during the summer months, it has great live entertainment on weekend evenings.
Note: Guests with a meals package receive priority seating. So, if you have a meals package, please be sure to indicate this to the Staff to ensure of a preferred seating arrangement in advance. Otherwise, we may not be able to ensure we have a table available.
Our breakfast buffet served from 7:00 am – 10:00 am. There's no better way to prepare for a great day on the river or the trails then with a good breakfast, and Patrick's Famous Hot Breakfast Buffet will really do the trick!
Adults $12 per person
Youths $8 per person
The breakfest buffett is an all you can eat and includes scrambled eggs, sausage, bacon, home fries, fresh fruit, pastries, cereal, yogurt, granola, coffee, tea, hot chocolate, milk, and orange juice.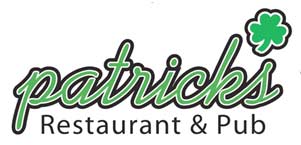 Address 36 Main St
Bingham, Maine 04920
Website www.northcountryrivers.com
Payments Accepted Credit Cards, Checks, Money Orders, Cash
Hours During the spring and fall Patrick's is open during the weekends (for Friday dinner, Saturday breakfast & dinner, and for Sunday breakfast. If you have questions regarding the restaurant, wish to use it for a wedding or function. or,need to make a reservations please call 800-348-8871, or speak with any of the on-site North Country Rivers staff. Breakfast buffet served from 7:00 am – 10:00 am Dinner is served from 5:30 pm – 9:30 pm