Organization
Padebco Full Service Boatyard Custom Boat Builders
add bookmark
Padebco Full Service Boatyard & Custom Boat Builders
Padebco is a custom boat builder and full service boatyard offering moorings, service work, brokerage services, storage, and hauling for sail and power boats.
Padebco has been building and servicing boats in Round Pond, Maine for over 55 years, making us uniquely qualified to care for your boat. Our custom Downeast-style pocket yachts range from 21 – 32 foot custom cruisers, center consoles and walkarounds to one off builds, 17 foot skiffs, and finishing hulls. As ABYC members, Padebco follows rigorous design, construction, maintenance, repair, and safety standards. We pride ourselves on maintaining high standards of quality and service while cultivating long-lasting relationships with our clients.
Quality Service, Competitive Rates
Service: Each client and boat that enters our yard is given personal attention, ensuring solutions are tailored to each individual's needs. Our experienced staff specializes in a wide range of services for power and sailing vessels from repairs, repowers, refits, refurbishing to hauling, launching and storage. Padebco has the staff, facilities, and expertise to complete your project on time and on budget.
Storage, Hauling & Launching: We provide indoor, indoor heated, and outside storage as well as hauling and launch services for sail and power boats. As a full service and year-round yard we will complete requested service work, maintain your boat, and ensure your boat is commissioned, launched and ready when you need it.
Moorings: We offer transient and seasonal mooring rentals in well-protected Round Pond Harbor, the gateway to the Penobscot Bay cruising grounds.
For more information visit www.Padebco.com or call (207) 529-5106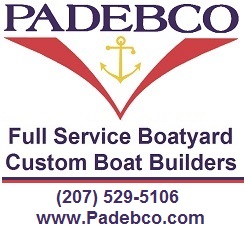 Address 28 Anchor Inn Road PO Box 197
Round Pond, Maine 04564
Phone 207-529-5106
Website www.Padebco.com
Hours Monday - Friday 7AM - 3:30PM Other days and times by chance or by appointment.