Organization
Northern Outdoors Hunting Lodge Outfitter
add bookmark
Northern Outdoors Hunting Lodge & Outfitter
Northern Outdoors has specialized in guided Trophy Whitetail Deer Hunts since 1975, also offering moose hunt packages for those lucky enough to pull a permit.
Northern Outdoors is recognized as Maine's #1 hunting lodge & outfitter. Northern Outdoors specializes in guided trophy whitetail deer hunts, and also offers guided Moose hunts for those lucky enough to pull a permit. Hunters have enjoyed premium hunting trips with us since 1975. From our experienced, friendly, professional Maine hunting guides to our classic Maine sports lodge and Kennebec River Brewery, you'll find a great guided hunting package that meets your needs.
Maine is known as one of the best states in the U.S. for hunting, with its thousands upon thousands of acres of forests and wilderness. It's no wonder that deer, moose, bird, and small game hunting have been a tradition in Maine's North Woods for generations upon generations. Visit our complete hunting & fishing website, dedicated to serious hunters and anglers, for in-depth information.
Northern Outdoors is located 4 hours from Boston, MA and 2 ½ hours from Portland, ME on Route 201, The Old Canada Road National Scenic Byway in The Forks, Maine.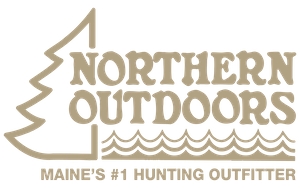 Address 1771 US Route 201
The Forks, Maine 04985
Phone 207-663-4466
Website mainedeerhunting.com
Hours Hunters hours during November hunting season, open year round for lodging and adventuring.