Organization
North Country Rivers Kennebec River Resort
add bookmark
North Country Rivers - Kennebec River Resort
Kennebec River White Water Rafting Trips and Packages - Tent Camping, RV Camping, Cabin Tents, Premium Cabins, Restaurant and Pub. Additional activities - Wildlife Tours, Kayaking, Waterfall Hikes, ATV Rentals & Tours and Fishing.
Kennebec River Rafting – Big Water, Big Waves, Big Fun! (New England's Most Popular White Water Rafting River)
Plan your Kennebec River Whitewater Adventure Vacation with North Country Rivers. CALL US TOLL FREE (US and Canada) AT 1-800-348-8871 and we'll personally help make your Maine rafting trip, "The Thrill of a Lifetime!"
The Class IV Kennebec River Gorge is by far the most popular whitewater rafting trip in New England. Once you experience the beauty, excitement and FUN, you'll know why!
With consistent daily water releases from Harris Station dam, optimum flow levels are assured throughout the season. There are also LARGE "spring-like" releases during summer called "turbine test releases." These generate REALLY BIG rapids for INCREDIBLE FUN (especially when the weather is HOT). Another great aspect of the Kennebec River is that it's WATER IS WARM – even in the spring. In the fall, it also displays spectacular colors all along its steep-walled gorge.
The Kennebec River is not a rocky, technical river. Instead, it's a very deep, fast mover with big "fun" wave trains. This is why it's the ideal rafting trip for beginners, youth groups, families, and experienced rafters alike.
Right from the start, you'll have a smile glued to your face. You'll also begin to see why thousands of whitewater enthusiasts flock to the Kennebec every year (young and old alike).
We can configure your trip to include more than just rafting too. For example, we can include a Moose/wildlife watching tour, an morning or evening, half-day or full-day ATV trip, or a fly fishing trip. If you're going to stay for multiple days, we can arrange cabin rentals, tent camping, RV site camping and even full meals – in any combination (see packages and pricing links above and to the right).
So what are you waiting for? Why not experience an unforgettable Maine adventure vacation? You'll want to come back too – as most of our guests do!
Basic Kennebec River Rafting Information:
2021 Season: April 24 – October 10 (daily trips).
Meeting Time: 9:00AM (but we recommend checking in 30 minutes prior).
River Rating: Class 2-4 (on a scale of 1-6).
River Type: High volume, deep river with big waves.
Range of River Flow: 4800-8000 CFS (higher flows mean BIGGER FUN).
High Water Dates "Turbine Test" for 2021: June 12; July 5; Sept 11; Sept 25.
River Length: 12 miles (4.5 hours on the river).
Trip Types: Full River, Ultimate, Turbine Test, Two-Day Trip.
River Lunch: Included. Consists of steak, chicken, veggie burgers, salad, desert, beverages.
Minimum Age: 5 Years (Lower half only); 8 Years (full river); 12 Years (Turbine Test trips).
Lodging: 3 sizes of luxury cabins, tent camping, cabin tents, RV camping (with ALL hookups).
Restaurant: Patrick's Restaurant with game-room and pub.
FOR RESERVATIONS CALL TOLL FREE: 1-800-348-8871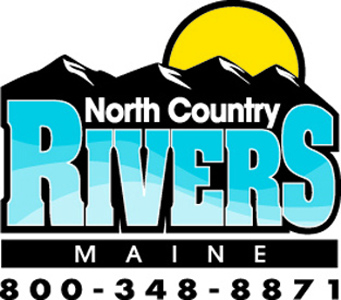 Address 36 Main St
Bingham, Maine 04920
Website www.northcountryrivers.com
Payments Accepted Visa, Master Card, American Express, Discover
Hours **Kennebec River Trips are offered daily from May - October**
PDF document link