Organization
High Peaks Artisan Guild
add bookmark
High Peaks Artisan Guild
Original Works of Art, Gallery & Unique Handcrafted Maine in Maine Gifts Items.
Gallery & Antiques - A Co-Op Gallery Offering Orginal works of art including Paintings, Stained Glass, Pen & Ink, Photography, Fine Furniture, Wood Frames, Pottery, Jewelry, Fiber Art, Fine Clothing, Paper Cutouts, Leather Items, Knitted & Croched Items, and other unique items! Home Decor, Wall Art, Framed and Matted Prints
Greeting Cards, Coasters, Hats, Sweaters, Scarves, cribbiage boards, key chains, purses, braclets, walking sticks, wonds, beaded items and more The Antique room offers books, jewlry, dishes, toys and more! Open Fri - Sun. 11am -5pm or by apointment.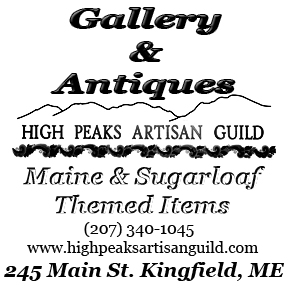 Address 245 Main Street
Kingfield, Maine 04947
Phone 207 340 1045
Website www.highpeaksartisanguild.com
Payments Accepted Credit Cards, Cash
Hours Open Year Round Fri.-Sun. 11am -5pm check Facebook for evening hours, or make an appointment.