add bookmark
Gems of 26
Experience Learn Discover
"The Gems of 26" includes the Maine Wildlife Park, the Sabbathday Lake Shaker Village, the Poland Spring Preservation Park, the Maine State Building, the Poland Spring Resort and Golf Course and McLaughlin Gardens. These five unique places are less than an hour from each other on picturesque Route 26 in Western Maine. The road meanders through gorgeous countryside and boasts cultural, historical, and ecological attractions.
Looking for a place to take your friend, family or group that offers more than other trips you have been on? The Gems of Route 26 can offer your group a full experience...where they can learn and discover more about animals, history and beauty all in one day.
Shopping is available at Shaker Village... your guests can buy homegrown herbs and teas. Lovely crafts and more. The Maine State Building has a gift shop with handmade gifts from local craftsman and more. The McLaughlin Garden and Homestead has a large gift shop with beautiful items for the special person in your life.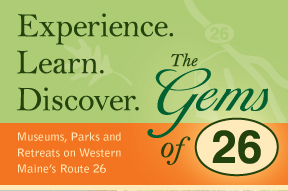 Address 543 Maine Street
Poland Spring, Maine 04274
Phone (207) 998-4351
Website www.gemsof26.com
Payments Accepted Cash and Credit Card
Hours The Gems of 26 is open from mid May until Mid October