Organization
East Outlet Guide Fly Shop At Wilsons On Moosehead Lake
add bookmark
East Outlet Guide & Fly Shop at Wilsons on Moosehead Lake
East Outlet Guide and Fly Shop at Wilsons on Moosehead Lake
East Outlet Guide & Fly Shop at Wilsons On Moosehead Lake, Maine offers a variety of guided trips with something for everyone to love! Our driveway runs along the East Outlet of the Kennebec River and brings you to our Fly Shop and store, 15 cabins and an amazing view of Moosehead Lake!
We have state of the art equipment, and are proud to offer our guests the comfort and ease of a Pavati Drift Boat. This is an amazing boat that has doors making it easy for elderly (or not-so-coordinated) folks to get in and out of the drift boat! We also have a 2012 custom built for us Clackacraft Drift Boat. When the water is low, we have two row frame rafts to get sports to those fishing holes on the Kennebec River!
Our most popular trips are half-day guided drift boat trips that run the upper Kennebec River early in the morning or later in the evening to capture the best fishing hours of the day. Never fly fished before? Not to worry, we provide instruction and lessons, too.
We also offer Small-Mouth Bass Fishing trips, Scenic and Sunset Lake Cruises, and Lake Fishing! We don't stop in the winter as the lake transforms to a hard surface, we offer great ice fishing opportunities from our lakefront cabins on Moosehead Lake, Maine. Bird hunting and deer hunting are also very popular here.
Our fishing trips include all the necessary equipment (flies, rods, leaders, etc.) and full day trips include a lunch! Transportation is also included!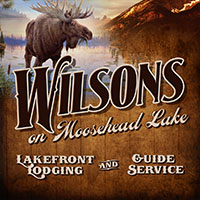 Address 66 Wilsons rd
Greenville Junction, Maine 04442
Phone 2076952549
Website Wilsons on Moosehead Lake
Payments Accepted Visa, MC, Discover, Cash
Hours Our guides enjoy being outdoors and sharing their passion and expertise with others. If there is an adventure in season, they are here to assist in a successful day all year long!