Organization
Catherine Hill Winery
Catherine Hill Winery
Catherine Hill Winery produces small batch, artisan crafted wines in Cherryfield, Maine. We use the finest grapes and local berries in creating our wines. Crafting just 600 cases of wine each year, we offer over a dozen wine styles including red, white, rosé and berry wines of intense character. We strive to capture the elusive qualities of grape and berry in each and every bottle we produce. To maximize your wine experience, we offer a variety of tasting options, hosted by the winemakers. We also offer tours of our vineyard and winery. For the most up to date information about the winery, our wines, days and hours of operation, and events please visit our website @
.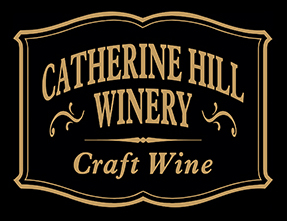 Address

661 Blackswoods Road PO Box 5
Cherryfield, Maine 04622

Phone

207-546-3426

Website

catherinehillwinery.com

Payments Accepted

Cash or Credit Cards accepted.

Hours

Days and Hours of operation: Open for wine tastings and sales beginning Mid May through Mid October. Generally Thursday through Friday and Sunday from 12:00 pm until 5:00 pm, Saturday from 2:00 pm until 5:00 pm. Monday - Wednesday by chance or appointment by calling 207.546.3426 or emailing us @ info@catherinehillwinery.com.