Organization
Biarritz Motel Suites Vacation Apartments
add bookmark
Biarritz Motel, Suites & Vacation Apartments
Family Owned & Operated Since 1976
The Biarritz properties are located in the heart of world famous Old Orchard Beach. We offer 3 distinct types of lodging – motel, suites and vacation apartments. These three lodging options make us perfect for everyone. All of our units are within a 2 minutes walk to the beach and a 5-7 minute walk to the "downtown" area and the famous Old Orchard Beach Pier & Amusement Park. The Biarritz has just the vacation getaway you've been looking for.. Couples looking for a romantic getaway love our cozy Whirlpool units. Small families up to 4 people will enjoy our 1 & 2 Bedroom Kitchens. Larger families up to 6 people will be pleased with our Remodeled Large 2 Bedroom Kitchens. Need something bigger? We've got it! Our JoJo's 3 Bedroom Kitchen, Vic's 3 Bedroom Kitchen & Captain's House Down are rented weekly only (from mid June to mid August) and are our most spacious and popular units. They can accommodate 8-10 people.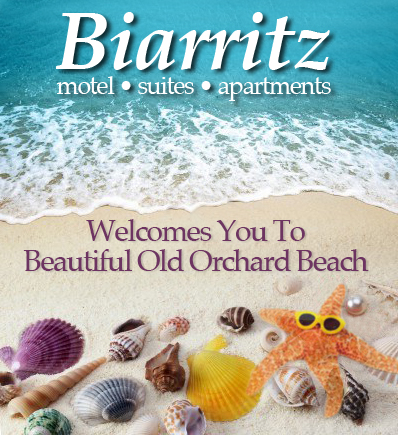 Address 78 East Grand Avenue P.O. Box 508
Old Orchard Beach, Maine 04064
Phone 207.934.2983
Website biarritzmotel.com
Payments Accepted Cash-Visa-Mastercard & American Express
Hours We're open May 1st to Mid-September. Our office hours are from 9am to 11pm daily with 24/7 onsite management. Reservations are taken 9am to 9pm daily from January 2nd to Mid-September.