Organization
Balfour Farm & Little Cheese Shop
add bookmark
Balfour Farm and The Little Cheese Shop
Off grid Organic dairy farm and farmstead creamery and Cheese Shop featuring Maine cheeses, wine, beer, cider and mead
We are a small family sized, certified organic dairy. We have a farmstead creamery where we make yogurt and cheeses, focusing on cave aged raw milk cheeses. Our herd is primarily Normande cows. We also have a small flock of chickens for fresh eggs and raise pigs for pork. The farm's 100 acres are used as pasture, hay fields and wood lot. We rotationally graze our cows, giving them fresh grass after every milking. In the winter, our cattle are fed hay that is harvested from our fields and surrounding farms. Our farm operates off the grid, with a large solar array. Our farm store, The Little Cheese Shop, opened in June 2020. In addition to our products, we carry a wide variety of Maine made cheeses, artisan foods, beer, cider, wine, mead and reagional treats as well. Fall 2020 will bring expanded peoducts available with the addition of a small market garden operation to the farm. We participate in farmers' markets in Portland and Brunswick year round. Our Facebook page is very active with daily updates of life on the farm. Our website offers online ordering for the farm store and preorders for farmers markets pick ups. Visitors are welcome to tour the farm on Open Farm Day, Open Creamery Day and during other scheduled events.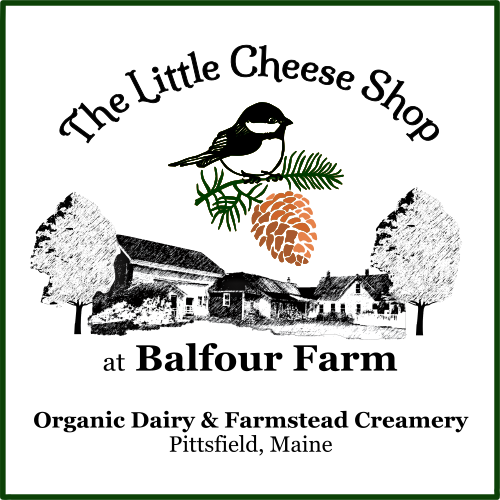 Address 461 Webb Rd
Pittsfield, Maine 04967
Phone (207) 213-3159
Website www.balfourfarmdairy.com
Payments Accepted Credit cards, cash and check, Venmo, ApplePay, GooglePay, EBT (Portland Market and The Little Cheese Shop only)
Hours The Little Cheese Shop: Thursday -Saturday 10am-6pm, Sunday 11am-4pm Farmers Markets on Saturdays year round in Portland and Brunswick, with an additional market on Wednesdays in the summer in Portland.