Organization
Adventures & Sightseeing Cozy Moose Lakeside Cabin Rentals
add bookmark
Adventures and Sightseeing - Cozy Moose Lakeside Cabin Rentals
Moosehead Lake Sightseeing Adventures Vacation Cabins with Best Maine Tours
Adventures and Sightseeing Lakeside Cabin & Cottage Rental Adventures On - Site
Canoeing and Kayaking
Sensational Romantic Sunsets at waterfront
Three Mountain Landscapes to view from Cabins
Sightseeing Birding, Ducks and Loons
Nature walks with Gardens & Wildflowers
Snowmobiling
Stargazing
Fall Foliage Sightseeing
Historical Geology - Glacial Boulders
Visit Maine - Stay on Moosehead Lake- The Cozy Moose Just 5 miles from Greenville, Maine, offers guests a unique outdoor adventure vacations. Enjoy awe-inspiring mountain views with amazing sunsets. Easy lake access to sandy beach and boat dock for lake adventures.
Maine travel experts- About Us - The Davis Family-
With a recreational guide on staff offering private and small group adventure packages, Maine tourism services for outdoor activities and sightseeing adventures are our specialty at our cabins and cottages.
Geocaching Journeys
Canoeing and Kayaking
Landscape Photography
Into the Mountains Sightseeing Scenic Landscapes
B52- Adventure Hike - Historical
Fantastic Fall Foliage Sightseeing Tours
Guided Snowmobiling Adventures
Rivers and Bridges Tour
Family fun for all ages anytime of year. Book a family vacation package with a Maine Guide at The Cozy Moose
Great Maine family activities, adventure trips and a learning tours as well. Wildlife sightings possible and destination history of Maine mountains and Woods will be engaging for all.
Maine family owned and operated tourism business or over 18 years. Maine Vacations by owners is Maine Tourism at its best. Live life, you deserve it. Come experience the best sightseeing Maine tours at our cottage and cabin vacations at The Cozy Moose Lakeside Cabin Rentals.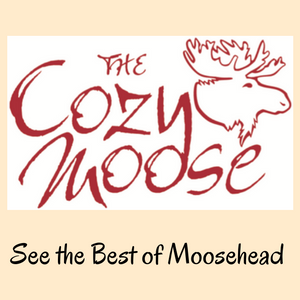 Address 451 Moosehead Lake Rd. Office Check ins
Greenville, Maine 04441
Phone (207) 695-0242
Website www.mooseheadcabins.com
Payments Accepted Checks in Advance, Cash, Credit cards - Paypal
Hours Office Mon. - Sat. 9am - 4pm Call 207-695-0242 [Contact The Cozy Moose](https://www.mooseheadcabins.com/contact/ "Contact The Cozy Moose ") Cabin Rentals on Moosehead Lake Year Round
Local Deals
Retrieving results.
Fall Sightseeing in Maine Venture through a Tunnel of Fall Colors above and around you. A magnificent display of mountain colors and tree tops as you venture into the Maine woods on and off road on a private tour. The Cozy Moose id your perfect spot for a...