It's been too long. The outdoors are calling. And Maine is ready to welcome you back. Start planning your next adventure with some of the best day trips in Maine, curated by Mainers.
---
Aroostook County
Maine's northernmost county is draped in sprawling forests and dotted with mountain peaks. Considering it's bigger than Rhode Island and Connecticut combined, you'll run out of energy before you run out of hiking, mountain biking, ATV and cross-country ski trails.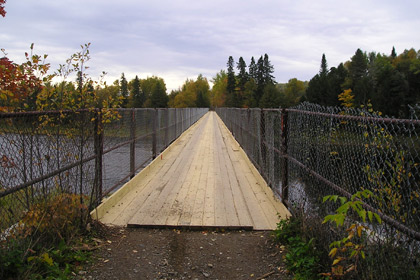 Travel the Aroostook Valley Trail
The trail wanders for 28 miles through northeastern Maine, through deep woods and past open fields and potato farms.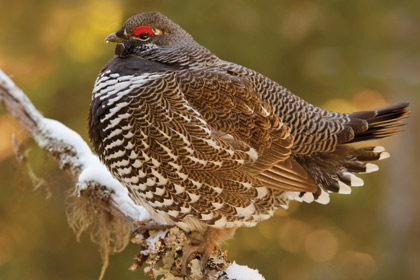 Aroostook National Wildlife Refuge
The area, once overflown by Air Force bombers, now offers a wild and quiet place for wildlife watchers and birders alike.
DownEast & Acadia
Downwind from shipping ports like New York and Boston. And to the east. That's how you get DownEast. Defined by booming ocean, craggy coastline, and inland beauty, the region's natural wonder continues far beyond Acadia National Park, so we'd recommend you do the same.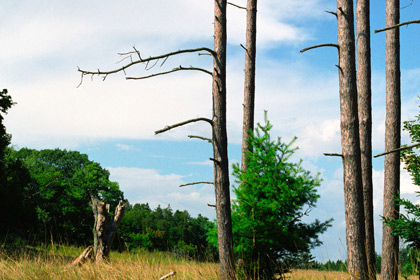 Visit Holbrook Island Sanctuary
Visitors can walk along old roads and trails to discover the unique and varied ecosystems protected here for a truly unspoiled piece of Maine.
Greater Portland & Casco Bay
Art? Absolutely. Shows? Sure enough. Food? Really good food? Probably more than you can handle in one trip. So, plan two. Or three. Or however many it takes to get to know this culturally diverse corner of Maine.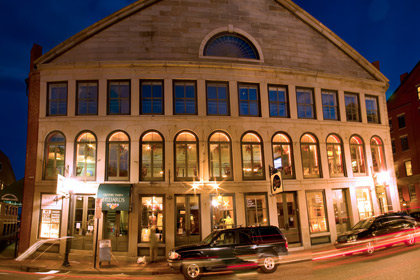 Portland Freedom Trail
Learn about Maine's African American history by following their footsteps for about two miles through downtown Portland.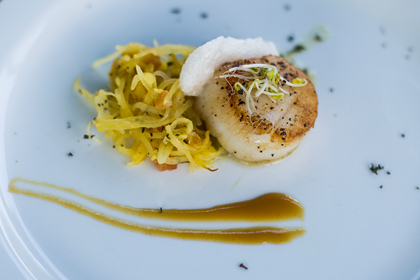 Maine Foodie Tours
Working with chefs and purveyors, brew masters, bakers, distillers, chocolatiers and more, Maine Foodie Tours is headquartered in Portland and offers experiences in several Maine communities.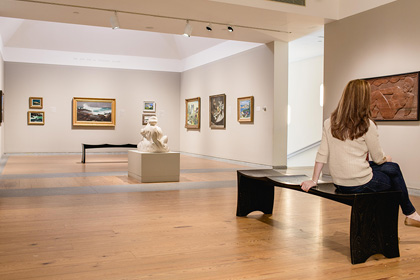 Portland Museum of Art
Located in the heart of Portland's vibrant downtown art's district, The Portland Museum of Art (PMA) is a light-filled, airy space that is worthy of a visit and a great reason for a visit to Portland
The Kennebec Valley
The Kennebec Valley is a gift of the 170-mile Kennebec River that rolls, and sometimes rocks, from Moosehead Lake in the north to the Atlantic Ocean. Test your mettle on some rapids, cast a line, explore the Appalachian Trail, or just sit back and enjoy the waterfalls.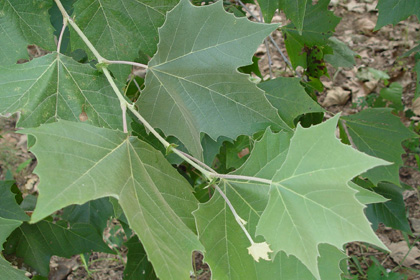 Viles Arboretum
Just a few minutes from the Maine State House in Augusta is a quiet oasis brimming with plants and trees and lined with shaded walks.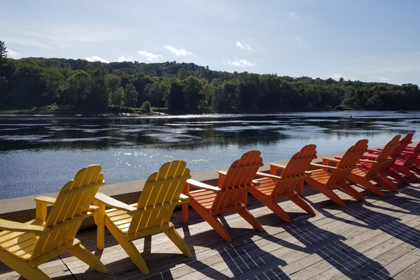 Hallowell Trip Tips
This quaint and completely walkable town is full of unique shops and restaurants, all situated along the shores of the Kennebec River.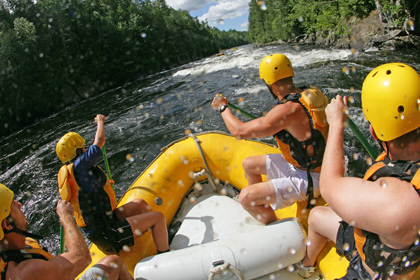 Rafting the Kennebec River
The Kennebec provides loads of thrills while still being approachable for folks with little or no experience in whitewater.
Maine's Lakes & Mountains
Beginning just an hour from Portland and reaching to the Canadian border, Maine's Lakes & Mountains region is home to ten of the state's highest peaks, our largest ski resorts and plenty of opportunities to paddle, cast and cannonball.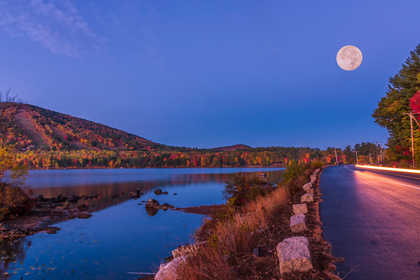 Bridgton Trip Tips
The town of Bridgton combines picturesque lakes and mountains with charming downtown culture and amenities making for an ideal all-season day trip.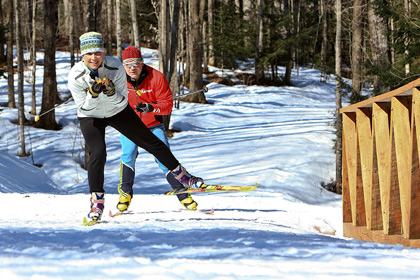 Pineland Farms
Pineland Farms in New Gloucester is a working farm and business campus that offers numerous outdoor recreation opportunities and educational family fun.
Maine's MidCoast & Islands
Scale a mountain, turn your head and see islands punctuating the sparkling sea. Maine's MidCoast & Islands region specializes in breathtaking vistas, which is probably why some of America's greatest painters called this place home.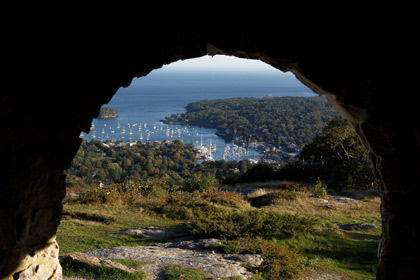 Explore Camden Hills
This wonderous park is perched atop Mt. Battie, a hub of wildflowers and unique bird species.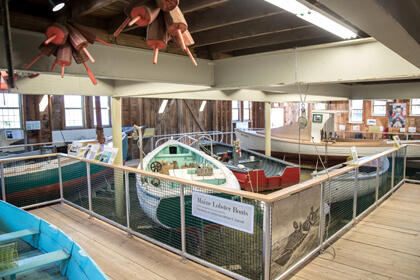 Bath Trip Tips
Historically one of Maine's largest cities and a major supplier of America's 19th-century sailing vessels, this charming town skirting the Kennebec River is known as the "City of Ships."
The Maine Beaches
Maine might be known for its dramatic and rugged coastline, but just one hour north of Boston and a stone's throw from Portland you'll find wide sandy beaches. There's nothing like a sun-soaked beach day. And there's no place quite like a Maine beach.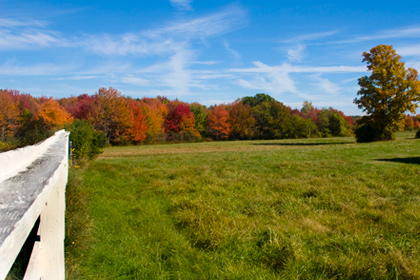 Wells Reserve at Laudholm
There is much to do, see and learn during your visit to this national treasure, whether you are winding through a wooded trail, walking the open coastline or taking part in a guided kayak tour.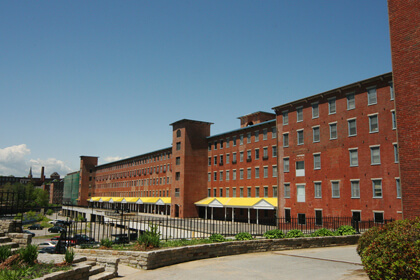 Biddeford & Saco Trip Tips
The neighboring communities of Biddeford and Saco are divided by the Saco River but are perfect for a day of exploration.
The Maine Highlands
The highest peak. And the largest lake. Just two of the natural wonders you'll encounter in the Maine Highlands. And if you make your way to Baxter State Park, you'll probably be able to add a moose to that list.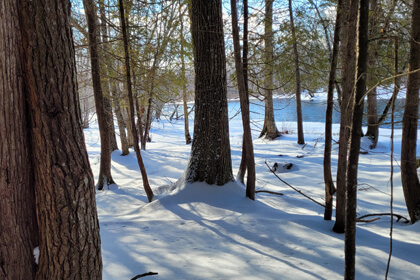 Hirundo Wildlife Refuge
With over 2,400 acres of pristine natural wilderness, 7 miles of walking trails and educational activities for all ages, Hirundo Wildlife Refuge is Old Town's best kept secret.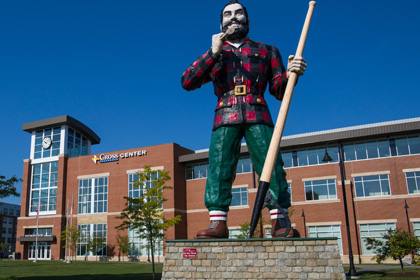 Exploring Bangor
Birth place of Paul Bunyan, Bangor is home to many attractions, inlcuding Stephen King's home. Take a self-guided tour around town and visit Bangor City Forest.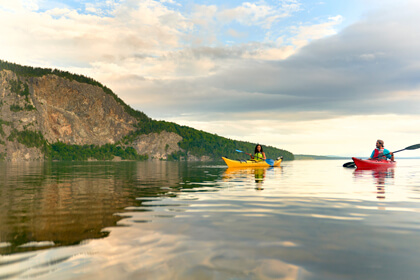 Greenville Trip Tips
Greenville is known for its proximity to Moosehead Lake, but there are plenty of additional natural wonders, activities, restaurants and lodging options, making it a great place for a getaway.