Organization
Oakland House Cottages By Side Of Sea
add bookmark
Oakland House Cottages by the Side of the Sea
Authentic Coastal Maine, Rental Cottages Plus Private Rooms with Share Baths.
Distinctive and Authentic! One-of-a-kind oceanfront cottages and 6-room (private) Hostel@Acorn by the Sea.
The Perfect Vacation Spot: nostalgic, simple, authentic, and wholesome. We welcome guests of all ages and walks of life. Here you will create warm memories of a relaxed and traditional Maine coast vacation.
Sophisticatedly rustic, one- and two-bedroom cottages sleep 2-6 plus a waterfront duplex that can sleep up to 8. All have comfortable beds, kitchens/kitchenettes and living rooms with real wood burning fireplaces.
Daily housekeeping and firewood delivery included (in season), self-serve (off-season). Arrive any day of the week, long or short stays with a min. 2 days.
The six room Hostel@Acorn has no frills, budget friendly private rooms, shared bathrooms, group kitchen, living room, library.
Sixty coastal acres in the heart of the Blue Hill Peninsula. A favorite vacation destination since 1889.
We welcome a dog with its humans in our one-bedroom Birches Cottage.
Drive up, or sail up. At Herricks Landing, Brooksville, Maine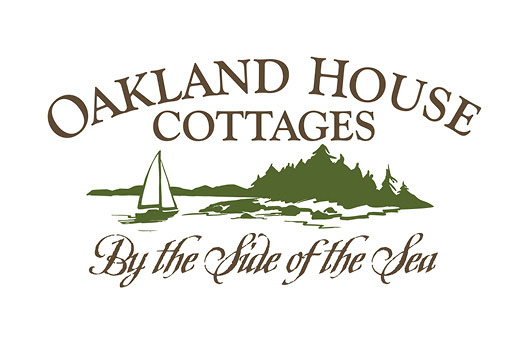 Address 435 Herrick Road
Brooksville, Maine 04617
Phone (207) 359-8521
Website www.oaklandhouse.com
Hours Open with early season specials in mid April. Closing after Columbus Day weekend in mid-October.