Events
Prepare To Blast Off
add bookmark
Prepare To Blast Off Alouette Beach Resort's New Year Eve Special!
12/30/19 - 1/2/20
Alouette Beach Resort's Prepare To Blast Off Before Old Orchard Beach's Last Blast Celebration.
Two days of beach fun only Old Orchard Beach could provide! Stay a third night for only $79 and keep this New Year going!
New Year's Burger Blast Off and Old Orchard Beach Last Blast Celebration 2 Night Stay: Mon. 12/30/19 & Tues. 12/31/19 Package Includes: • A 2 night stay in a standard economy, luxury studio or 1 or 2 bedroom luxury suite • Dinner for two on Monday Dec. 30, 5:30-8:00 pm. See menu below. • Complimentary breakfast each morning of your stay in the Alouette Cafe • Join in the New Year's eve fun and festivities at the Old Orchard Beach Last Blast
On the menu prepared by Delicious Thymes: • Entrée Slider Bar including:
All Beef Sliders with cheese and all the fix'ns:
Chicken and Waffle sliders with fried shallots and drizzled warm maple syrup • Sides:
Homemade tater tots with a truffle parmesan topping
Homemade mac & cheese balls with bacon
Homemade coleslaw • Beverage Bar :
Adult Root Beer Float (root beer, vanilla vodka, kalua drizzled vanilla ice cream)
Coconut Cream Pie Shake (coconut rum, coconut ice cream, with a chocolate swizzle glass and topped with the pie crumble)
Beer, wine and virgin cocktail options available • Rates: Packaged rates are based on two adults, dinner, 2 night stay, and breakfast the next morning.
Choose from 3 different accommodations*: • Standard Economy $224 • Luxury Studio $349 • Luxury 1 or 2 bedroom $389 • Each additional person only $49
Stay a 3rd night for only $79 more and make this a New Year's to remember!
*Based upon 2 people/dinner included/breakfast included/plus tax/cannot be used with any other specials or promos/based on availability
Call for reservations: 207-934-4151
2 Night Stay: Mon. 12/30/19 & Tues. 12/31/19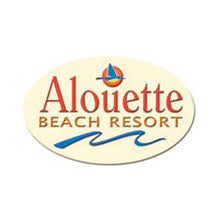 Price Standard Economy $224 • Luxury Studio $349 • Luxury 1 or 2 bedroom $389 • Each additional person only $49 Stay a 3rd night for only $79
Address 91 East Grand Ave
Old Orchard Beach, Maine 04064
Website www.alouettebeachresort.com
Phone (207) 934-4151